Beginner's 101
CBD Oil vs Capsules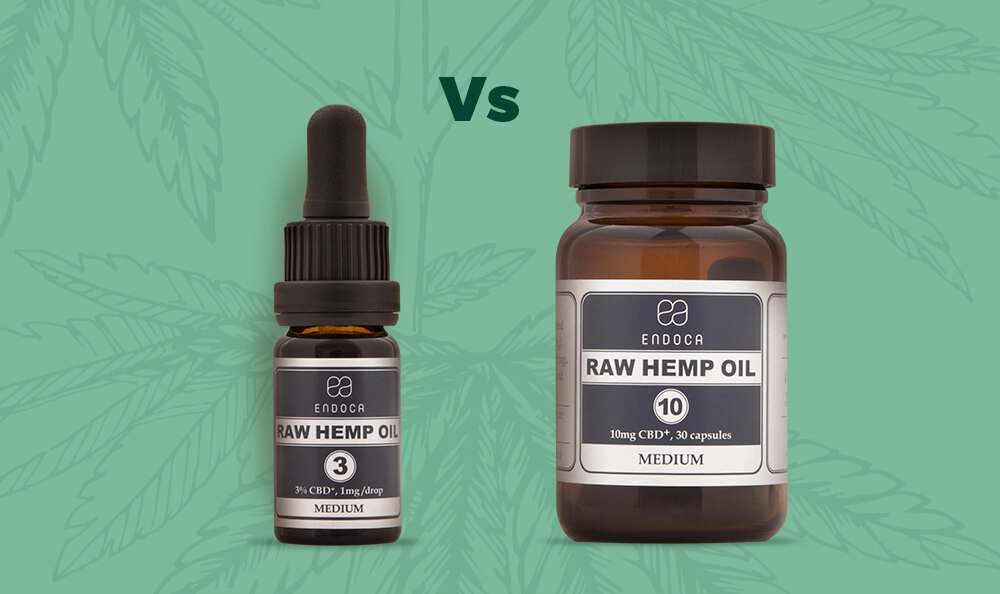 Capsules and oils are the two most popular CBD products on the market. When selecting the right CBD products for you, choosing between oil or capsule forms of taking CBD is often the first main hurdle. If you're new to the world of CBD, then knowing the pros and cons of CBD oil vs CBD capsules is a good place to start. 
Here are some of the basics to consider when picking your products. 
Why CBD oil? 
CBD oils and tinctures are some of the oldest methods of taking hemp extracts. With some of the earliest records of taking hemp as medicine being in tincture form. Even the use of the glass bottle with a glass pipette dropper is very similar to traditional methods and is still commonly used today. CBD oil is typically used for its balancing properties and ability to promote general well-being.
Why CBD Capsules?
Most of us in our day-to-day lives are used to take a supplement or two to keep us healthy. Taking CBD in this form is a common method as it can be easily added to your current supplement routine. The capsule method is beneficial to those that are already taking capsules on a regular basis and want to enhance their daily well-being.
Want to know more about how CBD works? You may also like to read 'What is CBD?'.
CBD Oils vs. CBD Capsules: Which is best?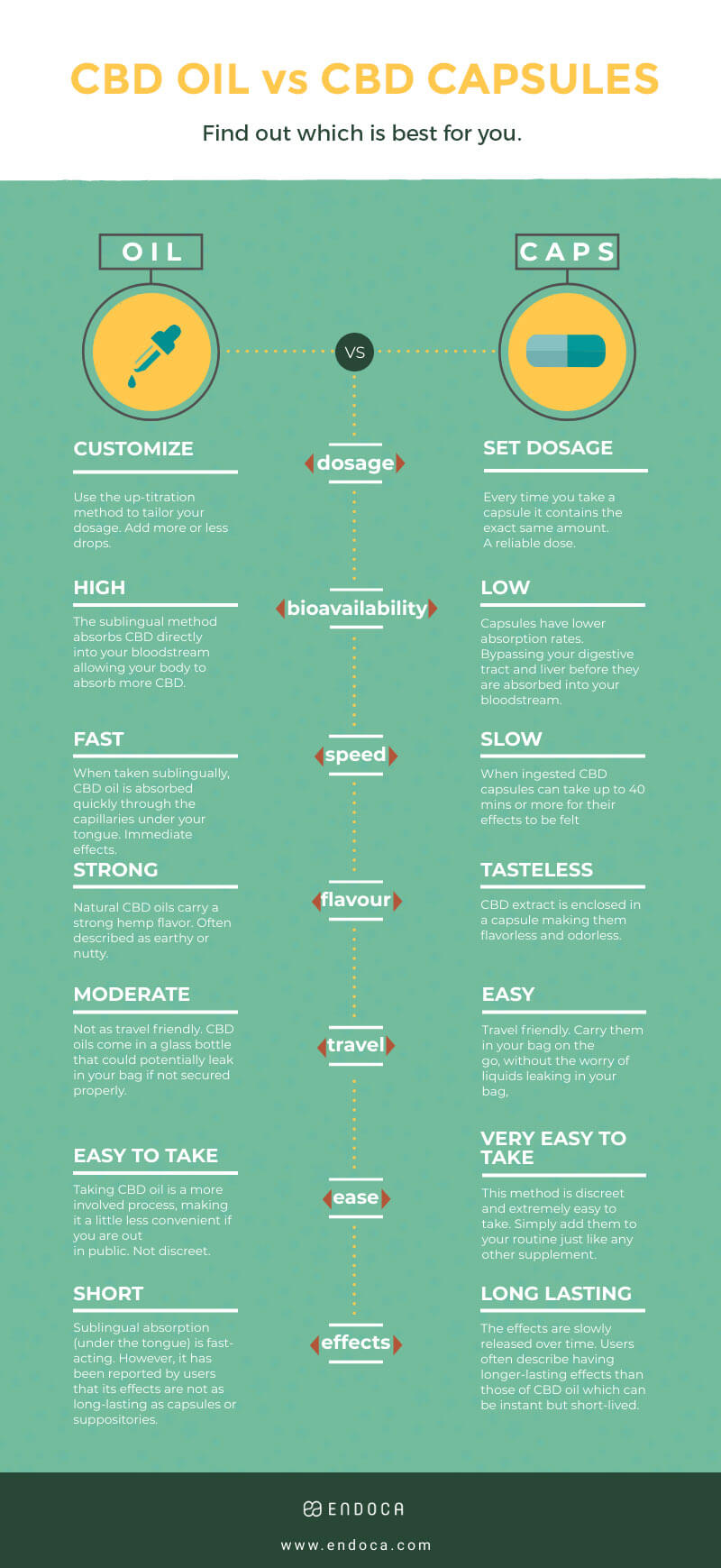 The key thing to remember when taking CBD capsules or CBD oil is the purpose you want your product to serve. If you're looking for ease and convenience or overall well-being, CBD capsules are your best pick. But if you are looking for something that is fast-acting and delivers maximum effects, CBD oil is your better choice.  
No matter what you decide, picking between CBD oil or CBD capsules all comes down to your personal preference. Neither one can be said to be better than the other as they fulfill different needs. 
CBD oil comes in a bottle with a glass pipette dropper, for some this may be an ideal method as you can control the dose. But for others, it can be fiddly and doesn't travel as well as more compact methods like capsules. 
On the other hand, CBD capsules are a convenient option that can be carried with you while you're on the go. The small capsule form allows you to take them out in public without the setup of taking CBD oil drops. 
However, if you're new to CBD and don't know your dose. Starting with a set dose like capsules could be too restrictive for you if you want to experiment to find your own CBD 'sweet spot'. 
Are CBD Oils Better than CBD Capsules?
CBD oil, also known as CBD tincture, is an oil substance that contains the cannabinoid cannabidiol. Which can be made from pure hemp extracts and hemp seed oil or the isolated CBD compound mixed with a carrier oil, like coconut oil or olive oil. 
How do you take CBD oil? Don't let the pipette dropper scare you, taking CBD oil is simple. The dropper is part of the packaging, which allows for safe and hygienic storage. Carefully squeeze the rubber top to fill the glass pipette. Stand in front of a mirror and raise your tongue. Holding the dropper about 1cm from your mouth. 
Place the required amount of drops under your tongue. Close your mouth and hold for up to 90 seconds. If you have any oil residue still left in your mouth you can simply swallow it. 
CBD oils can also be added to food or drinks, however ingesting CBD has less bioavailability than the sublingual method, but is still effective.  
CBD oils pros 
Customize your dose – Control the number of drops you take so you can find your ideal dosage
Accompanies the up-titration dosage method – Which allow you to increase or decrease the number of drops you take easily
Fast-acting results – Which can be felt immediately in some cases 
Higher bioavailability – The sublingual method, in which you place CBD oil drops under your tongue allows the small capillaries to absorb the oil quickly into your bloodstream without having to bypass any other body systems. The sublingual method is 12-35% bioavailability. 
CBD oils cons
Natural hemp oils carry a strong hemp flavor that may be off-putting to some users. Although it is natural.
Not as travel friendly- CBD oils come in a glass bottle that can be fiddly or could potentially leak in your bag if the lid is not secured properly 
Not as discreet as other methods – CBD oil droplets are placed under the tongue, which is a bit more involved than just swallowing a capsule, a little less convenient if you are out in public. 
Shorter lasting effects – Compared to other absorption methods sublingual absorption (under the tongue) is fast-acting, however, it has been reported that its effects are not as long-lasting as oral or suppository methods that take longer to get to your bloodstream, but are released slowly over time. 
Are CBD Capsules Better than CBD Oils?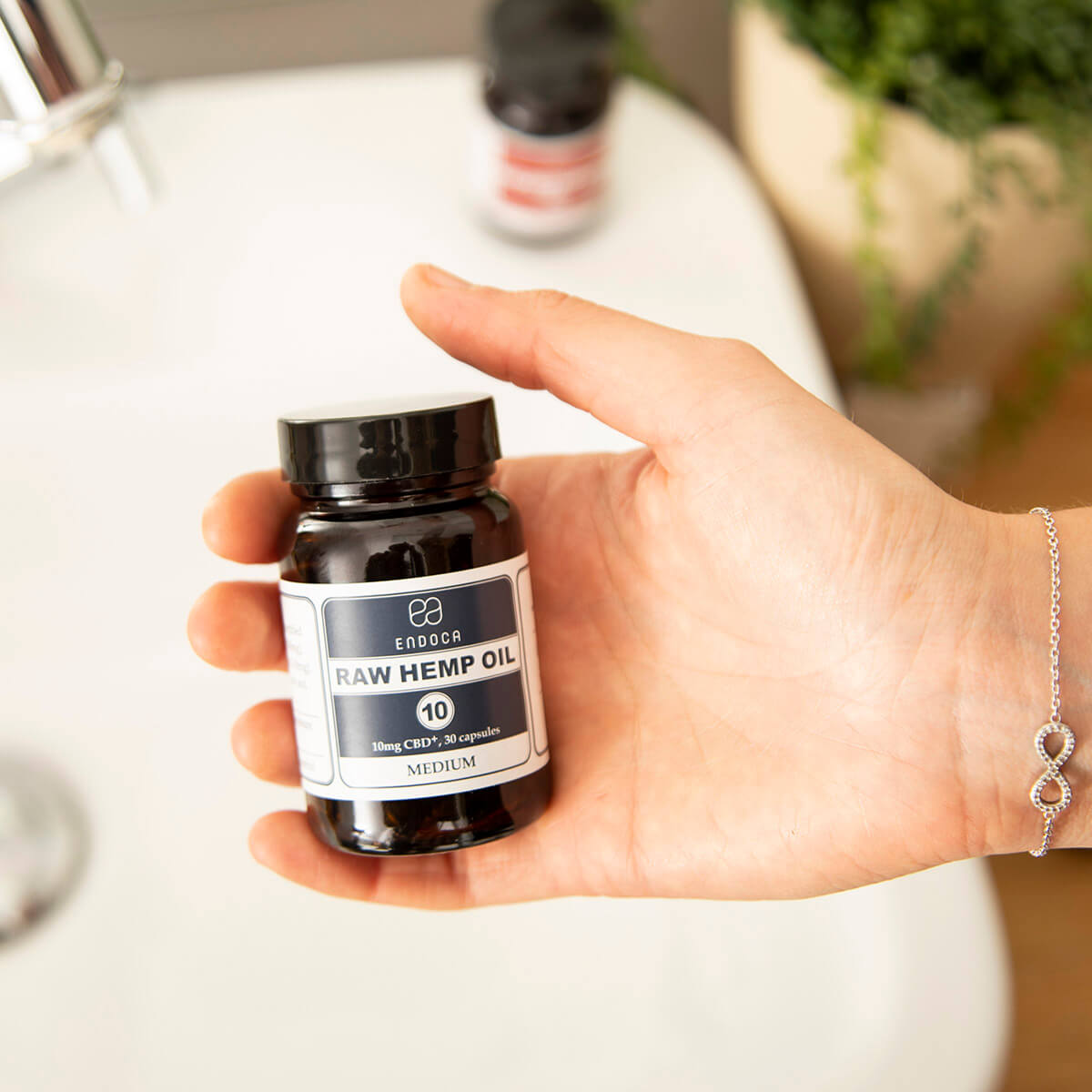 CBD capsules are not that different from CBD oil when it comes down to what they contain. Most CBD capsules are filled with the same CBD oil that is used to make CBD oil. The only difference is that they usually come in gel or cellulose capsules. 
What's the best way to take CBD capsules?  This way of taking CBD is just like a supplement. Choose your selected dosage, put them in your mouth, sip a glass of water and swallow them.
CBD capsules pros 
Set dosage – Every time you take a capsule it contains the exact same amount, therefore every time you take one you know you are getting a reliable dose. Ideal if you're taking them for general well-being and want to be consistent with your doses.
Easy and convenient – This method is extremely easy to take, you can add them to your routine just like any other supplement.
No hemp taste – As the CBD oil is enclosed in a capsule they are a flavorless and odorless option. 
Travel friendly – Capsules can go where you go. Carry them in your bag on the go or keep them at home in your bathroom cabinet. Either way, you don't have to worry about liquids leaking in your bag, they're all secure in a cap. 
Longer lasting effects – Though the absorption level of capsules are less than that of CBD oil, users often describe having longer-lasting effects.
CBD Capsules cons
Set dosage is not for everyone – If you like to tailor your doses or experiment with different amounts of drops, capsules are not the best option. In the beginning stages of taking CBD, the using up-titration method of adding more or less drops to your dose and recording the results can be useful to see how CBD affects you. 
Lower absorption levels – When you ingest CBD capsules they have to bypass your digestive and tract liver before they are absorbed into your bloodstream. This makes the bioavailability less than other methods such as the sublingual method which is almost instant. 
Slow-release times – If you are looking for a fast-acting effect CBD capsules are not the best option. Once you ingest CBD capsule it can take up to 40 mins or more demanding on your body's biology to feel its effects. 
In Closing 
Whether you're looking to improve your overall wellness or to target a specific issue. CBD oils and capsules can offer you an array of benefits, it all comes down to what works best for you and your lifestyle. If you would like to know more about CBD or how it works. You may like to read our post on the effects of CBD to find out the basics. 
We hope we've answered your questions about CBD oil vs CBD capsules. But if we haven't, don't hesitate to contact our expert customer care team in the chat box in the right-hand corner, we'd be happy to help you with Endoca products.