How Much CBD should you Take?
Are you slowly finding your way into the world of CBD? At Endoca, we want you to feel confident about taking CBD for the first time or even as a regular user. We've put together a quick yet thorough guide to help you find out just how much CBD to take, when embarking on your journey.
Before you start digging into the in's and out's of dosage, let's first take a step back and do a quick recap of the basics. This way, we make sure that you get the educational introduction you need before jumping in.
What is it, and how does it work?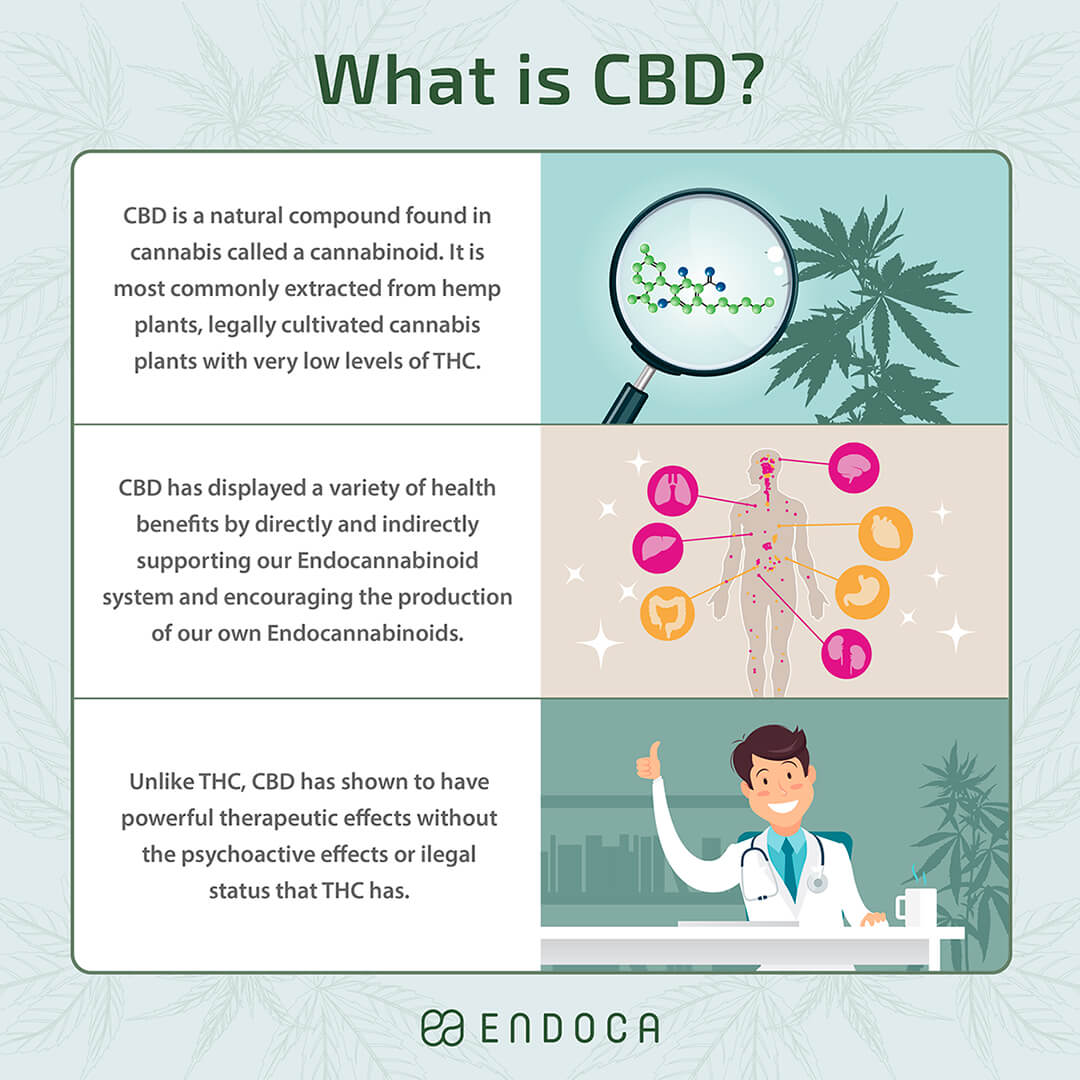 Interested in more indepth information? You may also like to read our What is CBD? page. 
How to take CBD for everyday wellness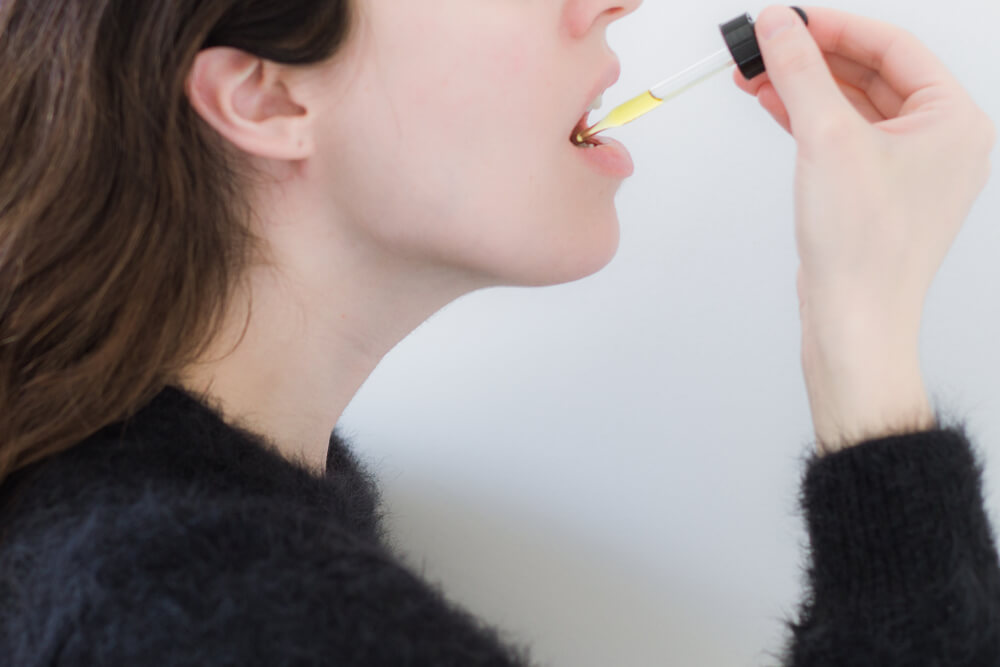 A delivery method is the method you use when taking your CBD. Do you swallow it in capsule form (ingestion)? Absorb it under the tongue (oral/mucosal)? Maybe you prefer inhaling it by vaping or with an e-cigarette (inhalation)? Or perhaps you belong to the group of people that rub it onto their skin as a cream or balm (topical). Finally, there are some that like taking CBD in suppository form (meaning either rectal or vaginal insertion).
No matter your preference, it's safe to say that there're plenty of delivery methods to choose from.  It all comes down to you and your needs. There are pros and cons to each method, and so it's all about choosing whichever one works best for you!
For example, if for one reason or another you like keeping track of how many milligrams of CBD you're putting into your system, capsules and edibles might be just the thing for you.
Not only is it a super convenient and easy delivery method, but they're also perfect for those that are not fans of the classic hemp taste. The downside to swallowing capsules is that it will take longer to reach your bloodstream.
When ingested, it passes through the digestive system first and is then metabolized by the liver. Eventually, the active compounds are sent to your bloodstream and circulated to the rest of the body. This process might very well end up taking 1-2 hours, but on the positive side of things, the effects are said to last longer.
Alternatively, if you're looking for CBD to quickly have an effect, the mucosal or sublingual method might be better. Here, thanks to the capillaries under the tongue, the CBD oil is absorbed straight into the bloodstream. Not only does this mean there is more CBD available to the body, but you'll also experience quicker results than when swallowed.
If you would like more information on the different delivery methods of taking CBD. You may also like to read our how to use CBD oil page.
How to figure out your dosage
When it comes to answering the question how much CBD to take? It's important to remember that we're all different. Not only do our endocannabinoid systems differ from one another, but we have individual tolerance levels and different health needs.
"A one size fits all" approach does not apply when it comes to dosage, and for this reason it's crucial to always listen to your body and slowly work your way towards your perfect dose.
However, there are some universal dosage recommendations that are always good to keep in mind when deciding on your dosage: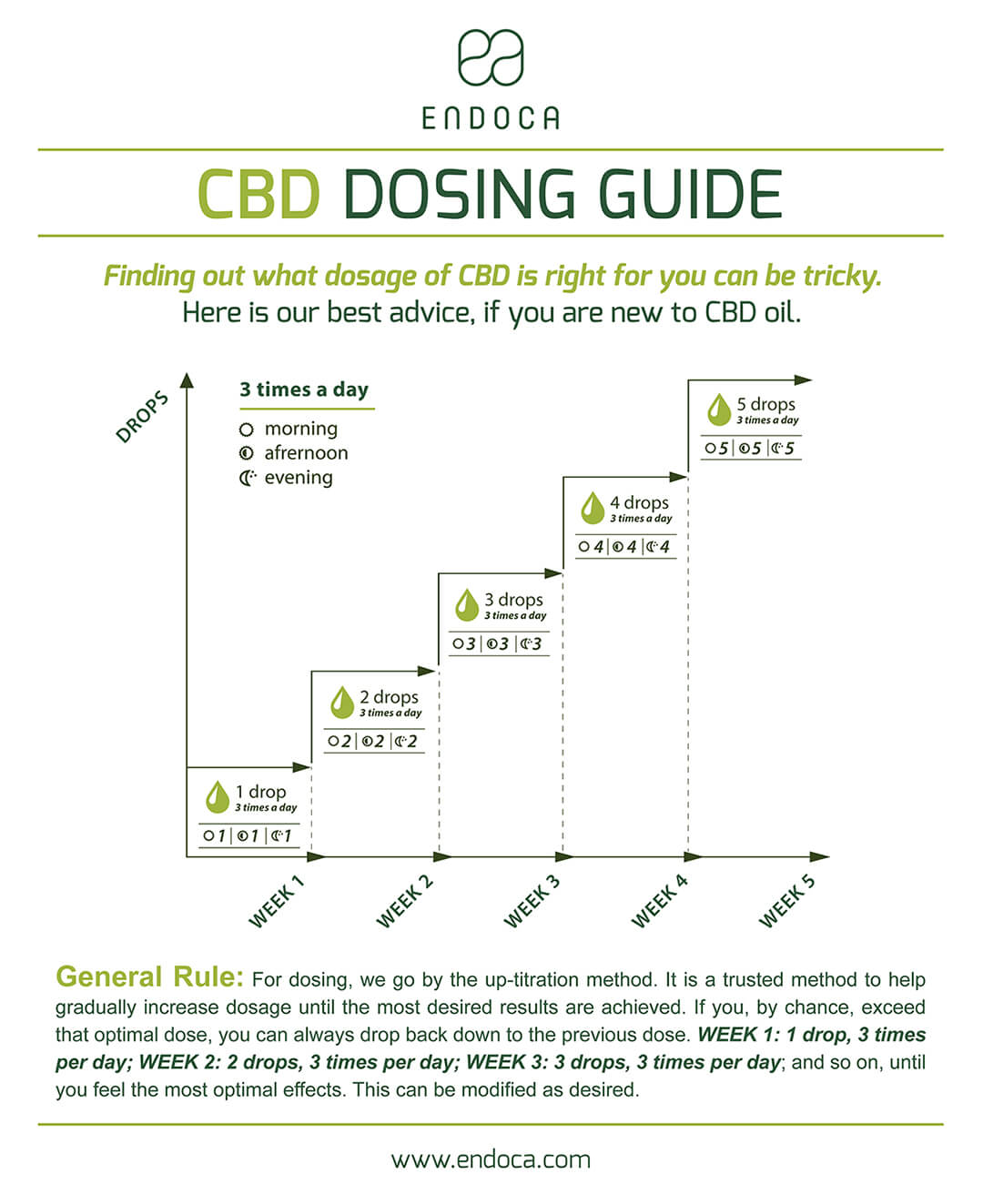 1) Start low & work your way up
While slowly getting to know the impact that CBD can have on your well-being, it's essential that you start slowly with a low dose. 
When your body starts getting used to CBD, you can start experimenting to see what works best for you. This method is what we call the "Up Titration method of dosing". The only thing you need to remember is that you should always increase your dosage gradually. This means adding no more than just a milligram every time (one drop).
Your body will help you find out when you've reached your limit. Finding your 'sweet spot' can take some time.
2) Remember to read the product labels
A tricky aspect of dosage is that CBD products don't have a universal measuring system. So, while one product may contain 20 milligrams per half a CBD dropper, another virtually identical product may in reality have 35 milligrams per dropper. For that reason, it's always best to carefully study your product labels and take note of how many milligrams of CBD  you will be getting.
3) Experiment with how much you take during the day
Depending on the reason you are taking your dose, you may want to take different amounts at different times of the day. Scientists believe that in small doses CBD has the potential to work as a waking agent. While in large amounts it's thought to have sedative properties.
Many users report having varying result. This could be down to their internal system and how CBD works with the body. But it could also have something to do with the amount that has been taken.
Once you've found your 'sweet spot' experiment with your dose to see if you get different results. Some users describe more calm and focus while others use it to get a more restful sleep. Whatever your desired results, it's always best to monitor how you feel when you take CBD.
CBD works with your body's needs, and just like a thumbprint no one's body is exactly the same. For this reason how much CBD to take really is down to trial and error and really getting to know your own body.
Want to learn more about how CBD works with the body? Try our what are the effects of CBD page for more information.
4) It's always a good idea to consult your doctor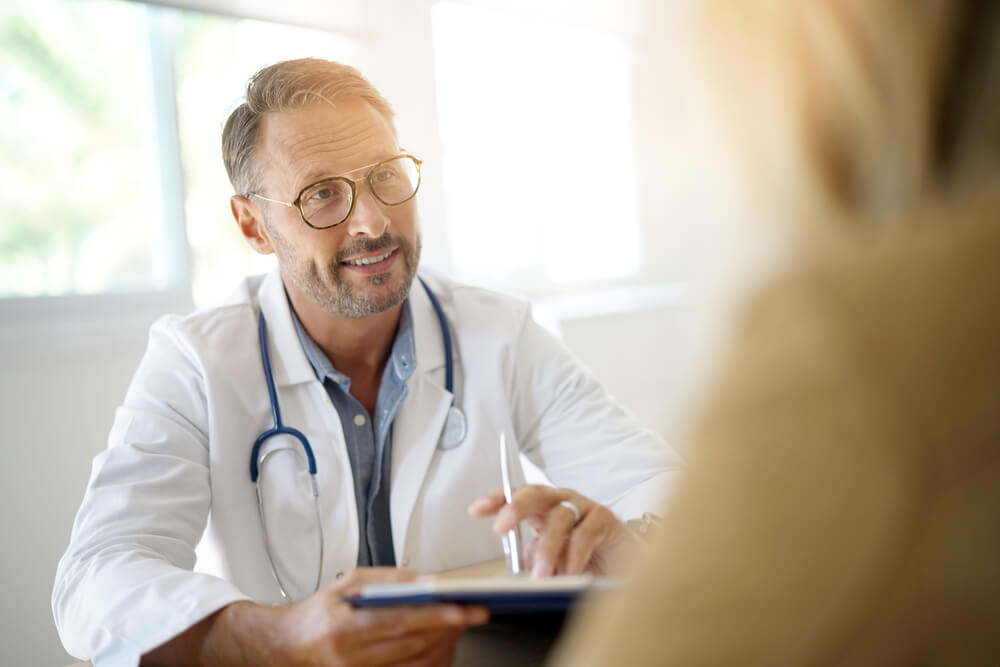 Prior to trying CBD it's always a good idea to discuss it with a medical professional first. Introducing CBD to your system can be easy, but if you're on other forms of medication, or if you've previously shown sensitivity towards natural alternatives, it's good to hear the opinion of a professional. While they might not be able to give specific dosage advice it may help you to get an idea of where to start.
Another aspect of dosage is self-awareness. It's helpful to keep in mind why you're reaching out, what you're exactly using it for, and what you can do yourself to help you feel better.
Here are a few things to remember:
Start out with a low dose and gradually build your way up
Use CBD oil drops if you're new, as it's easier to measure your dose
Keep an eye out for any adverse reactions
Reduce your dose if you notice any reactions
Try taking your dose on an empty stomach
Looking to find out more information about CBD dosage? Explore our CBD dosage guide to help find your daily dose.
As always, we will continue to join you on your journey towards a healthy and balanced lifestyle. Feel free to send us a message via the chat box in the right hand corner or drop us an email, if you have any questions or comments. We'll be more than happy to help you!
*Endoca About CBD pages do not in any way intend to replace medical advice. The Food and Drug Administration (FDA)  has not issued their official Recommended Daily Intake (RDI)  for CBD dosage. Endoca CBD products are not FDA approved and are NOT designed to treat, cure or diagnose any illness, disease or condition. 
More information 
What are the effects of CBD oil?