Beginner's 101
Where is CBD legal?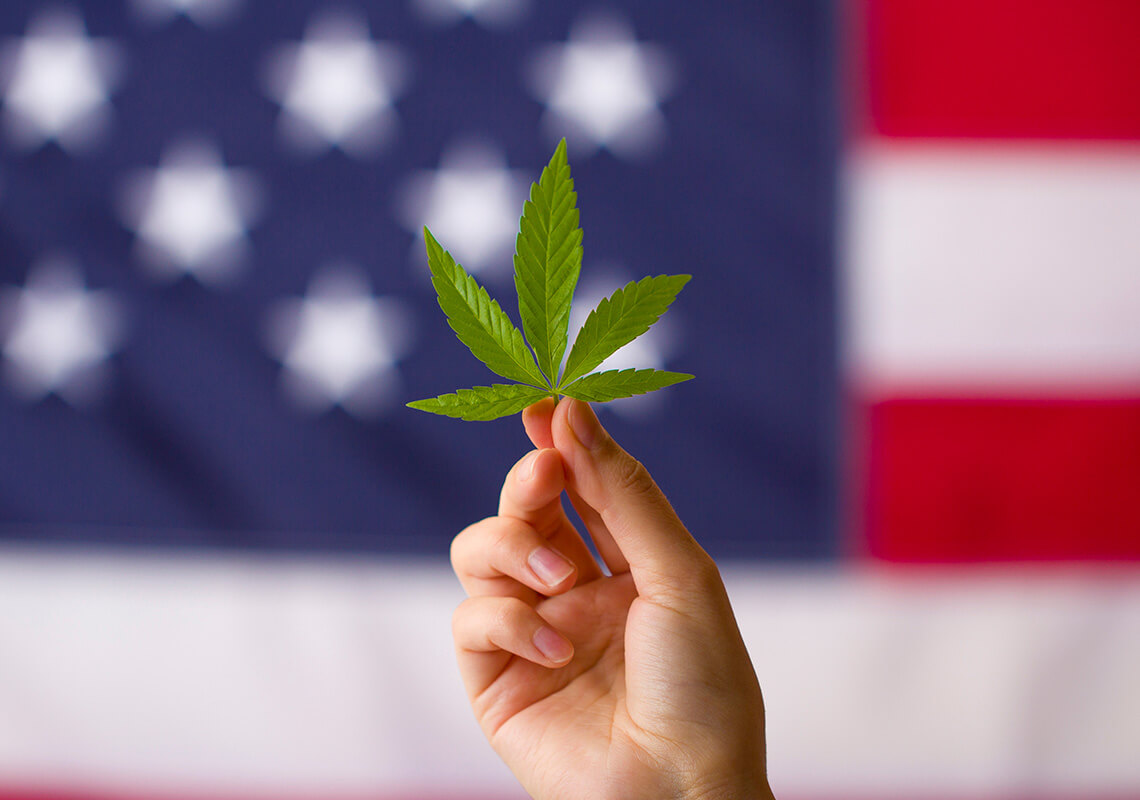 Is CBD Oil Legal in All 50 States?
CBD is everywhere. Whether it is an ad on your Instagram or TV, it is not uncommon to see ads touting CBD as an all-natural solution for pain, anxiety, insomnia, etc. However, even as CBD continues to gain increased popularity, that may not necessarily mean that it is legal in your state.
According to federal laws, CBD is legal in the US as long as it is derived from hemp. However, the state and local CBD laws are different, making CBD legalization in the US a not-so-easy subject. Here we look at the legality of CBD in all 50 states.
What is CBD, and is it legal in your state?
CBD or cannabidiol is a non-intoxicating compound found in the cannabis plant. CBD is the most popular cannabinoid in the cannabis plants after tetrahydrocannabinol (THC) and is believed to have many potential therapeutic benefits, including analgesic, anti-inflammatory, anti-anxiety, and seizure-suppressant properties.
Hemp-derived CBD is legal in the US if it contains less than 0.3% THC. Cannabinoids interact with the endocannabinoid system (the neurochemical network comprising hormones and receptors in our bodies), affecting the mind and body.
The endocannabinoid system is responsible for regulating many human body processes by either slowing them or accelerating them. That explains why CBD may have many potential health benefits.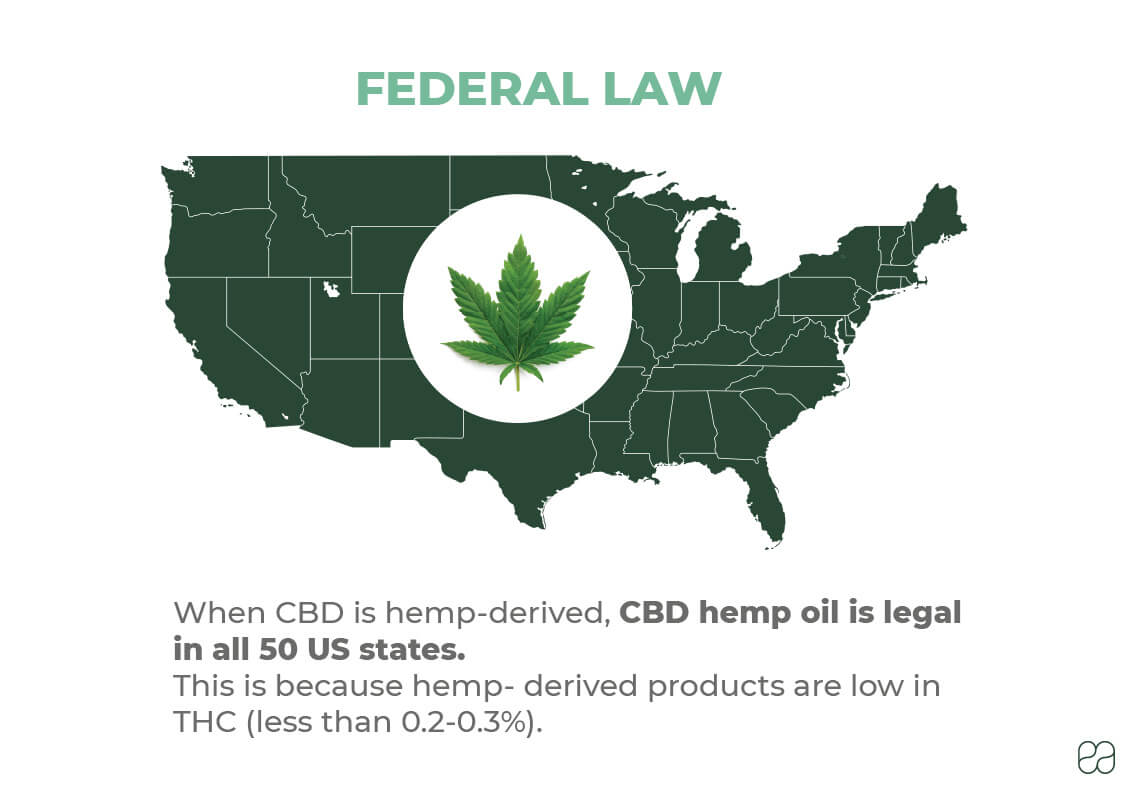 Why do people use CBD oil?
CBD oil may offer a variety of health benefits when it interacts with the body's endocannabinoid system. An increased number of people are using CBD oil to manage pain, promote sleep, regulate stress response, and improve general well-being.
Although much research is needed, people are using CBD oil to manage symptoms of various health issues, including:
Sleep disorders
Chronic pain
Chronic stress
Inflammation
Skin issues
Poor immune function
Since people have been using phytocannabinoid like CBD to treat various health conditions for many years, different stakeholders are inclined towards its legalization. More funds are now channeled towards cannabis research than ever. Despite this, the legality of CBD across US states isn't that obvious, as you'll see below.
Confusion around the legality of CBD oil
Although many cannabis compounds are thought to have medicinal properties, regulators face significant problems, especially because some compounds like THC are psychoactive. This is the primary reason why these compounds have been illegal for so long. However, after years of lobbying and advocacy, the status of cannabis in the US and worldwide is changing.
The case is different in the US as the federal and state laws are contradictory when it comes to the current status of CBD. Some states have legalized marijuana for medical use; others have legalized it for recreational and medical purposes. However, federal law considers marijuana as a controlled drug.
That means you may be charged with drug trafficking if you are caught with a small amount of weed when flying between two legal states. Even if the federal laws protect the cross-state transportation of hemp CBD products, the same does not apply to marijuana-derived CBD products.
USDA issued a memorandum in 2019 clarifying that the Farm Bill 2018 allows for "free flow of hemp in interstate commerce." As such, Native American tribal jurisdictions should not prohibit interstate hemp shipment as long as it is licensed under the USDA plan. This report provided a sigh of relief for CBD suppliers in states like Ohio that continued to treat CBD as an illegal substance.
Differences between Marijuana and Hemp
Cannabis is a term describing the plants in the Cannabis sativa L. family: Hemp and marijuana. Knowing the differences between these two plants is a sure way to determine whether a given CBD product is legal in your state or not. For starters, hemp and marijuana have different cannabinoid profiles and thus produce an entirely different effect on users. More specifically, here's what you need to know about the difference between hemp and marijuana.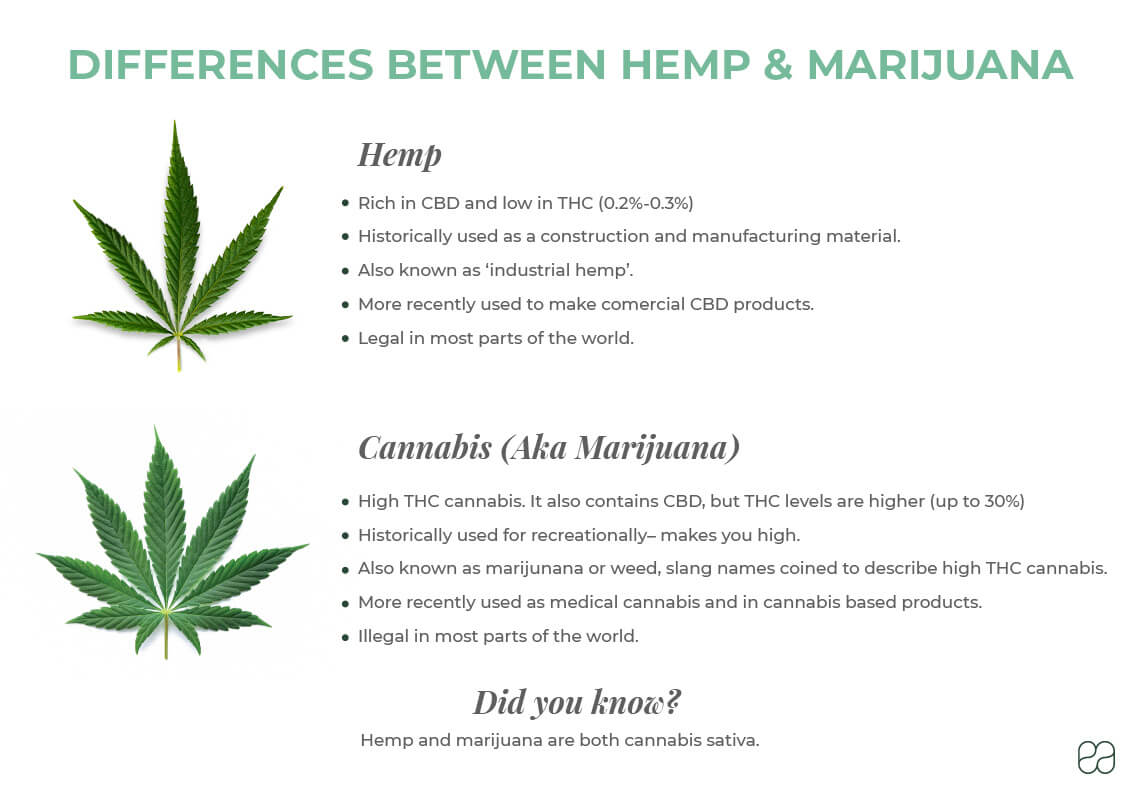 Hemp
Hemp contains only trace amounts of THC (below 0.3%) by weight. This is the primary thing that will qualify a particular strain as hemp. A cannabis strain with 0.4% THC is classified as marijuana.
Unlike marijuana, hemp has been legal for a long time in the US, provided federal agencies have approved it. However, things took a new twist in 2018 after the passage of the Farm Bill that removed hemp from the Controlled Substances Act as a Schedule I drug.
That means, now more than ever, it is easier to grow hemp throughout the United States. CBD oils, gummies, capsules, and other CBD products need to be made from hemp-derived CBD to maintain their legal status.
Marijuana
Unlike hemp, marijuana produces moderate to high levels of THC. THC is the primary psychoactive cannabinoid that gives the "high" effect to its users. The federal government still classifies marijuana as a Schedule I drug, meaning it is in the same category as fentanyl and heroin.
Of course, marijuana isn't a deadly drug; it is only that legislators are yet to acknowledge it at the federal level. Some states, however, have legalized medical marijuana within their jurisdiction, but that doesn't mean it is legal at the federal level.
Is CBD oil legal at the federal level?
The federal law allows people to grow hemp, extract CBD, and possess CBD oil if it contains 0.3% THC content. More specifically, this was after the passage of the 2018 Farm Bill, which:
Removed hemp from the Controlled Substances Act
Legalized the production of hemp in US territories and Indian tribal land
Extended allowances for the commercial hemp cultivation
Tasked the FDA (US Food and Drug Administration) with regulating hemp-derived food and drug products
The Farm Bill 2018 also legalized industrial hemp extracts, meaning CBD oil is allowed across the United States if extracted from industrial hemp. On the other hand, people could use CBD marijuana for medical purposes depending on whether their state allows for the recreational use of weed.
What about hemp oil? Is it legal federally?
Federal laws state that hemp oil is legal if obtained from a hemp plant with no more than 0.3% THC. As earlier stated, the 2018 Farm Bill legalized the production of hemp-derived CBD.
Is CBD legal in all its forms?
Under the Public Health Service Act and the Federal Food, Drug, and Cosmetic Act, the FDA regulates products containing cannabis and cannabis-derived compounds, including CBD, which means that the FDA regulates CBD products intended for use as a food drug, a dietary supplement, or cosmetic.
Although the FDA is in the process of assessing the safety of CBD, as of now, it is illegal to add CBD to food or sell CBD as a dietary supplement between states.
This means:
CBD suppliers cannot sell dietary supplements or foods containing CBD across state lines
It is legal to sell CBD supplements within their state of origin or in states that allow the sale of these products
'Active hemp extract' is legal in all 50 states
FDA does not regulate CBD products not advertised as supplements
State law
Although federal law has made it clear that hemp and CBD oil are legal in the US, this does not automatically mean that those products are permitted at the state level. In this section, we look at the states where CBD is legal and where it is illegal.
Where CBD is legal
CBD is not legal in all 50 states of the United States. Even in states where hemp-derived CBD is legal, the case might be different at the local level. For instance, some local health departments might prohibit commercial establishments from selling CBD in food and beverage products.
Knowing your local laws on CBD is paramount, especially if you live in a state with non-friendly CBD laws.
CBD legal states
Every state has different laws on CBD oil. Even in states where CBD is legal, the legality of CBD oil varies. Some states permit CBD oil for both therapeutic and recreational use, while others only allow it for therapeutic purposes.
CBD from green states (those with the friendliest laws on CBD) is more regulated and thus safer. To that end, here are the states where CBD oil is currently legal:
New York
Oregon
Oklahoma
Kentucky
Indiana
Colorado
South Carolina
North Carolina
Texas
Utah
Rhode Island
Alaska
Maryland
Vermont
Wisconsin
Missouri
Illinois,
Tennessee
Washington.
Friendly states
These states permit industrial hemp cultivation in compliance with Farm Bill 2018 and do not classify them as marijuana. These jurisdictions include the District of Columbia, Montana, North Dakota, Hawaii, Kansas, and New Mexico.
States where state CBD laws conflict with federal laws
Although help and CBD are legal at the federal level, some states have laws that conflict with the federal laws, also known as the grey area states. These states include Minnesota, Florida, Connecticut, Delaware, Idaho, Massachusetts, New Jersey, New Hampshire, Virginia, Arkansas, Georgia, Maine, Pennsylvania, Iowa, Louisiana, and Nebraska.
States with no explicit prohibitions but there are concerns
Some states have not explicitly prohibited the sale of industrial hemp-derived products, but recent action on law enforcement raises some questions. These jurisdictions include South Dakota, California, West Virginia, Ohio, Michigan, Alabama, Wyoming, Arizona, and Nevada.
Where is CBD illegal?
CBD is illegal in every form in states like Idaho and Iowa. Until laws in these states improve, it is illegal to sell or buy CBD in these states. South Dakota also had unfriendly CBD laws for many years until recently, when they legalized the sale of FDA-approved CBD products.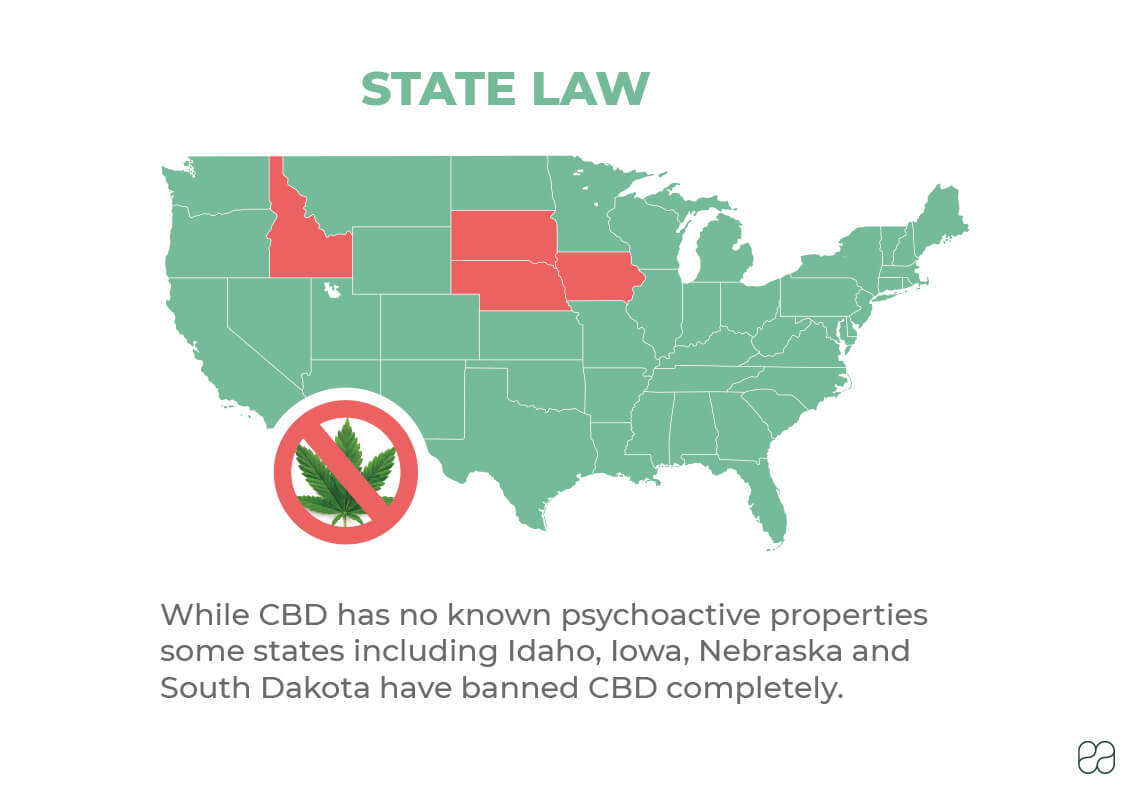 States where only medical marijuana is legal
Although CBD oil is legal in many states, some states only allow CBD oil to manage health conditions in the medical marijuana laws. That being the case, you can only use CBD oil for medical purposes, let's say arthritis pain, but you cannot use any form of CBD for enjoyment purposes in such states. In other words, CBD oil can only be used at the recommendation of a state-registered doctor.
Georgia, for example, permits the use of CBD for irritable bowel syndrome, seizures, and other degenerative conditions listed in the legislation. In fact, Georgia allows for a higher concentration of THC of up to 5%.
Alabama is another state that allows CBD use of medical marijuana. More specifically, people with intractable conditions can use CBD oil to manage their condition in Alabama. However, as with many other states where medical marijuana is legal, CBD can only be used with a recommendation from a state-registered physician.
Other states that allow only medical marijuana use include:
Kentucky
Nevada
Mississippi
Tennessee
North Carolina
South Carolina
Iowa
Wyoming
Virginia
Wisconsin
States that allow both medical and recreational marijuana
Some states allow CBD for both recreational use and medical use. That means people have free access to weed for recreation and can still use it for therapeutic purposes without restrictions.
However, to protect people from any harmful consequences, these states have put up laws to regulate the use of marijuana for therapeutic purposes.
California became the first state to legalize medical marijuana in 1996. Later, California voters passed Proposition 64 in 2016 that permits the use of marijuana for recreational purposes for people over the age of 21.
Alaska legalized medical marijuana in 1998 through a ballot measure. The voters would later legalize the use of recreational marijuana for persons over the age of 21 in 2014 in another ballot measure.
Oregon permitted the use of medical marijuana for medical purposes in 1998 through Ballot Measure 67. The state would later legalize recreational marijuana use in 2014.
Other US states that allow marijuana for both recreational and medical purposes include:
Colorado
Illinois
Massachusetts
Maine
Michigan
Vermont
Washington D.C.
Washington State
Is CBD legal in all 50 states?
As seen above, CBD laws vary from state to state. Every state has its policies and regulations surrounding cultivation, manufacturing, distribution, sales, and possession of CBD. Many states are in the process of developing more CBD procedures and regulations, which might make things more complex.
Although CBD with less than 0.3 THC is federally legal, that doesn't necessarily mean that it is legal in your state. Before you buy any CBD product, check the CBD laws in your state to determine any CBD use restrictions. However, buying and consuming hemp-derived CBD products are legal in all US states.