Beginner's 101
CBD Isolate vs Full-Spectrum CBD Oil? What's the Difference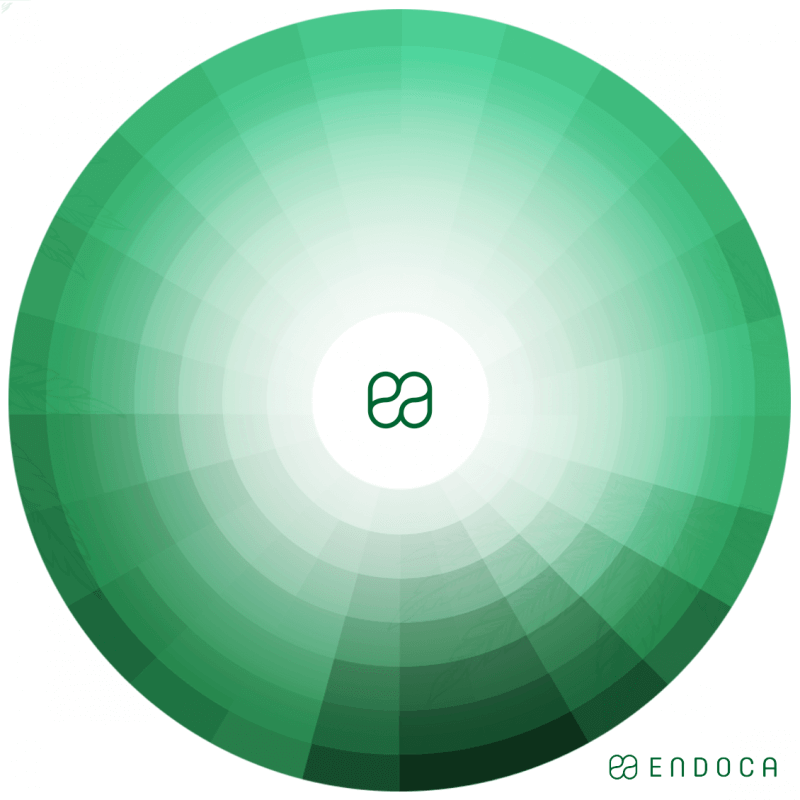 Recognizing the difference between CBD isolate vs full-spectrum CBD oil is key to defining the different ways cannabinoids can be used.
As the world of CBD continues to expand, so does its formulas. While you might be familiar with CBD oil and CBD capsules, getting to grips with CBD terminology like CBD isolate, full-spectrum, and broad-spectrum may be somewhat confusing.
CBD, also known as cannabidiol, is one of many cannabinoid compounds found in the hemp plant. CBD and THC are two of the most well known, however, there are a plethora of other cannabinoids that also occur in the plant.
There are over 100 other cannabinoids found in hemp– such as CBG, CBN, and CBDa, that when combined with CBD are thought to have an increased effect. 
Here we take a look at the main difference between CBD isolate vs full-spectrum CBD to give you all the facts.
In this article we will cover:
What is CBD isolate?
What is full-spectrum CBD?
What is broad-spectrum CBD oil?
A comparison between CBD isolate vs full-spectrum CBD oil
How to tell the difference between CBD isolate, broad-spectrum, and full-spectrum CBD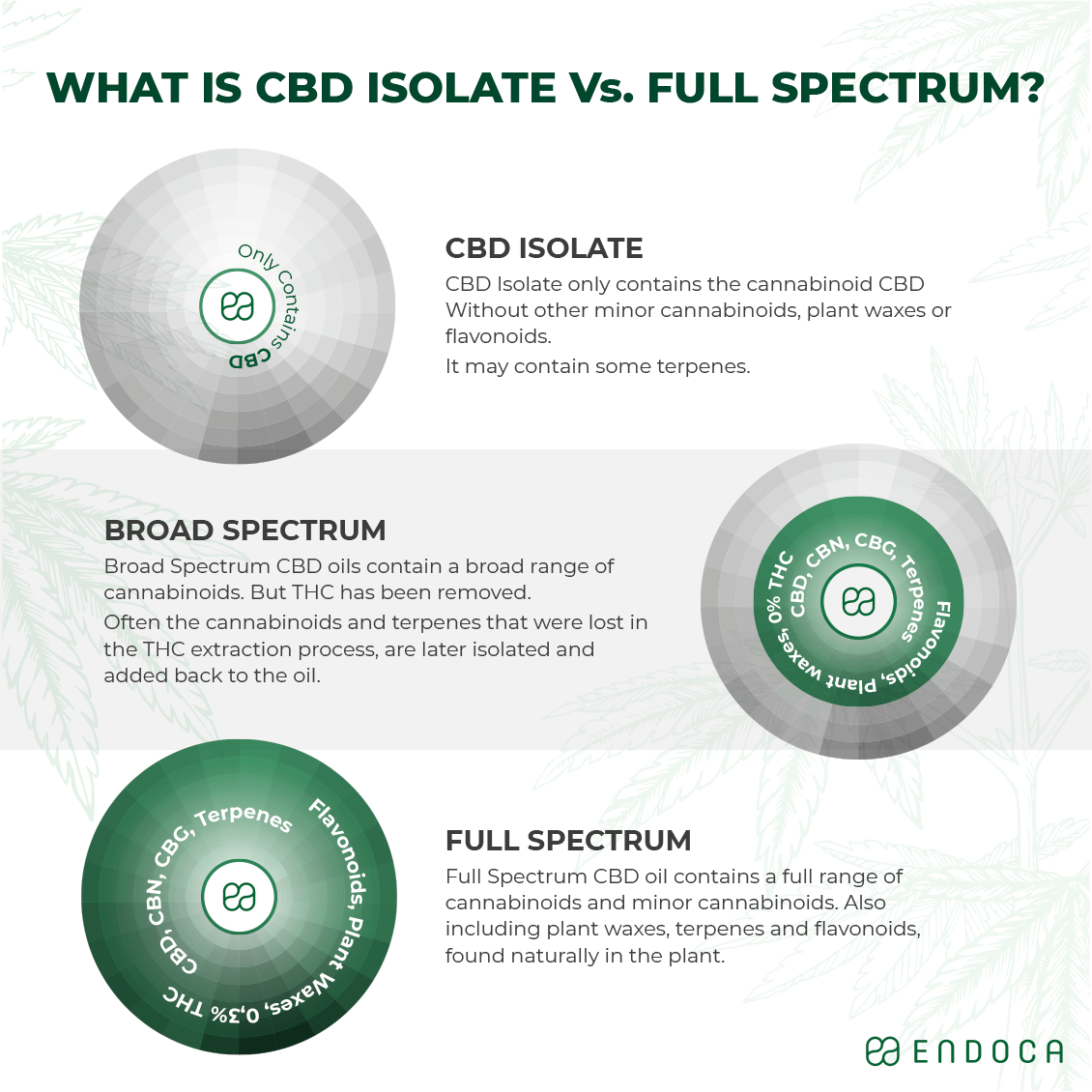 What Is CBD Isolate?
CBD isolate is known as the purest form of CBD, as it only contains the isolated CBD compound. When extracted from the hemp plant, hemp extract is filtered to remove all other constituents of the plant – this includes, other cannabinoids such as THC, minor cannabinoids, plant waxes, and flavonoids. Sometimes a tiny amount of terpenes are leftover, but only in small trace amounts.
When CBD isolate is made, it forms a crystalline powder which is often referred to as CBD crystals. In the extraction process, any traces of THC or other plant constitutes are filtered out. The CBD isolation process is quite time-consuming and is usually conducted after hemp extracts are made.
For many, the idea of having just CBD might seem like the best option. However, when CBD is separated from other compounds it is thought to not work as effectively as when it is combined with other cannabinoids.
Still, wondering how CBD isolate is made? you may also like to read what is CBD isolate?
What Is Full-Spectrum CBD Oil?
Full-spectrum CBD, on the other hand, contains a wide range of cannabinoids, minor cannabinoids, and even small amounts of THC (0.2%). Multiple cannabinoids all work together in synergy with one another, in what's known as the 'entourage effect.' This enhancing effect makes the benefits of each cannabinoid stronger.
Full-spectrum CBD oil maintains all the cannabinoids that are present in the natural plant. Which means it's as close to the natal plant as you can get, just as nature intended.
What is broad-spectrum CBD?
So, now that we've covered CBD isolate and full-spectrum CBD oil, what about broad-spectrum CBD? This is a hybrid of the two. Broad-spectrum CBD oil also contains a range of cannabinoids, but without THC.
This may seem to like the ultimate solution, as some users may be concerned about consuming THC.
However, In order to remove THC from the hemp extract often, other cannabinoids are also removed in the process. The ones that are lost have to be isolated and reintroduced back into the extract, which means some of the original plant's beneficial minor cannabinoids and other constitutes may be lost in the process. 
CBD Isolate vs Full Spectrum CBD: The comparison
So, now we have explained what CBD isolate and full-spectrum CBD is. Let's weigh up the pros and cons of each.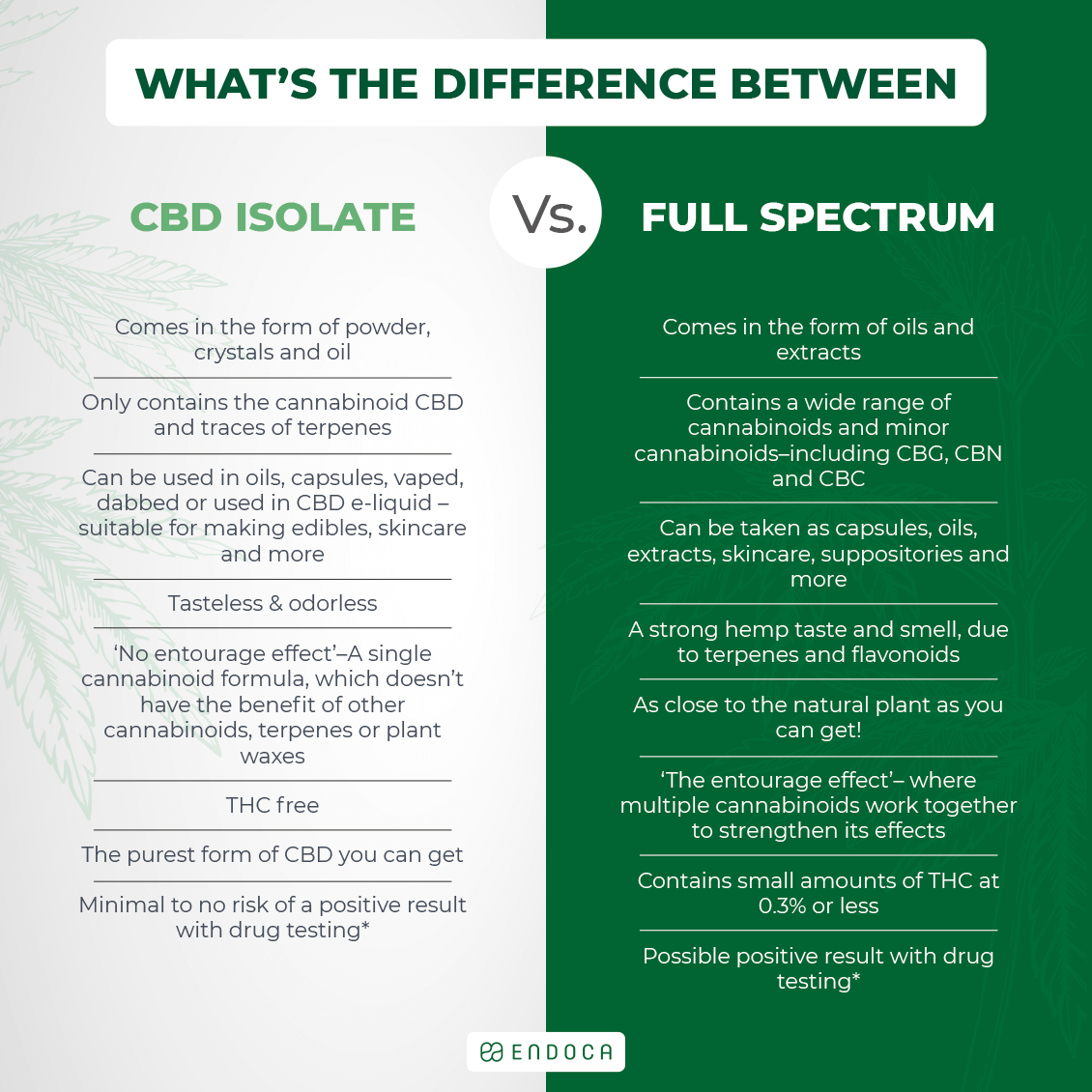 The Final Takeaway
When it comes to CBD isolate vs full spectrum CBD it's important to weigh up the pros and cons. Research suggests that 'entourage effect' changes the effectiveness of CBD if you are looking for the full effects of cannabinoids.
However,  if you are unable to take full-spectrum products due to the trace amounts of THC in them, CBD isolate is THC free. Either way, always do your own research before you decide to take any CBD products to make sure you are making the best choice for you.
*Endoca does not intend to give medical, legal, or financial advice regarding their information or products.