What is CBD cream?
Did you know your endocannabinoid system is linked to your skin too? Your skin is your largest organ. CBD has the potential to help support normal skin function, calm and soothe dry irritated skin, and maintain overall healthy skin.
The Endoca CBD skincare family, includes our CBD cream, CBD salve, and CBD balm. All of our CBD cream products contain high quality full spectrum hemp extracts, made from organic, food-grade ingredients with coconut oil, cocoa butter, and vanilla.
We maintain a high level of CBD content in all of our skincare products to ensure you receive all the benefits CBD has to offer. Not all CBD creams are created equal, with many CBD products, containing barely any CBD. This isn't the case at Endoca, our CBD skincare products are packed full of CBD.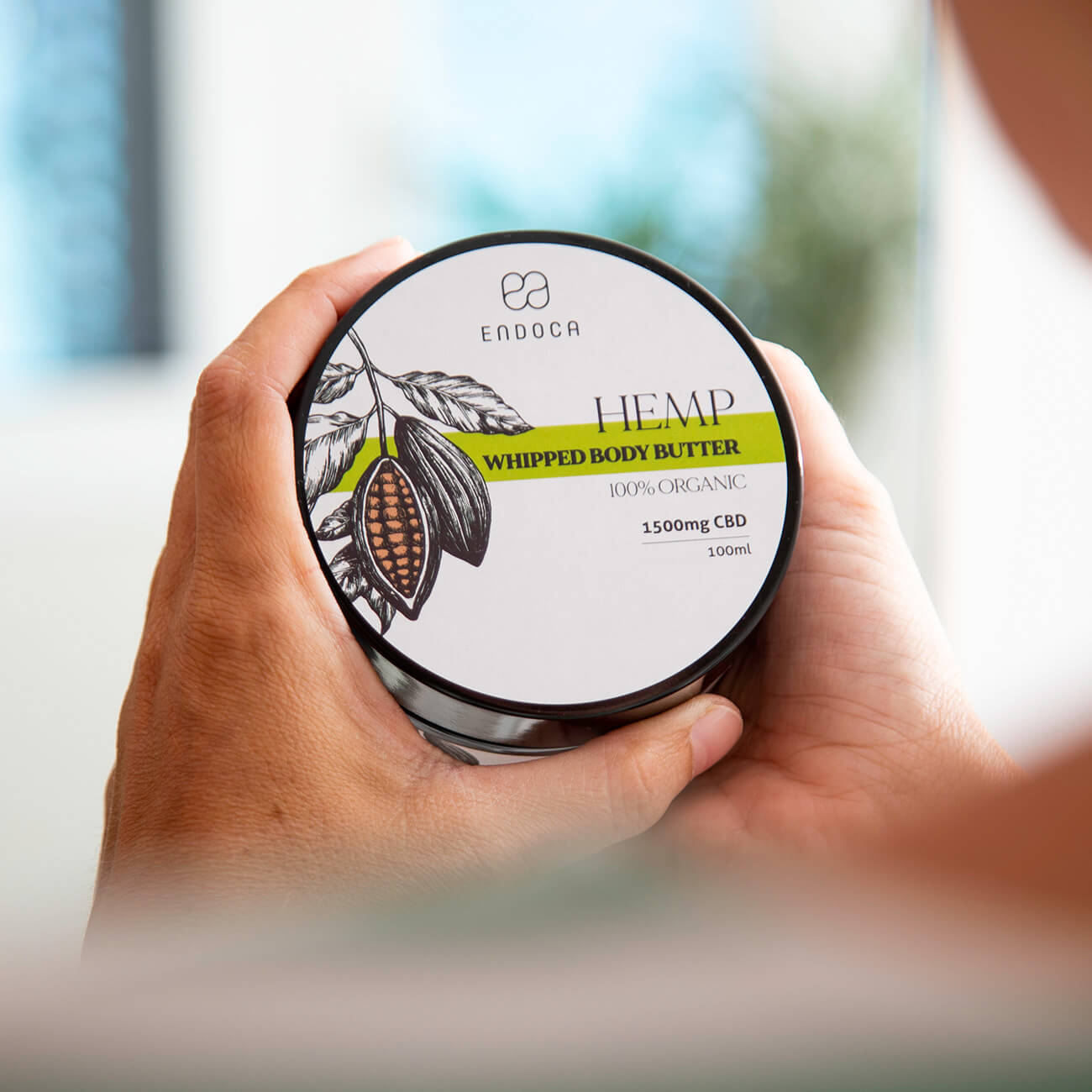 How to use our cream range
CBD cream
CBD cream can be used all over your body to deeply moisturize cracked, chaffed, or dry skin, with shea butter and vitamin E.
CBD Salve
CBD salve can be used as a targeted topical to soothe and calm skin irritation and excessive dryness. CBD Salve contains Vitamin E to nourish the skin on your face, neck, and body.
Balm
CBD balm is multipurpose. Use it on your face and body where you need extra moisture. CBD balm is made with, organic beeswax, coconut oil, and vitamin E to deeply moisturize chapped lips and dry rough patches on your body.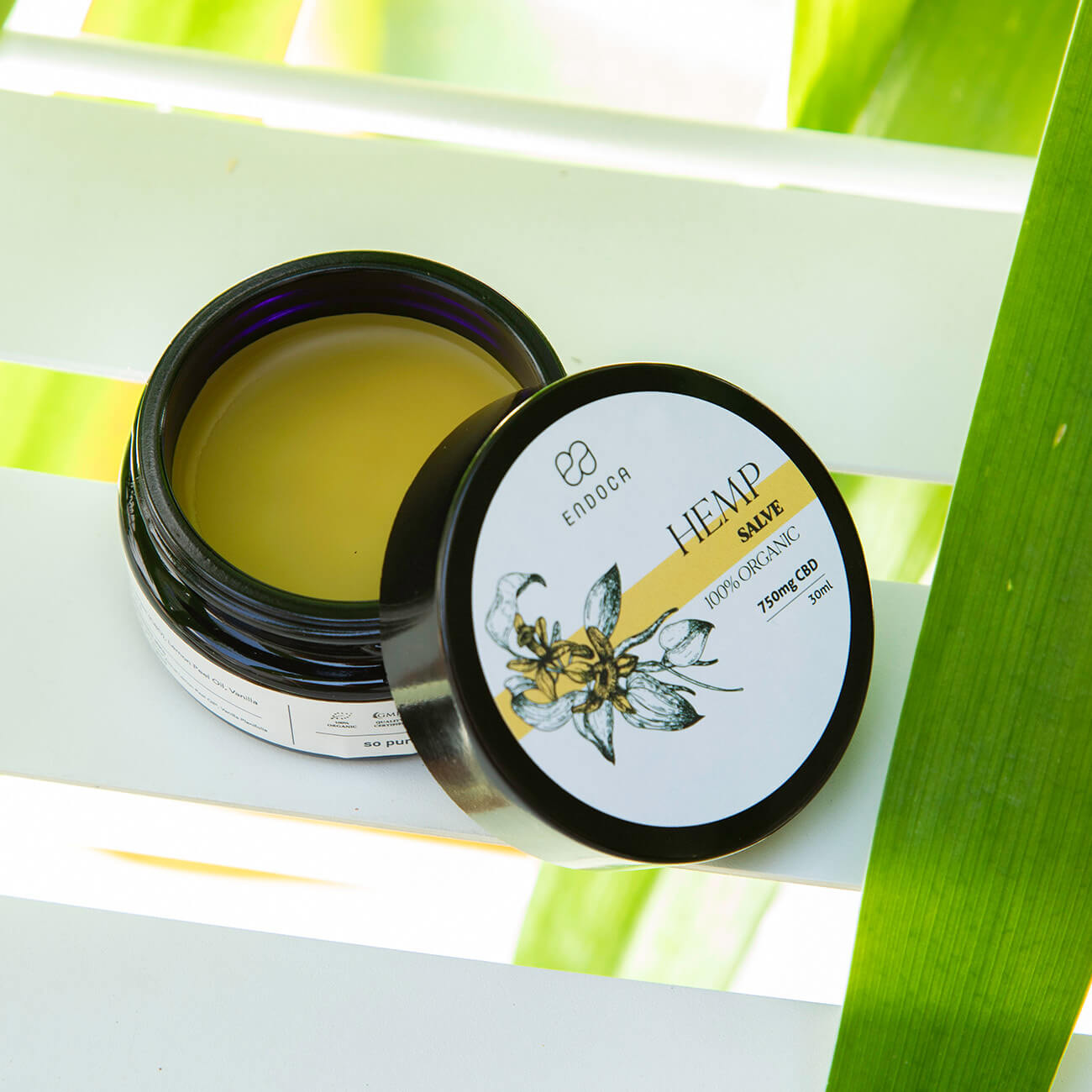 Salve, Cream & Balm benefits
Endoca CBD creams prevent moisture loss throughout the day and help manage the stresses of day to day life. Use day or night, simply rub into skin for calm and soothed skin. Add CBD cream, salve, or balm to your daily skincare routine to get the best out of our deeply nourishing skincare formulas.
Calm
CBD Body Butter- A rehydrating and ultra-creamy formula, enriched with CBD to gently calm and soothe skin. Available 1500mg and 300mg CBD concentrations.
Nourish
CBD Salve- A thick smooth formula to deeply soothe and condition skin. Hemp Salve is infused with 750mg of CBD hemp extract.
Moisturize
CBD Skin + Lip Balm- Easy to apply formula. Moisturizes extra dry cracked skin. Deeply nourishing and hydrating. Helps restore the skin's natural moisture balance. CBD Skin + Lip balm contains 20mg of CBD.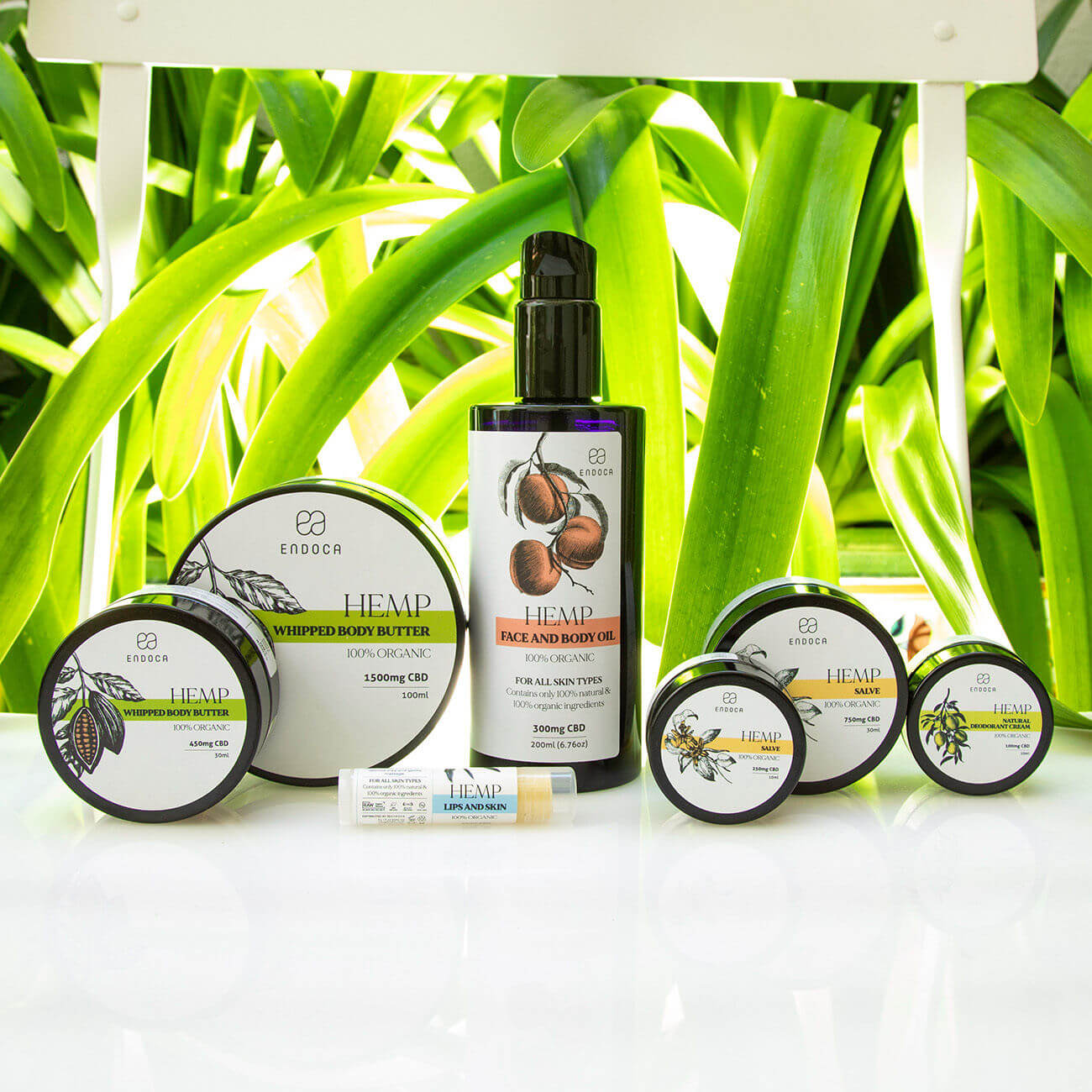 How Endoca creams are made
We know you care deeply about the skincare products you use. That's why we only use 100% natural ingredients in our CBD creams, salves, and balms. We believe we have a responsibility to select only the highest quality ingredients, that are free from toxins and synthetic ingredients, which is why you'll never find them in our products.
Your safety is our top priority, which is why our CBD skincare range is crafted in our GMP certified labs, under strict quality control. We rigorously check our products to maintain the highest standards of premium CBD skincare possible.
We control every aspect of our production process from seed to shelf to ensure your CBD skincare is infused with high-quality whole-plant hemp extracts.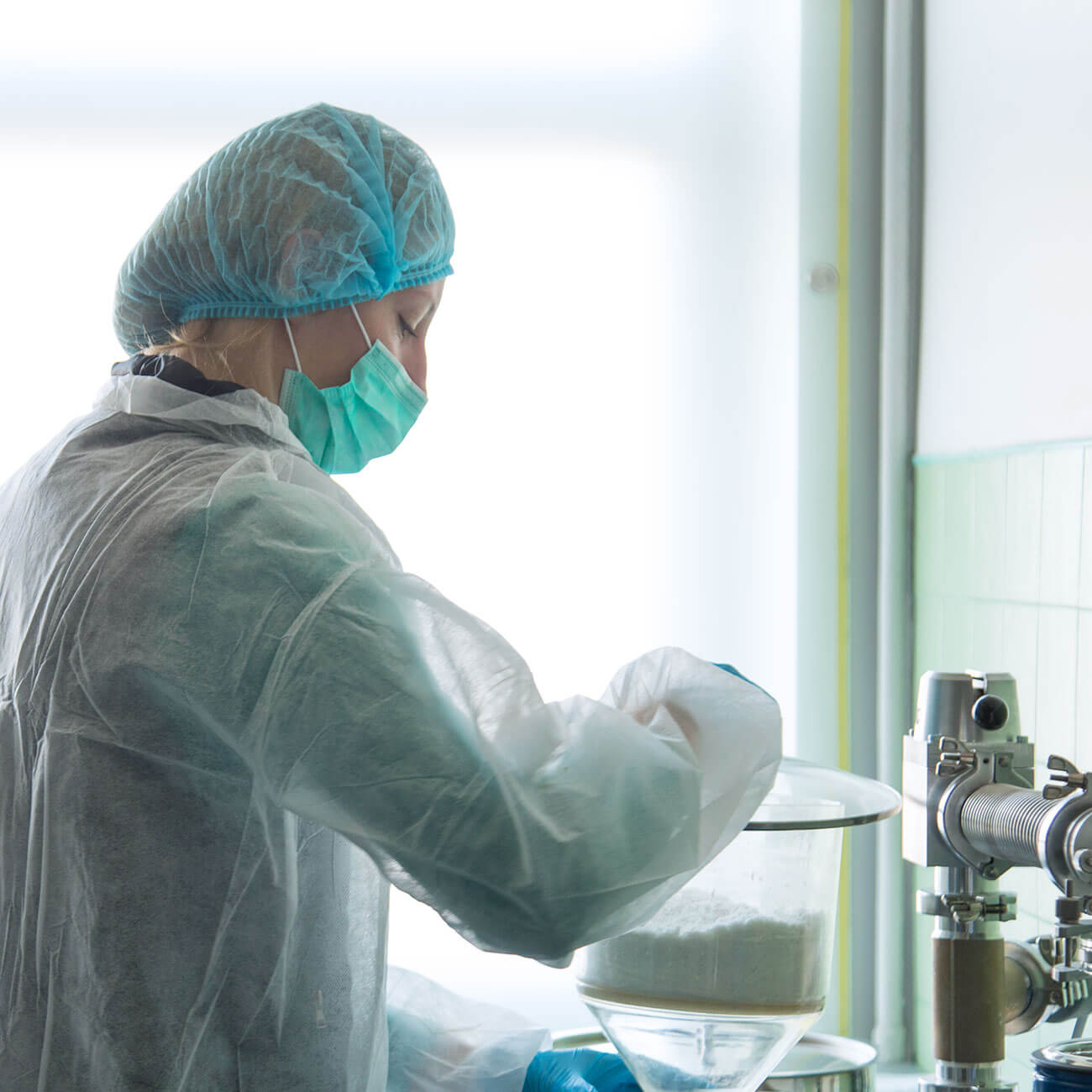 CBD Cream FAQs
Need answers? Find them here
What are the benefits of CBD cream?
Our CBD cream range is made from high-quality hemp extracts combined with organic food-grade ingredients, with coconut oil, shea butter, and vanilla extracts.
CBD cream offers a targeted topical application of cannabidiol that can be applied to muscles, joints, and dry skin.
Rich in moisturizing properties, with vitamin E and omega oils. CBD creams, salves, and balms can be rubbed into elbows, knees, and dry skin patches to help relax, soothe, and calm.
Can CBD cream help with inflammation and swelling?
Endoca CBD creams are not designed to treat, treat cure, or diagnose any disease, condition, or illness. We advise that you consult your doctor and read the latest trusted medical research on the effects of CBD on inflammation for more information.
Is CBD cream good for back pain?
CBD topicals are designed as a targeted external alternative to CBD oils and capsules. By applying CBD cream externally, it enables your skin to directly and quickly absorb cannabidiol at the site of application.
Endoca CBD creams are not created to treat, cure, or diagnose any disease, condition, or illness. We advise that you read the latest trusted medical research on the effects of CBD for pain for more information and consult your doctor.
Can CBD cream help with arthritis pain?
Endoca CBD creams are designed as a topical alternative to CBD oils and capsules. When CBD cream is applied externally, it allows cannabidiol to be absorbed quickly and directly into the skin at the site of application. Endoca CBD creams, salves, and balms are not designed to treat, cure, or diagnose any disease, condition, or illness. We advise that you consult a medical doctor before using CBD cream for arthritis pain.
What is the best CBD topical?
Endoca CBD creams are 100% natural, made from organic food-grade ingredients, and are free from parabens.
Each of our cream products contains a high level of cannabidiol (CBD). CBD creams are best for large skin areas and can be used on the whole body.
CBD salve is best for small to medium-sized areas on the body for targeted application.
CBD balm is best for small areas that need extra moisture, ideal for rough patches on knees, elbows, and dry lips.
What's the difference between CBD cream and CBD salve?
Endoca CBD salve and CBD cream both come in high cannabidiol concentrations. Our whipped body butter is available in two concentrations of 300mg and 1500mg of CBD. Its texture is rich, thick, and creamy.
Made from a blend of natural shea butter and coconut oil, its buttery texture makes it deeply moisturizing and nourishing and is suitable for full body application, just like any other body butter.
Endoca CBD salve is a thick and waxy emollient texture ideal for a targeted application. Contains 750mg of CBD. Well suited to applying topically to smaller areas.
What is CBD cream good for?
Endoca customers use our CBD cream range for an array of uses, including moisturizing and calming dry skin. Our skincare range is not designed to treat, cure, or diagnose any conditions or illnesses.
Why are Endoca CBD skincare ingredients better than others?
All skincare ingredients are organically sourced. We believe in all natural ingredients that are free from harmful chemicals and preservatives. The skincare range contains organic food grade ingredients, that are pure enough to eat.
We guarantee that you won't find any harmful chemicals in your skincare. We also use BPA-free packaging to ensure you receive chemical-free products.
Did we help you answer your questions? If you still need help, our customer service team is available in the chatbox in the right hand corner. We'll be happy to answer more of your questions there.