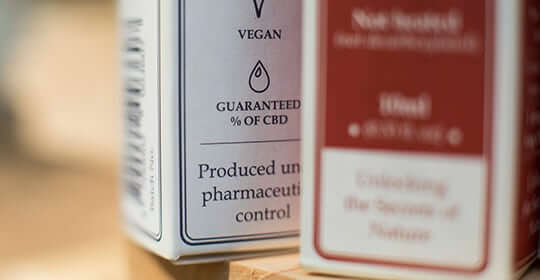 Guaranteed (% of CBD)
We deliver what is on the label
Our CBD oil is made from whole plant extracts using Supercritical CO2. Our CBD production method is the safest but most expensive way to extract CBD. The plant material is cooled under high pressure using CO2 and then the CBD oil is extracted, resulting in a very pure oil that has preserved all of its medicinal qualities. We have invested in the best machinery and equipment to produce CBD at a Pharmaceutical grade few other manufacturers can match.
We deliver what is on the label. Our founders background in biotechnology and chemistry means we are committed to providing a consistent thoroughly tested product with exact amounts of CBD, CBDa , terpenes and flavonoids. We have developed precise methods to restore the natural terpene profiles into our extractsguaranteeing a consistent product each time you purchase from us.
Our customers health is our main concern. You put your health at risk buying CBD from companies that may have products containing chemical & solvent residues, pesticides, heavy metals, microbial organisms, fungus, mold and other impurities or contain fake synthetic CBD or who don't follow GMP guidelines
Endoca has spent years in perfecting the art of hemp cultivation and extraction. Endoca has CBD oil that doesn't compromise on quality or purity.