EAT, SLEEP, RELAX
A basic necessity to live in balance, without which our health will suffer. The hemp plant's unique combination of cannabinoids, terpenes, essential fatty acids and nutrients work seamlessly together with our bodies to support a sustainable, healthy lifestyle.
CHOOSE:
DROPS if you like the taste and want maximum benefits

PASTE (first exact) "hemp oil" if you want pure nature just as it is

CAPSULES are great if you don't like the taste of hemp

SALVE if you also want a nice smell when you apply CBD on your skin

SUPPOSITORY if you can't take CBD orally or you just want max absorption

CHEWING GUM if you like to eat it but don't like the hemp taste

99% CANNABIS CRYSTALS if you want high strength CBD or want to vape it and get instant CBD in your blood circulation
WHAT PRODUCT PROVIDES BEST ABSORPTION OF CBD?
It is clear that the 99% CBD has the best absorption, but it doesn't stay in the bloodstream for a long time, and you don't get all the other 400 molecules.
The suppository is the best option, however, it's not always so practical.
We recommend the drops or chewing gum as they are most practical and have good absorption rates.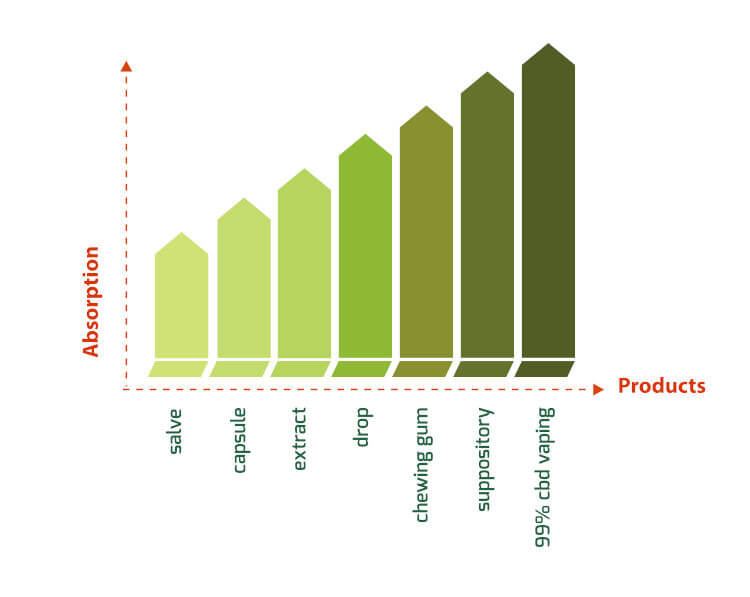 IS THERE A DIFFERENCE IN ABSORPTION TIME?
INGESTION: Delayed absorption of up to 2 hours or longer as it has to go through the digestive system. Longer duration of molecules available in the blood: 6-10 hours or more. Because of a slower breakdown process, the CBD is released into the bloodstream less quickly.
INHALATION: Faster onset as it gets into the bloodstream within minutes. Shorter duration as it only remains in the bloodstream for 2-4 hours. You get a concentrated amount for a short period of time.