Forstå forskellene mellem CBD og THC
Det kan være svært at forstå virkningerne af CBD, når THC undertiden også nævnes. Kommer CBD og THC fra samme plante? Kan de begge forårsage en 'høj' følelse? Hvordan er de forskellige, og hvad ville resultatet blive, hvis CBD og THC blev sat op mod hinanden? For at hjælpe dig har vi samlet en informativ vejledning, der fortæller dig mere om deres respektive egenskaber.
Hvad er CBD?
CBD er en forkortelse for cannabinoid; en naturlig komponent, der findes i cannabisplanten (også kendt som cannabis sativa). CBD er ikke anset for at være en kontrolleret substans og er 100% ikke-psykoaktiv. Dette betyder, at den ikke får dig til at føle dig høj.
Hvad er THC?
THC er en forkortelse for tetrahydrocannabinol, som også er en cannabinoid i cannabisplanten. Samlet set findes der over 100 forskellige cannabinoider. THC er en komponent, som forårsager en "høj" følelse.
Fordi THC er en kontrolleret substans er den ofte anset for at være ulovlig.
Indeholder CBD noget THC?
CBD indeholder ikke noget THC, eftersom CBD og THC er to vidt forskellige komponenter. På trods af det er det vigtigt at huske på, at CBD produkter ofte har en meget lille procentdel (0.3%) af THC i sig. Dette skyldes, at begge komponenter er tilstede i cannabisplanten, når CBD udvindes. Dette gælder både for ekstrakter, olier, mundgodter osv. 
How is CBD different to THC?
The main difference between CBD and THC is the effects they have on you.
Put simply, THC gets you 'high' while CBD won't.
This is because CBD does not bind effectively to our endocannabinoid system - the body's unique system that regulates elements such as sleep, appetite and our immune system. It's this binding action that gives you that 'high' feeling.
THC initiates a psychological response via the endocannabinoid system's cannabinoid 1 receptors (CBD1), found primarily in the central nervous system and the brain. When the CB1 receptor is activated, it produces a psychoactive effect.
CBD doesn't bind with the CB1 receptors and so has no effect on your perception or sensorial experiences. In fact, research has suggested that when CBD is taken with THC, it can lessen the psychotropic effects of THC by suppressing the CB1-activating qualities and so protecting the consumer from getting too high.
Their atomic arrangement is different
Without getting too scientific, CBD and THC may share the same chemical composition, but their atomic arrangements are different.
Both of them are considered cyclic compounds, which means one or more of the atoms in the compounds connect to form a ring. CBD has an open ring, while THC has a closed ring.
Why does this matter? It's this arrangement that means they interact differently with the endocannabinoid system's receptors.
CBD is abundant in hemp, THC dominates other forms of cannabis
While THC and CBD are both found in cannabis plants, THC is most plentiful in other forms of cannabis while CBD is found in higher quantities in hemp.
When other types of cannabis are grown, the THC content tends to be maximized to produce more powerful intoxicating effects.
Hemp, on the other hand, is dominated by CBD. In order for a cannabis plant to be classified as 'hemp', its THC content is to be no more than 0.3%.
CBD can possibly reduce anxiety. THC may worsen it
Here at Endoca, we're avid believers in the wonderful benefits of CBD oil. And medical studies have suggested that CBD can help with social anxiety and panic attacks.
THC, on the other hand, can in fact worsen anxiety and increase paranoia in some people, as suggested by other medical studies. However, some studies have suggested that when THC is combined with CBD, the negative effects are lessened.
Hemp-derived CBD is legal in most countries. THC is not
Other forms of cannabis and cannabis-derived CBD will get you 'high' because of their large amounts of THC (around 30%). This means that they're often illegal in many countries around the world.
However, when CBD is derived from the hemp plant, it has such minute levels of THC that many countries have no laws against its use. Click here to see if CBD is legal in your country.
In conclusion: how are CBD and THC the same?
Both are cannabinoids

Both interact with the body through the endocannabinoid system

Both are thought to potentially provide anti-inflammatory qualities

Both can be smoked or vaporised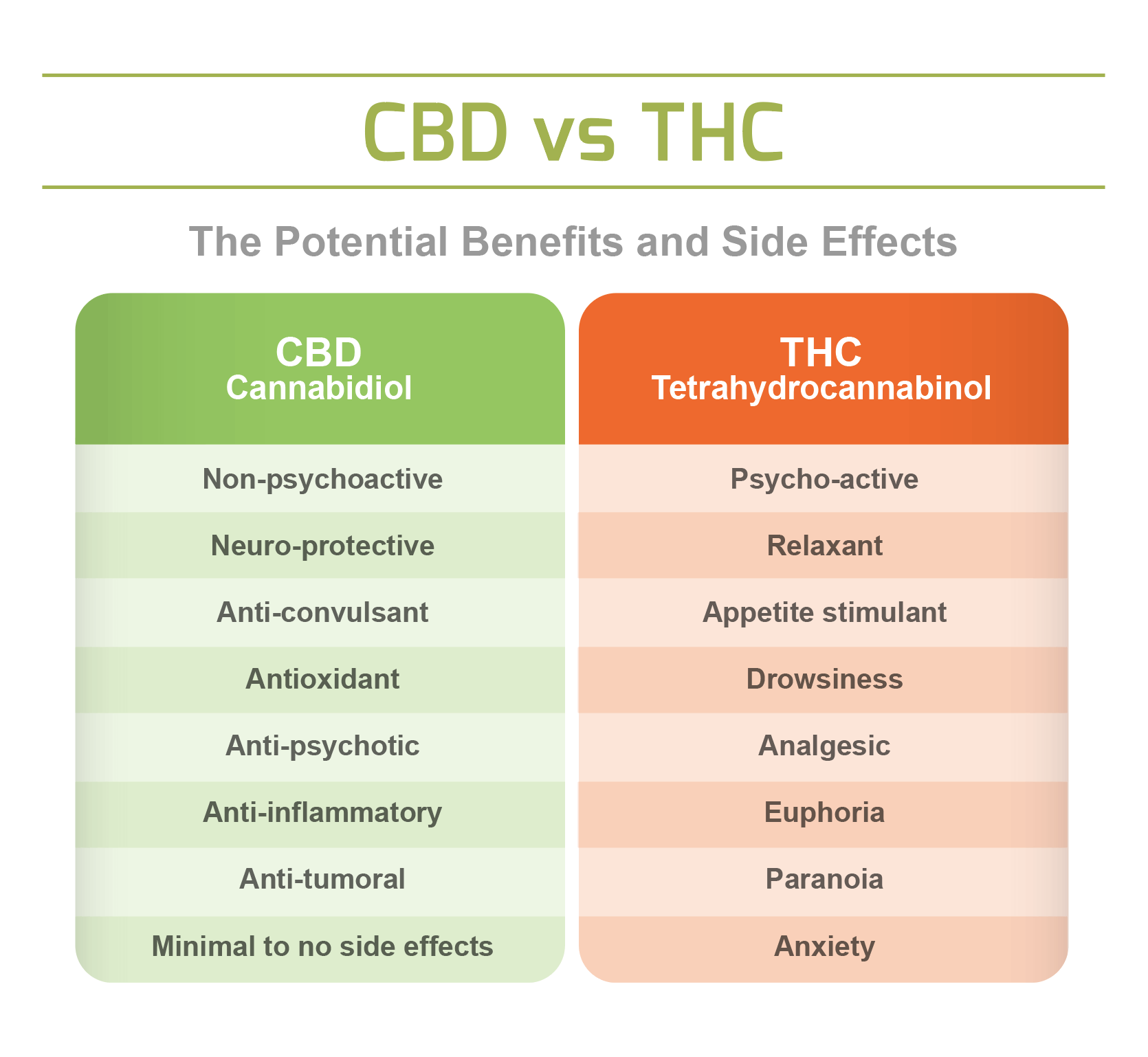 Hvad er forskellen på CBD og THC?
CBD er ikke et kontrolleret stof, men det er THC
CBD gør dig ikke høj, men THC gør
CBD og THC har forskellige atomarrangementer
CBD indeholder store mængder af hamp, mens THC primært dominerer andre former for cannabis
CBD afledt fra hamp er lovlig i de fleste lande, men det er THC ikke
Hvilke forskellige CBD og THC-produkter er til rådighed?
Det er vigtigt at huske på, at mens CBD og THC ofte sameksisterer i et CBD-produkt,  så har de forskellige effekter. For eksempel:
Høj THC + lav CBD (f.eks. 10-30% THC + spormængder af CBD):
Dette vil give den euforiske, eller "høje", følelse.
Balanceret CBD / THC (f.eks. 5-15% THC og CBD):
Dette vil automatisk opleves en smule mere euforisk end de CBD-stærke udgaver. Dog er det mindre tilbøjeligt til at fremkalde negative bivirkninger i TCH såsom paranoia og angst.
Høj CBD + lav THC (f.eks. 5-20% CBD + THC under 5%):
Dette vil ikke få dig til at føle dig høj, men kan faktisk give nogle ret fantastiske fordele.
Her hos Endoca er alle vores produkter CBD-dominerede.
Hvis du stadig er nysgerrig på vores CBD produkter, så klik videre til vores CBD online shop. Hvis du har brug for en hjælpende hånd til at træffe en velinformeret beslutning, kan du også sende os en besked via vores chatbot eller smide os en mail - vores supportteam står altid klar til at hjælpe.