Published on: 02/1/18
Work-related stress is on the rise: in a recent report, 40% of people said their job was very stressful. That sucks when you consider that an average person will spend a fifth of their lifespan at work and that stress can be a major contributing factor to anxiety, depression, heart conditions, and might even contribute to some types of cancers.
So it's more important than ever to incorporate some self-care strategies to manage our stress; otherwise, we are putting our health and happiness at risk.
What Causes Work-related Stress?
According to the World Health Organisation, work-related stress is "the response people may have when presented with work demands and pressures that are not matched to their knowledge and abilities and which challenge their ability to cope."
Many of us have experienced these feelings - feeling overloaded at work, buckling under impossible-to-meet deadlines or feeling out of one's depth in a new position with extra duties.
Other factors can include having a difficult boss, feeling isolated from colleagues or even just feeling plain bored by the monotony. Difficulties in obtaining a work-life balance are also key. How many people are juggling responsibilities at home like bringing up children with maintaining a high pressured job?
It's no wonder then that millennial workers are rapidly becoming a stressed-out bunch, with the UK alone losing 12.5 million days in 2016/17 due to work related stress, anxiety and depression.
It's high time that us workers start caring for ourselves, so that we can be happier and healthier people at work and in our home lives. So here are some helpful tips to manage stress at work:
---
1. Keep work and home life separate
Once upon a time, a long, long time ago, people used to do a job, and at the end of their day, close the door and not do another work-related thing until the next morning. Then came email, next the Blackberry, quickly followed by smartphones. The result? The precious boundary between our working and home life has been completely blurred.
Why does this matter? Well, we never truly switch off from the pressures and stresses at work. It also means that bosses now believe their workers are on call 24/7, which would have been inconceivable in the past. It's been an insidious change, and one that we've all tacitly consented to through constantly checking our phones and emails for new messages. The trick is not to look at your phone and if you do, resist the urge to respond in that moment, leaving any correspondence until the next day.
Home should be a sanctuary from our working pressures; somewhere to relax and enjoy time with our family, friends, or even just ourselves. But ultimately, it's down to us to protect our sacred space. Be firm. You won't regret it!
2. Honest communication - learn to say no
Ultimately most humans are people pleasers and never more so than at work, where we believe our jobs may be on the line. So if our boss says jump, we invariably get on a pogo stick and start bouncing around like a wild rabbit.
It just doesn't feel right saying 'no' when your monthly salary and ultimately paying your mortgage are at stake. But some of the most successful people in business have no problem issuing the negative when they don't have time to take on a project.
But a 'no' doesn't have to be a negative if framed correctly. No boss wants to risk a project or task by giving it to someone who is too stressed to carry it out effectively. So why not explain to your boss that right now you are working efficiently on your tasks, but add an extra workload and the existing work may suffer.
In fact, clear honest communication is key, so if you're feeling stressed or under pressure, request a one-on-one meeting with your manager to discuss how you are feeling and discuss what changes can be made.
3. Get organised
I remember feeling so stressed in a job that I barely even took toilet breaks. How crazy, right? The irony is that had I factored regular breaks into my working day, my stress levels would have almost certainly reduced. So when it comes to getting organised, ensuring regular breaks away from your workstation are vital.
A particularly important break is lunch. How many of us have grabbed a sandwich and eaten it staring at our computer screen? This is a one-way ticket to feeling over-stressed. So my number one advice when it comes to getting organised is take a one hour lunch break out of the office and, where possible, eat a healthy, nutritious meal that will feed both your stomach and your spirit.
Getting organised also relates to prioritising tasks. In a state of work overload, it can be difficult to know where to start and the worst thing to do is to flit between tasks, while never completing any of them. So at the beginning of your working day, think about how best to use your time, clearly laying out your priorities.
4. Self care - be sure to look after yourself
Ultimately, it's up to us to ensure that when our time's up and we reflect back on our lives, we know we did our best to be happy and to bring happiness and love to those around us.
So, this starts by looking after yourself. What do I mean by this? Well, start by caring for your physical health through getting enough sleep, eating a healthy diet and doing exercise. Not forgetting to dedicate time to your mental well-being by having a hobby or following your passions, spending time with your nearest and dearest, doing something that has meaning or purpose, and laughing heartily as much as possible.
However, if you're feeling frazzled, consider taking stress-busting supplements such as CBD oil or St John's Wort, or try complementary therapies such as yoga, massage, acupuncture or reflexology.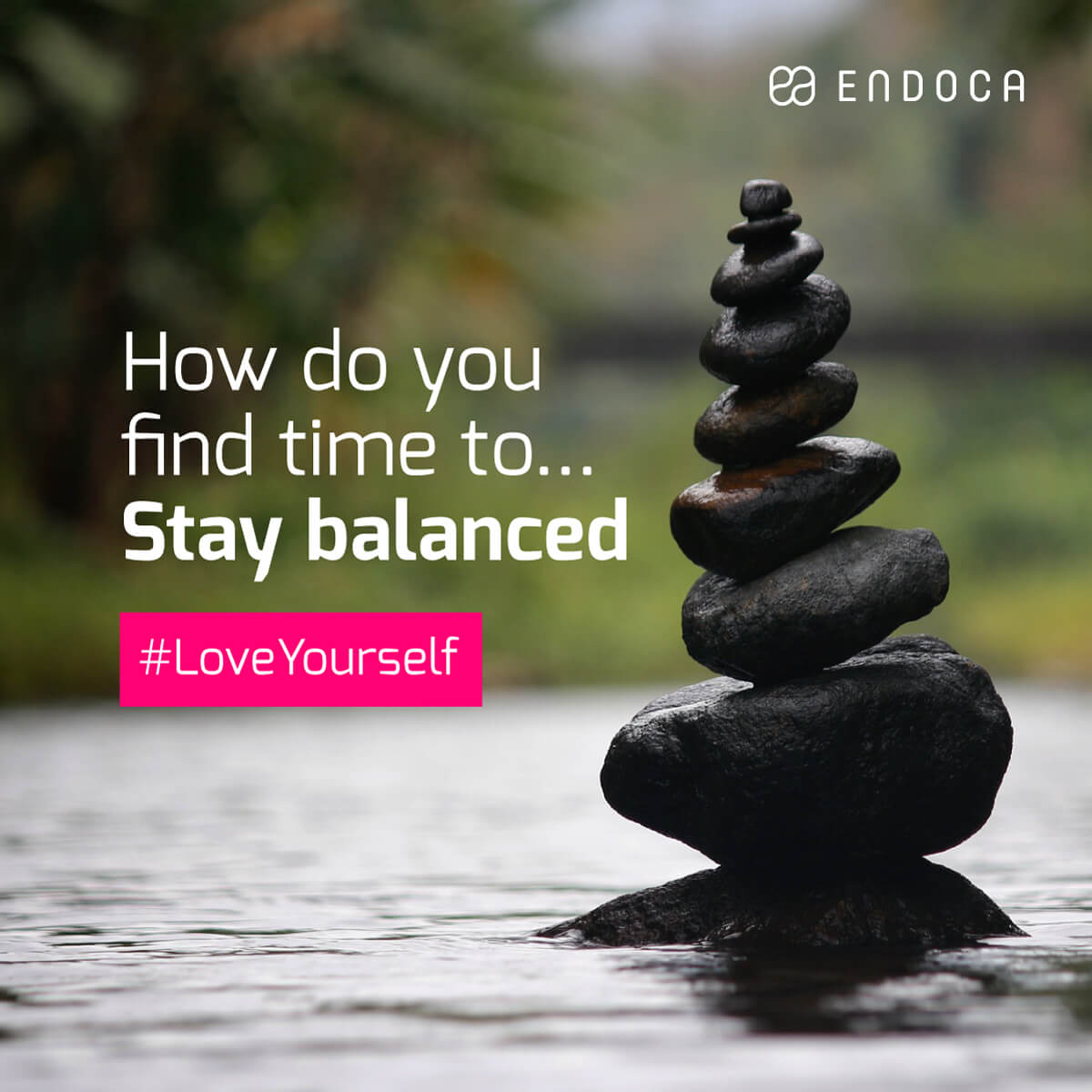 5. Stress management techniques
As more is understood about stress in the workplace, so an increasing number of techniques are becoming available to help us feel calmer in our jobs.
One such method is Mindfulness. Based on Buddhist philosophy it is a way of reducing stress through practicing present moment awareness. A lot of stress and anxiety is caused by worrying about what will happen in the future or raking over what has happened in the past. Mindfulness develops the ability to remain in the present through the use of meditation techniques. In fact a mindfulness course has been developed to deal specifically with stress. It's called the Mindfulness Based Stress Reduction Course (MBSR) and in some countries is available on the national health service.
6. Get some perspective
We've all heard the adage how on their deathbed, no one regrets not having spent enough time in the office. Death is a great leveller and we're all headed there (sorry to break the news), so remember that your work is just one aspect of your very finite life. And what's the worst that can happen, if we don't reach that deadline or sales target? The world will continue to turn on its axis, and even if your contract is terminated (as unlikely as it is), there is quite possibly a more fulfilling prospect around the corner.
It's easy to feel that making your boss happy or getting that promotion is the most important thing in the world right now. But ask yourself this question: Will I really care about this in a month's time, how about in a year's time or even as I'm about to leave this mortal coil?
7. Change career
Fifty years ago, a job was for life. But these days, many people accept that what you started doing at the age of 21 is probably not going to make you happy even just 10 years later.
Changing career path is no longer the aberration, but it takes courage and planning. If you are sick of your job, be it because you're super stressed or just plain bored (which is also stressful, by the way), take some time to think about what else you'd like to do with your finite life. Maybe your skills are transferable to another profession. Perhaps you want to take the radical approach and completely retrain yourself or even move to the mountains and become an Alpaca farmer. Whatever it is, not doing something is going to make you miserable. So be brave, think bold and follow your heart.
So there you have it - a few, straightforward steps anyone can use to move away from work-related stress towards health and happiness. Don't feel you must do all of them. Start with the most manageable and see where it takes you. Why not start a journal to record any changes in your stress levels as you follow these tips?
---
Disclaimer: Views expressed here do not necessarily reflect those of Endoca and its staff. This article is not intended to provide medical advice, diagnosis, treatment or cure. Endoca CBD products have not been approved by the US Food and Drug Administration (FDA).