Published on:11/30/18
Christmas is a great time to reflect on the year just past and focus on our goals for the year ahead. A new year symbolizes new beginnings and a chance to ignite fresh hope in those that need it.
Christmas and New Year for some of us may not always be a happy time; many feel anxiety, grief, loneliness or stress and may even be suffering from ill health. We often use the holiday period as a time to come together and spend time with our families, friends and share our hopes for the future.
At Endoca we believe that CBD can bring hope to those that may be suffering from difficult symptoms, and this year we have heard from so many of our community members and customers on just how much CBD has brought hope back to their lives.
As we continue to share the wondrous benefits that cannabis and CBD has to offer, it is our hope that next year will be a great year for CBD.
We will continue to make strides in acceptance and further break the barriers and stigmas that surround it. We also hope that more and more of you will be able to experience its potential benefits.
So, whether you've have had a year of strife or the time of your life, we would like to help you spread more hope for the future by introducing our CHRISTMAS CBD HAMPER GIVEAWAY!
Enter our Endoca Christmas Hamper Giveaway and Give Hope to a Loved One!
Why not pay it forward this year and give the gift of hope to a FRIEND or FAMILY MEMBER by entering them into our CHRISTMAS CBD HAMPER GIVEAWAY! We're offering you the chance to WIN a CBD hamper for a friend or family member in need worth up to $1000* in the run-up to Christmas.
---
HOW TO ENTER
Step 1
CHOOSE a FRIEND, FAMILY MEMBER or ANYONE THAT YOU FEEL would benefit from winning a CBD hamper this Christmas with up to $1,000* worth of CBD products.
Step 2
Go to one of our social media channels (Facebook, Instagram or Twitter) and share our CHRISTMAS GIVEAWAY post, including a message of HOPE in your post. Don't forget to TAG your FRIEND or FAMILY MEMBER'S NAME.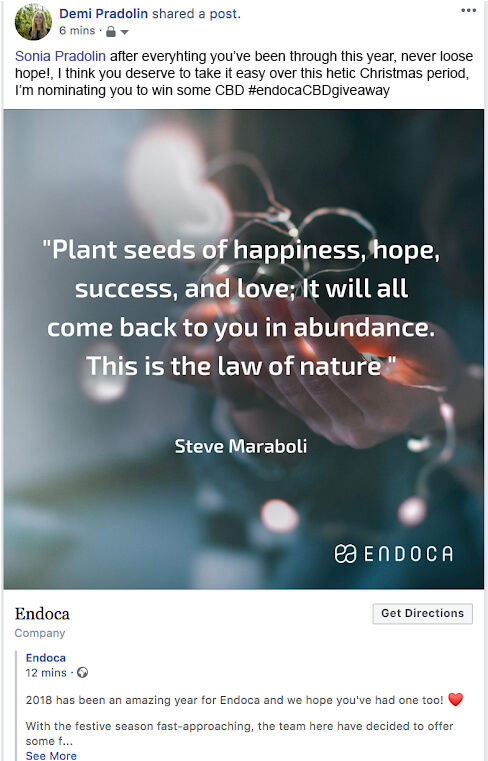 Step 3
We will be announcing WINNERS WEEKLY on social media in the run-up to Christmas.
GIVE THE GIFT OF HOPE THIS CHRISTMAS AND ENTER A FRIEND TODAY!
Terms and conditions
1.1 ONLY SHARED GIVEAWAY posts on social media WITH MESSAGES OF HOPE will be entered into the giveaway.
1.2 GIVEAWAY STARTS on the 1st December and ENDS 21st December.
1.3 Only the FINAL GIVEAWAY on the 21st DEC 2018 will be worth $1,000. Other weekly GIVEAWAYS will be worth $500.
1.4 You can ONLY ENTER ANOTHER PERSON to win the Christmas Hamper. Our weekly community story giveaway is for individuals who wish to share their personal story with CBD and receive a CBD gift.
---
Disclaimer: Views expressed here do not necessarily reflect those of Endoca and its staff. This article is not intended to provide medical advice, diagnosis, treatment or cure. Endoca CBD products have not been approved by the US Food and Drug Administration (FDA).