Published on:01/11/18
2017 was a tough year for Vera Twomey, the Irish mother and headline grabbing medical cannabis campaigner. Mary Biles caught up with Vera to hear first hand about the highs and lows of the last 12 months and her hopes for 2018.
CBD Dramatically Reduces Ava's Seizures
8-year-old girl Ava had been born with the rare epileptic condition, Dravet Syndrome, and after conventional medicine failed to curb her seizures, parents Vera and Paul had turned to CBD oil as a last hope. Against all expectations, Ava responded well and her seizures reduced by 90%.
But still, the family believed that by introducing a small amount of THC, Ava could stand a chance of being seizure free.
---
Medical Cannabis Bill Is Passed In Ireland
It just so happened that precisely at the time Ava and her parents were discovering the benefits of CBD oil, Ireland was in the midst of considering the regulation of cannabis for medicinal use. The first stages of a medical cannabis bill had been passed in the Irish Parliament and Irish Health Minister, Simon Harris, had promised to fully investigate the pros and cons of legalising medical cannabis in Ireland.
Surely, this would mean that Ava would be able to access the combination of CBD and THC her parents thought she needed based on anecdotal accounts from other children with Dravet Syndrome around the world.
Health Minister Refuses To Agree To Ava's Case
However, administering THC to a child, even if she was the centre of national debate over medical cannabis, was not on the Health Minister's agenda. Time and time again, he said no to Vera and her husband Paul, saying they would need to follow procedure and apply for a license. Unfortunately, at that moment they could find no pediatric neurologist willing and able to take their case forward.
Undeterred, warrior mum Vera decided to fight on by walking the 260 km from her village in Cork to the Irish Parliament in Dublin, arriving ten days later, exhausted and pushed in a wheelchair.
And yet the Health Minister was not for turning, sticking firm to his position.
"I'm not going to say it was easy," says Vera. "It was one of the hardest things I've ever had to do. It was worth it. But it shouldn't be as hard. Kids like Ava are vulnerable people and they need all the support they can get."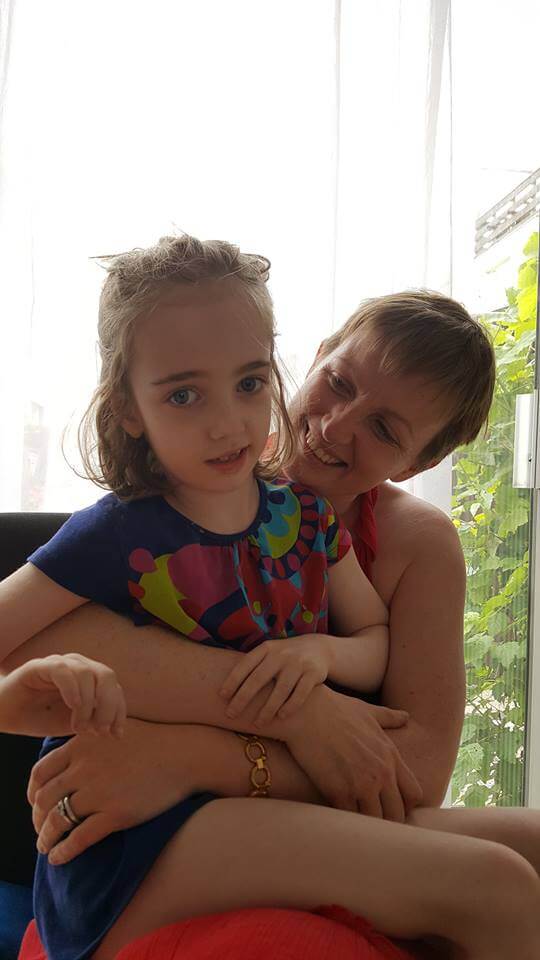 Public Get Behind Vera and Ava
By now, Vera had thousands of people across Ireland and the world following her and Ava's story.
This support only increased last June when in desperation, Vera and her husband Paul decided to move the entire family to the Hague in Holland, where they had found a pediatric neurologist willing to treat Ava with medical cannabis.
"There were a lot of people who were extremely upset and angry that a child as sick as Ava was forced to leave her own country", Vera recalls. "They were contacting their Members of Parliament and all of their efforts were filtering up to the Dáil (the Irish Houses of Parliament).
This tremendous public backing was only emboldened by the positive improvements in Ava's health. She was seizure free, plus showed encouraging cognitive improvements in her speech and ability to perform simple tasks, such as dressing herself and counting.
Dutch Pediatric Neurologist Prescribes Both CBD And THC Oil
Under her Dutch pediatric neurologist, Ava was given CBD oil and THC oil separately, dosed according to her weight.
"I was pleased that the neurologist was talking about administering CBD first to prepare the body and then giving THC later so that it would remove any trace of psychoactivity. I must say Ava has not been 'out of it' on the THC. It seems that the doses that are administered are appropriate for the person. And I liked that very much, as epilepsy is so complicated, you get something that is tailor-made for your child.".
Comparing the different attitudes between Holland and Ireland, Vera says: "Medical cannabis over there is another string to the bow for how to treat patients. For someone with Dravet Syndrome, medical cannabis is just one of the options."
Medical Cannabis Application Finally Goes Ahead
But despite the astounding progress Ava was making, the family still struggled to find an appropriate doctor to file the medical cannabis application in Ireland and it seemed that the situation had reached a stalemate.
Eventually in November, they found a General Practitioner who agreed to make the application with the support of Ava's neurologists in Ireland and Holland.
"The application went in and Simon Harris is quoted as saying it was the 'most robust application' that he had received to date," says Vera. "We had two neurologists, we had the clinical evidence, we had a good product; we had everything just there."
Ava Home In Time For Christmas
Suddenly the family swung from utter desperation to total jubilation as little Ava and Vera made their way back home to Ireland just in time for Christmas.
"It's just magnificent. Ava was very relaxed. We flew home. In June, we didn't think it was safe to fly Ava out of the country, so we drove. But we flew back with her and she was very well, and she's been great since."
Back in Ireland, Ava continues to come on in leaps and bounds.
"Her cognitive improvement is excellent. I'm really looking forward to getting her back to school. She's had a couple of ear infections since being home, but she's had no tonic-clonic seizures with those infections despite a temperature of over 38.5. That's the kind of temperature that would have had Ava on an IV in hospital."
In fact Ava hasn't been rushed into hospital since she began taking CBD oil back in September 2016. Before then, it was an almost weekly occurrence.
Vera is also thrilled that since taking medical cannabis, Ava has been able to drastically reduce her other prescribed medication. "She is still on a very low dose of one pharmaceutical medication and that is all," says Vera. "There was one point in Ava's life, when she was on 5 different medications and taking 16 tablets a day."
And despite all these medications, Ava continued to have one life threatening seizure after another.
"Maybe a lot of people don't understand the pain associated with the seizures," Vera says. "But if you have twenty seizures 3 or 4 days a week, your life, your body, your mind, everything is so sore and confused and agitated and upset and unhappy. And now she's a happy, smiling little girl."
A New Year, A New Life For Ava Thanks To Medical Cannabis
And so as 2017 draws to a close, the family look forward to a 2018 filled with new possibilities for Ava.
"I hope to watch her progress, to see her improve, to see her back and happy and looking forward to seeing her friends at school. And having fun. Who knows what progress 2018 will bring. I also hope that the legislation will go forward in Ireland and that the suspicion surrounding medical cannabis can be neutralised. There's no need for such suspicion about something that's such a gift to us all.
"I think it is unjust that only a handful of people should have access to this medication. This is the relief that people can't find elsewhere. And people deserve that: Someone that is in chronic pain, someone that has epilepsy, someone that has diabetes or any of the other conditions that cannabis can help. Just to have the option. I think everyone deserves the option to try it, at least."
But now Vera's focus is on her family enjoying a relaxing Christmas together.
"It's the best Christmas present without a shadow of a doubt," says Vera. "Ava is free. I don't mean to sound dramatic about it. But this is a freedom that this little girl wouldn't have had, if it weren't for this (cannabis). She had had an existence previously, and now she has a life."
---
Disclaimer: Views expressed here do not necessarily reflect those of Endoca and its staff. This article is not intended to provide medical advice, diagnosis, treatment or cure. Endoca CBD products have not been approved by the US Food and Drug Administration (FDA).