Cannabidiol is the health and wellness trend of the moment, emerging from the cannabis subculture to become something that sites like Popsugar and the Huffington Post recommend including in your smoothie bowl. Within the next two years, sales are expected hit $2.1 billion as investors and consumers alike show an almost unstoppable interest in CBD and its benefits.
But is CBD even legal in the US?
That is truly a sensitive question to answer. Currently, the legal framework for CBD is so confusing, controversial and contradictory that there is no simple answer to such a simple question.
So, in order to get you the best answer possible, we have taken a look at the current state of CBD laws in the US:
Federal Law, Cannabis and CBD
According to federal law, cannabis is controlled by the Controlled Substances Act (CSA). In this act, the plant and all its derivatives (including CBD) are categorized as a Schedule 1 controlled substance, which legally defines it as a drug "with no currently accepted medical use and a high potential for abuse." This means that neither medical nor recreational uses of cannabis are federally legal.
In spite of this, a rough estimate says that more than 2 million Americans legally use CBD and cannabis as a medical treatment for their ailments. This is no small number, so why is it that Americans can legally use medical cannabis even though federal law forbids it?
The fact is that the US judicial system is not straightforward. Even though the federal law applies in all areas of the United States, it doesn't necessarily overrule state laws. This is because the US Constitution gives each US state the right to create, implement and enforce laws, as long as they're not in conflict with the Constitution – and since cannabis is not written in the US Constitution, state laws can regulate the plant however they please.
---
So Is CBD Legal In All 50 States?
Each of the 50 US States have each their own regulatory framework when it comes to cannabis. Although each framework is unique, it is possible to lump them into four separate categories:
   States that still prohibits cannabis
   States with legal hemp-derived CBD
   States with legal medical cannabis
   States with legal cannabis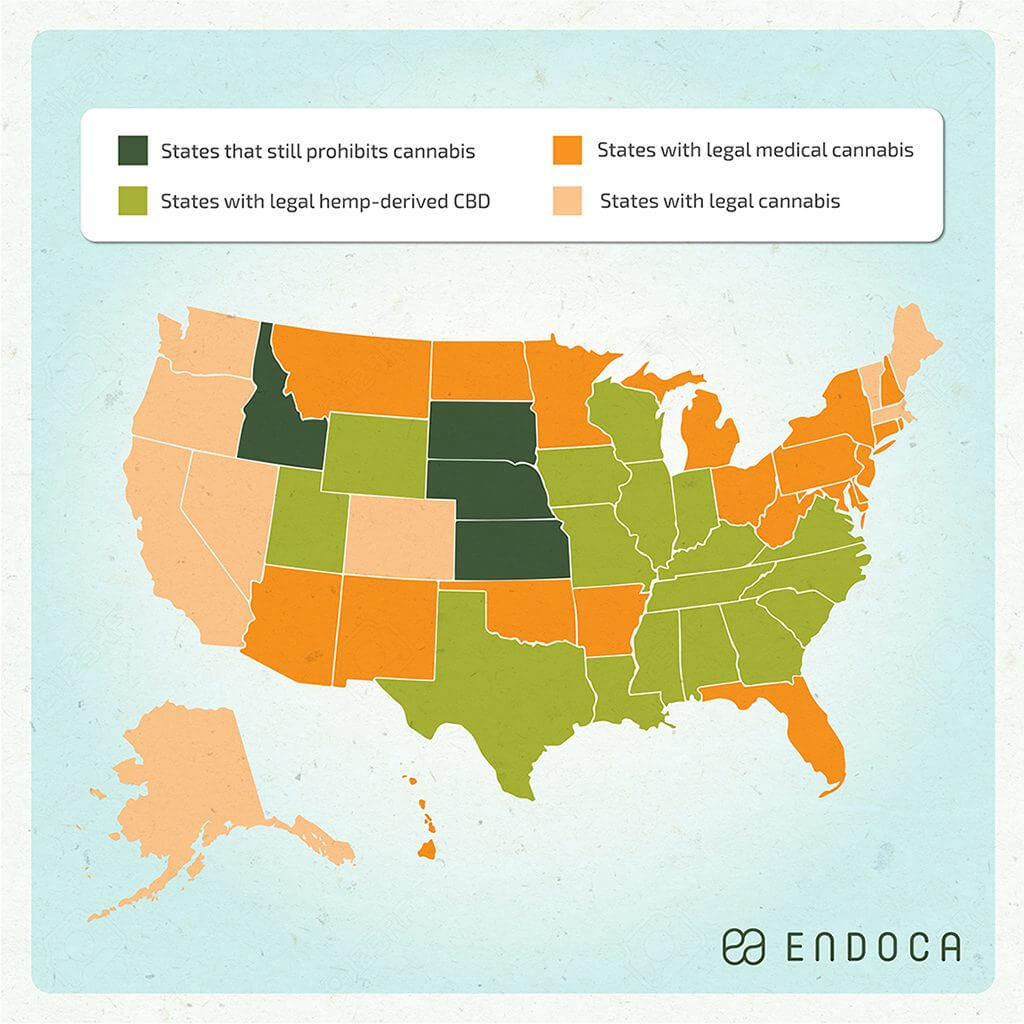 This may seem simple, but in truth, it's far from it. Let's have an in-depth look:
1. States that Prohibit Cannabis
Currently, there are only four US states that completely forbid cannabis: Idaho, Kansas, Nebraska and South Dakota. These four states do consider small amounts of cannabis (in any form) a misdemeanor, but any cannabis-related activity is punishable with up to 5 years in prison. The inhabited territories of American Samoa, Northern Mariana Islands and the U.S. Virgin Islands also consider cannabis an illegal substance.
2. States with Legal Hemp-Derived CBD
This category is more lax, but the punishment for illegal conduct still exists. The laxness is in form of a limit on the amount of THC allowed in a product (0.2%), which essentially makes hemp-derived CBD products legal (or at least non-punishable). Some of these states do, however, have a limit on which medical conditions are eligible for medical cannabis treatments with CBD, as well as requirements for content. States with this type of lax laws (or tight regulations, if you're a glass-half-empty type of person) are: Alabama, Georgia, Indiana, Iowa, Kentucky, Louisiana, Mississippi, Missouri, North Carolina, Oklahoma, South Carolina, Tennessee, Texas, Utah, Virginia, Wisconsin, and Wyoming.
3. States with Legal Medical Cannabis
In order to legally use medical cannabis – without any limits on the amount of THC in a product – you have to, more often than not, be an eligible or approved medical cannabis user and live in either of the following 20 states: Arizona, Arkansas, Connecticut, Delaware, Florida, Hawaii, Illinois, Maryland, Michigan, Minnesota, Montana, New Hampshire, New Jersey, New Mexico, New York, North Dakota, Ohio, Pennsylvania, Rhode Island, or West Virginia. Also the inhabited territories of Guam and Puerto Rico have allowed the medical use of cannabis. Without a medical cannabis license, CBD is often unattainable, either because of its resemblance to marijuana-based products (with high levels of THC) or because it's only legal to use for research purposes.
4. States with Legal Cannabis
The final category includes the US states where cannabis is legal for medical and recreational uses. In most of these states, the buyer has to be over 21 and producers, distributors and sellers have to be licensed. States that consider cannabis fully legal include: Alaska, California, Colorado, Maine, Massachusetts, Nevada, Oregon, Vermont (as of July 1st), and Washington, as well as the District of Columbia and all Native-American reservations.
With a total of 46 out of 50 states having implemented a decriminalization or legalization scheme for medical cannabis, it's honestly astonishing that federal agencies like the FDA, the DEA and the entire U.S. Department of Justice are sticking to their views of cannabis as a substance to be controlled.
Consumers Caught in the Crossfire
There are several problems that arise out of the cross-fire between state and federal law when it comes to cannabis, including the reluctance of banks to cater to the cannabis industry, restrictions on tax deductions and the risk of federal law enforcement officers showing up at cannabis businesses to declare them illegal.
But the most central problem of this crossfire is the position of the consumer: the legal pinch that patients are at risk of experiencing. With cannabis illegal on a federal level, some doctors refuse to prescribe medical cannabis, because of the Schedule 1 classification under the CSA. This could be solved by simply switching doctors, but this is simpler said than done: it can be both difficult and expensive to find a doctor who's willing to prescribe medical cannabis, as the closest may be hundreds of miles away.
The problem also extends to employment, housing and childcare. Some employers won't hire people who use cannabis, no matter the purpose, and landlords can prohibit such use on their properties. And worst of all, children get caught in the cross-fire – like in the case of 2-year-old Jaelah Jerger, whose parents were reported for giving their daughter CBD oil, which the federally-run Child Protective Services (CPS) considers "medical neglect".
So What Does the Future Hold for Medical Cannabis and CBD?
The stigma on CBD as being a "drug" is still far too present today than it should be. With states progressing above and beyond expectation, legalizing a plant that has proven valuable to so many patients, the United States has just one barrier towards being the most cannabis-friendly nation: its federal law.
And because of this barrier, both Uruguay and Canada have surpassed the US as first-movers within the cannabis industry. And moreover, both Canada and Israel have taken the lead in innovative research into the medical benefits of cannabis and CBD.
Although the Obama administration's strategy to ease the enforcement of federal cannabis laws, it still came as a surprise to the cannabis community when the new Attorney General, Jeff Sessions, announced that US attorneys should process cannabis-related activities according to federal law. However, this message from Sessions had an unforeseen backlash: it sparked renewed energy and motivation for cannabis advocates and investors, which has the potential to strengthen the industry even further. And now, the Trump administration seems to be turning, having struck a deal with Colorado to allow state laws to prevail, sparking new hope for investors, companies and consumers alike.
The U.S. still has a long way to go before it can call itself the most innovative country for cannabis, but it is by no means the cannabis industry or its supporters that are keeping this development at bay.
---
Visit our shop
Go to blog frontpage