Published on:02/13/18
In this day and age, most people we know have experienced stress at one time or another, but did you know the food we eat plays a big role in this? Could specific foods for stress management be a key player in the stress game?
Stress management tips usually center around taking pills and supplements, and of course we support all ways to minimise stress, as we have written many articles on it before due to CBD being a powerful tool in helping us keep our stress levels down. However no matter how much you love vitamins, you can't neglect your diet when looking for stress relief tips. This is why stress supplements just don't cut it when you are trying to improve your life habits in reducing stress. Sure you can take a zinc or magnesium supplement, but that would mean missing out on all the other vitamins and nutrients that can be found in your food. That's why we believe that one of the best stress management tips out there is "eat your medicine!"
Stress-Busting Recipes
Stress relief tips are rampant on the internet, but we thought we would take a different angle, so we did some digging, and we have put together 4 delicious, healthy recipes jam-packed with a whole array of different nutrients that are perfect to bust out when you need to calm that little rogue voice in your head.
---
1. Chocolate and Peanut Butter Oatmeal with Banana, Berries and Mixed Seeds
For the basic oatmeal recipe, we used this one and then added some berries along with a special anti-stress seed mix (see below) for some extra stress-busting power.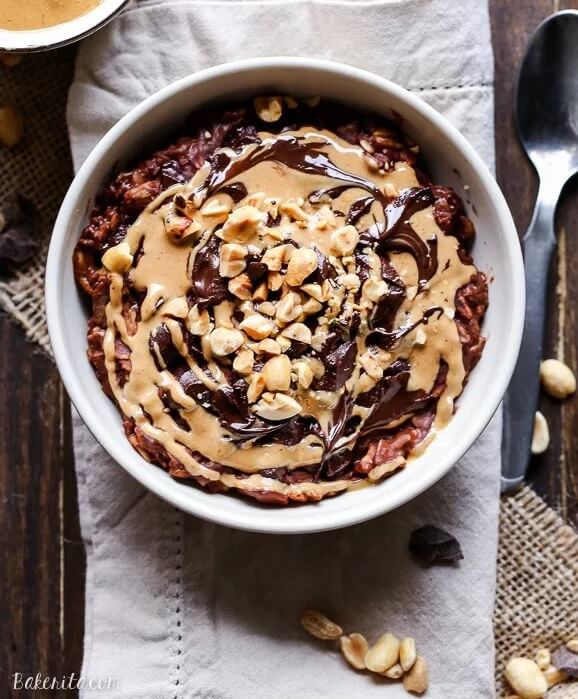 Credit: https://www.bakerita.com
2. Roasted Winter Squash, Asparagus, White Beans Salad with Leafy Greens and Mixed Seeds and Nuts
Just roast the vegetables, toss in rinsed beans and leafy greens and garnish generously with the anti-stress seed mix below and add your favourite dressing. You can add any other veggies or fruits that tickle your fancy too!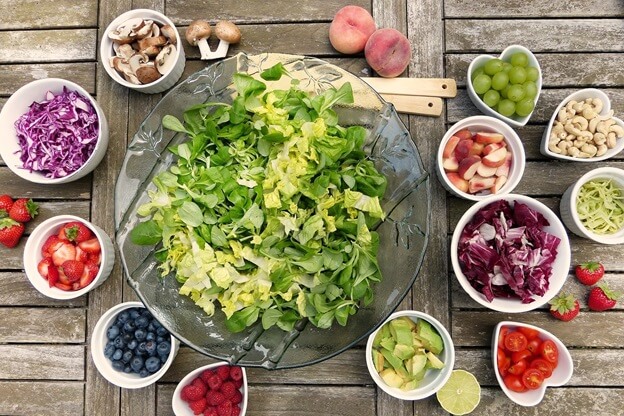 3. Stir Fried Tofu, Broccoli and Peppers with Brown Rice and Toasted Nuts and Seeds
The marinade is up to you, you can use this 3-ingredient recipe here or you could be wild and create your own.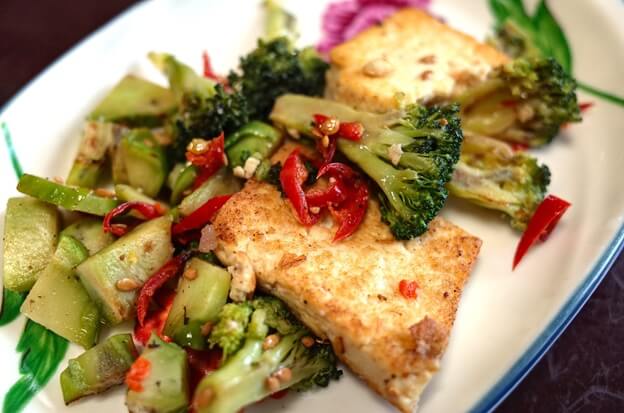 4. Chocolate Avocado and Banana Pudding, Garnished with Mixed Berries and Hemp Seeds
We used this basic pudding recipe and then added our own tweaks with the berries and out anti-stress seed mix.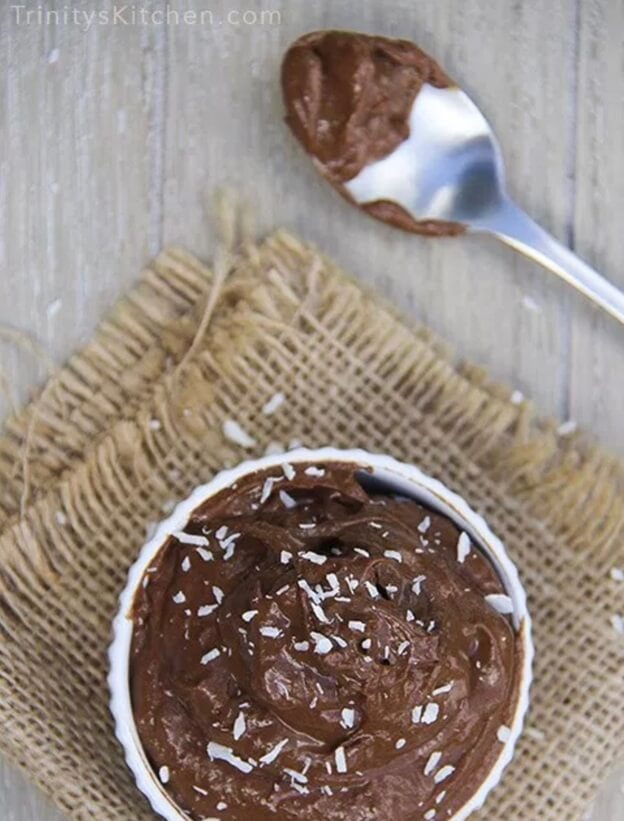 Credit: http://www.trinityskitchen.com/
Why These Food Combinations Are so Powerful
Oats - Oats are a powerful anxiety- and stress-fighter, containing B vitamins, magnesium and fiber. Not only that, but it's one of the best foods for encouraging serotonin production!
Bananas - Bananas contain high levels of a protein called tryptophan, which is converted into serotonin and is also jam packed with potassium, which is magic for our blood pressure levels.

Berries - Berries such as blueberries and strawberries are very rich sources of vitamin C, which is a powerful cortisol-fighter.

Cocoa - The flavonoids in cocoa help our bodies produce nitric oxide, helping blood flow and lowering blood pressure, as well as being a powerful antioxidant and rich in magnesium.
Squash - All types of winter squash, such as pumpkin, butternut squash and acorn squash, are not only rich in Omega 3's, which is a powerful fatty acid that protects our brains and bodies against the side effects of stress, it is also a vegetable rich in magnesium, a compound that helps regulate our sleep and emotions.

Leafy Greens - Leafy greens such as spinach and kale are full of magnesium, which is a great help in regulating our sleep and mood, as well as being jam-packed full of vitamin B9, otherwise known as folate. Folate helps our brains produce dopamine, which helps keep us cool, calm and collected, as well as helping to improve our moods and keep us alert.
Asparagus - Asparagus, the purple in particular, is full of anthocyanins and vitamin E, which are potent antioxidants that help the body to fight free radicals. Asparagus is also known for its high folate levels, adding an extra dopamine boost!

Beans - According to a study carried out on people who consume beans, individuals had 47% lower chance of having elevated blood pressure than their non-bean-eating counterparts. As we all know, high cortisol levels can result in higher blood pressure and here, these little nutrient power houses are great. They can be added to pretty much any meal you can fit them into, and are also loaded with protein and dietary fiber. Winning!

Tofu - Tofu is loaded with goodies like vitamin B1 (thiamine), which is known to help the body adapt to stressful environments. Tofu also contains high levels of tryptophan, the chemical without which our bodies couldn't produce serotonin and which is a vital compound when it comes to regulating our moods and cortisol levels. It is also rich in magnesium, a compound that is responsible for the regulation of our nervous system. Studies also show that increased levels of cortisol and adrenaline correlated with low levels of magnesium and Omega-3s.

Broccoli - Broccoli is also a vegetable rich in B-vitamins, in particular our friend folate, which directly affects our stress and anxiety levels by increasing the levels of dopamine we produce in our brains.
Peppers - Red peppers (otherwise known as capsicum) is loaded with vitamin C, a powerful antioxidant. Stress relief tip: Did you know peppers actually have twice the amount of vitamin C as the orange ones? vitamin C helps us keep our immune system strong, assists in keeping levels of cortisol in check and it's been shown that prolonged periods of stress deplete levels of vitamin C in the adrenal glands.
Brown Rice - Whole grains like brown rice actually trigger the brain to produce serotonin, a super important compound for managing our stress and anxiety levels.
Anti-Stress Seed Mix (Pumpkin, Hemp and Sunflower) - Sunflower and pumpkin seeds are rich in magnesium, a chemical that helps regulate our sleep and emotions; two things that can be directly affected by high cortisol levels. Hemp seeds are rich in Omega 3, which helps bring cortisol levels back in check. Pumpkin seeds has the added bonus of zinc, an important vitamin in keeping anxiety and depression at bay.
Nuts like Almonds and Cashews - Almonds are rich sources of B vitamins, vitamin E and vitamin C, and are great nuts for fighting the free radicals related to stress and for stabilizing blood sugar levels. Cashews in particular are loaded with zinc, of which low levels are linked to anxiety and depression. Stress relief tip: Make a mix of these nuts and seeds, keep them in a small airtight jar and carry them around as a snack, or keep them on hand in the kitchen as a garnish for salads or stir frys.
Avocado - Did you know that avocado is actually a richer source of potassium, a compound that helps keep our blood sugar low while also preventing hypertension, than bananas? Avocados are also loaded with vitamin E, vitamin C, folate and B vitamins, making it a great food for stress!
Looking for some less time-consuming stress relief tips?
Don't have time to try and cook up all these recipes? Or perhaps you just want some stress relief on the go? A great idea is to mix up a bag of nuts and seeds that you can keep at your desk, in the car or even in your purse! Remember to focus on including almonds, cashews, hemp seeds, pumpkin seeds, and sunflower seeds to this mix in order to maximise all the amazing, stress-busting benefits. See, who needs stress supplements when Mother Nature has your back?

Are stress-busting foods still not cutting it for you? Well, have you tried CBD extracts for stress? CBD has been shown, time and time again, to have powerful effects on our stress and anxiety levels. Want to read more about CBD and the role it can have in regulating our emotional responses to stressors and anxiety-inducing situations? Check out the article here by our fabulous Mary Biles to read about other stress relief tips!
---
Disclaimer: Views expressed here do not necessarily reflect those of Endoca and its staff. This article is not intended to provide medical advice, diagnosis, treatment or cure. Endoca CBD products have not been approved by the US Food and Drug Administration (FDA).