Published on:05/1/18
Holly - Community Story Winner
"When you have your health, you have everything. When you don't have your health, nothing else matters."
For some, this holds an immense truth that others can't ever begin to imagine.
For Holly, it wasn't until the age of 29 that this truly held fast. She was diagnosed with a rare disease that even her doctors didn't know much about. After a few years of misdiagnosis and skipping from prescription drug to prescription drug, she was finally given a diagnosis of Achalasia.
---
So What is Achalasia?
Achalasia is categorized as a rare disease of the muscle of the lower esophageal body and the lower esophageal sphincter that prevents relaxation of the sphincter, as well as an absence of contractions (or the wave-like movements that moves food to different processing station) in the digestive tract and esophagus. Unfortunately for Holly, the information available to her was and still is limited due to the rarity of the disease.
"I didn't lay down and sleep comfortably for over 2 years."
Although not much is known about the disease, Holly explains succinctly, "for sufferers of the disease, symptoms really vary. Mine include intense internal spasms of the oesophagus as well as not being able to swallow food or drink. I had to remain upright, otherwise food and liquid, trapped in my chest not reaching my stomach and slowly digesting there, would spill back up out of my mouth."
So, Holly went from being an active woman under 30, working within a fast-paced environment of the fashion industry, learning Yoga to become an instructor in her spare time and exercising regularly, to then be at a point where she was in so much pain that she was incapable of doing much at all, including socialising or even consuming enough food to sustain herself.
Holly was unable to keep her food down and the pain persisted to a point where she couldn't keep her weight at a healthy level. Her inability to eat had made an incredible impact not only on her weight, but on her mental health as well. Without the life she had managed to live before, she felt her spirits decline and became quite low.
Holly eventually went in to have surgery that would see her oesophagus and stomach reshaped to allow her to swallow and digest food as before. Luckily, the surgery was a success, however six months after her surgery, the pain continued unabated and began getting worse day by day.
Seeking aid from her doctors, she was only met with obstacle after obstacle. Her options were to take heavy muscle relaxants that she was told couldn't be prescribed in the UK, where she lives. They informed her also that even if she was allowed to take heavy muscle relaxants, it would mean her physical and mental capabilities would be completely hindered, producing symptoms that would leave her unable to participate in daily activities.
"I knew the pain would continue and develop and I had no way of managing it except hiding at home, hoping it would stop so that I could try and have a normal day; see a friend, go for a walk, get some sort of work [done], eat again, and help put weight on so that I could be healthy again."
"The stress of this worsened my symptoms and also gave way to anxiety & depression that I struggled to control."
Holly's boyfriend then started researching CBD and how it may aid her with the pain and symptoms of her Achalasia. After so many invasive and problematic drugs and surgeries, they decided CBD seemed like one of the only options that would at the very least do the least amount of damage.
"I now use the 3% CBD hemp oil when I feel pain coming on and it usually stops it almost instantly!... I used it a few more times, exploring dosage, and found it to help me more than anything I had tried and felt so happy that, as a natural product, I could use this to help me without worrying about the negative effects of long-term use."
"I couldn't believe how soon I could feel it working after trying just a small dose!"
Holly says her recovery only really began when she started taking CBD, "not when I left the hospital." She attributes much of what she has been able to conquer up until today to the benefits she has felt from when she began her CBD journey, and has even managed to become an active Yoga instructor; something she was incapable of doing after her diagnosis.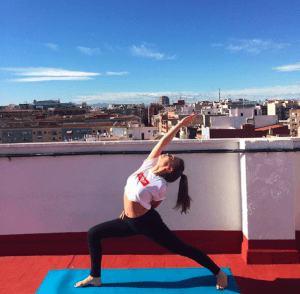 "I can honestly share that CBD oil has changed my life. I now have something that manages the pain - something I was told repeatedly nothing medical ever could. I carry it with me at all times in case of a flare up and it means that I don't have to say 'no' to plans now or worry I won't be well enough to join in. I can usually go anywhere and take the oil if I feel pain."
For Holly, spreading the word about CBD is something she feels is incredibly important. She knows first hand what is capable when you give CBD a chance to change your life, and most importantly, she feels strongly about providing others with Achalasia the help that she herself was so anguishingly denied.
"I really hope my story reaches some other Achalasia sufferers to offer some suggestion of hope. Or anyone that has a long-term incurable / untreatable condition… It's been a key in the door to my new, normal life and I couldn't be more thankful for that."
If you or someone you know have had experiences using CBD for any medical conditions or diseases, and if you would like to share your story with the CBD community, please don't hesitate to contact our Community Manager, Claire, at social@endoca.com. We look forward to hearing your story, so that we can continue shedding light on all the possibilities of cannabis and CBD.
---
Disclaimer: Views expressed here do not necessarily reflect those of Endoca and its staff. This article is not intended to provide medical advice, diagnosis, treatment or cure. Endoca CBD products have not been approved by the US Food and Drug Administration (FDA).