Dear community,
My name is Robb Selig, I am 32 years young and a passionate herbalist, who has studied herbs and their uses for the past decade, both academically and independently, while also working part-time at a chiropractor's office.
For the past 9 years, I have suffered with chronic Central Pain Syndrome (CPS), a neurological disorder caused by trauma to the central nervous system, which is a result of several injuries that I sustained in my youth that did not heal correctly. I'm now 32 years young. When I was younger, I was a competitive gymnast and my spine was constantly under physical stress due to improper body mechanics and impact exercise, and I was also in several motor vehicle accidents, two of which involved my car being totaled.  In my late teens and early twenties, I started to experience a significant amount of pain.
---
After college I was unable to continue work because my symptoms.
The pain, panic/anxiety attacks and depression became too severe and the only thing my physicians offered to help me at the time were physical therapy and medications. They began to prescribe NSAIDS (Nonsteroidal anti-inflammatory drugs), antidepressants and muscle relaxants as I tried physical therapy to improve my situation. Physical therapy was not helpful because of the amount of pain I had to endure and the medications were only mildly effective. The NSAIDS caused stomach pain and vomiting, and muscle relaxants made me too drowsy to take during the day, so I tried to push through the pain. I also suffer from panic disorder. Antidepressants exacerbate my anxiety and cause me to have suicidal thoughts, so I was prescribed benzodiazepines (Xanax, Ativan, Valium, etc.) to treat the panic attacks and relax my muscles. I have never struggled with any addiction problems, however benzodiazepines cause physical dependence and long-term use also causes depression.
I was told by my physicians I'd be on these medications for the rest of my life.
The pain progressed over several years and became very severe, so I sought the help of different specialists.  I've been examined by over 16 different doctors, including Rheumatologists, Neurologists, Osteopaths, Orthopaedic Surgeons, Infectious Disease, Psychiatrists, Pain Management, etc.  Eventually, I was told that pain management was my only option. In addition to CPS, I also have degenerative arthritis of the spine and Myofascial pain.

As a result of these conditions, I live with pain that is constant.  
I'm not a candidate for surgery. I have had physical therapy, TENS, acupuncture, steroid injections, Radio-frequency denervation, and multiple other treatments. Most have not been helpful. For the last 8 years, I have been prescribed low-dose benzodiazepines and/ COAT (chronic opioid analgesic therapy) for the anxiety and pain. Prior to this, I tried more than 30 different medications for symptom control, but nothing was working.  Because of the current status of opioids, my physicians began to tell me they would no longer be able to manage my pain with opioid drugs. This made my situation even more desperate.
After doing extensive research on my own, I started taking CBD September 2016 and shortly after began to experience an improvement in pain levels and reduction of anxiety.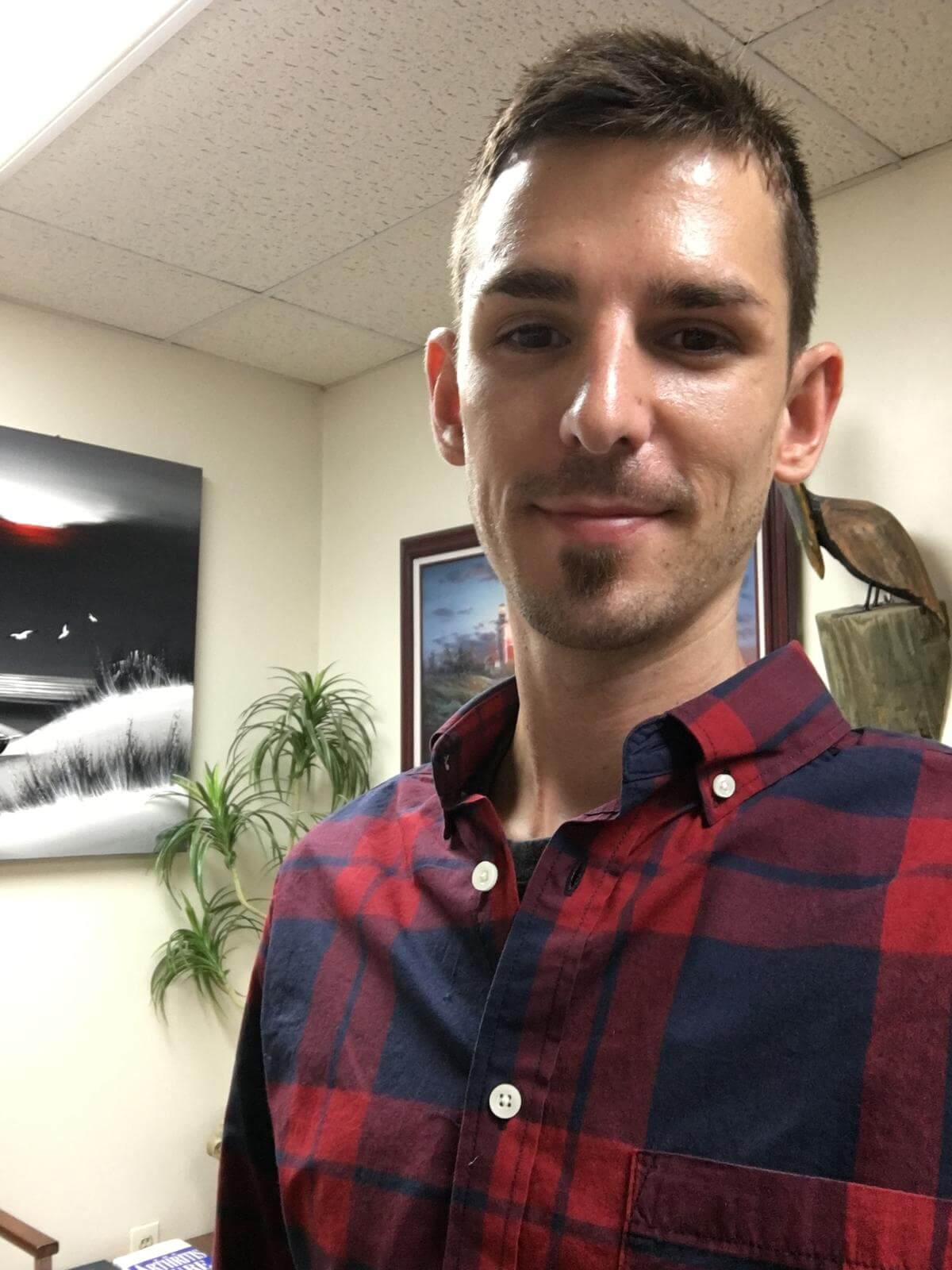 Once I found a good quality CBD oil and found the dosage range that works for me, I began to see good results. In November 2016, I began to taper off of Valium.

I was taking the maximum dose of 40 mg daily. I reduced my dosage 2 mg every 2 weeks and during this time, I was also able to taper off Baclofen, an antispasticity drug, in less than a week.

I had tried unsuccessfully to reduce my dosage and dependency of these drugs in that past, but the anxiety was just too severe. However this time, the CBD managed my anxiety.
In March of this past year, I finished tapering completely off diazepam – remember, I'd been told that I'd need to take it the rest of my life. In May of 2017, I started to taper from opioids (oxycodone and oxymorphone). I reduced my dosage slowly over the course of the next several months, going from approximately 100 mg of morphine equivalence to 10 mg by the end of August. By the first week of September, I discontinued the last 10 mg of extended release oxymorphone.

To my surprise, with the help of CBD and some adjuvant herbs, I am now free from opioids, Valium and other pharmaceuticals.
I also stopped taking Tizanidine (an antispasmodic). Not only has my pain been managed better than I can remember, I also experienced very few symptoms from discontinuing these heavily dependence-producing drug. To be clear, I have never been "addicted," but these medications have horrible side effects, they are strongly dependence-producing and they're notoriously difficult to stop taking, particularly for someone like me experiencing severe pain.
With the help of CBD, the transition off was remarkably easy. I thank God for CBD as it has allowed me to discontinue my meds and manage my pain much better than in the past, and now I'm also in partial remission from the Panic Disorder that I've suffered from most of my life. I still have chronic pain, but it is much less intense than it was prior to taking CBD.
CBD has been beneficial in almost every aspect of my health and I continue to see improvements daily with no side effects! My mood is generally much more positive and I no longer feel depressed and hopeless.
To anyone in a similar situation as me: you have nothing to lose and a life to gain by trying CBD.
I am no longer just surviving, I am now living again.
Thank you all for taking the time to read my letter. I hope my experience can bring hope to those who may be wondering if CBD can bring them the relief they are looking for.

All the best,

Robb


Do you have a story you would like to share with our community about CBD for your condition? Get in touch with our community manager Demi at community@endoca.com and let's get the word out there that there is hope for people who are suffering and that this incredible plant holds so much promise for the future.
---
Visit our shop
Go to blog frontpage