Published on: 10/31/18
At this time of the year, if we're not carving them to make spooky lanterns for Halloween, we're mashing them to make pumpkin pies for Thanksgiving. The winter holidays are just around the corner, autumn is in full swing and as harvest time draws to a close, most of us are already preparing and thinking of ideas for CBD edibles for the holiday season. There are so many CBD recipes you can try with the spoils of the harvest crops and pumpkins are just some of the best.
Pumpkins are known as one of the most versatile autumn vegetables, but it's a little-known fact that they are in fact actually a fruit! as they bear seeds.
Not only can they be used to make great savory dishes, but they also double up as a tasty dessert ingredient too. They are a great source of nutrition, rich in beta-carotene, and carotenoid that your body uses to create vitamin A. They also contain vitamin C, B12 and E, and are not to mention low in fat and have a delicious natural buttery sweet flavor.
They are jam-packed full of immune-boosting vitamins, so are a great addition to your diet at this time of the year when colds and flus are on the increase. Its high anti-oxidant and mineral content may also protect your cells against damage by free radicals, which can potentially aid in cancer prevention.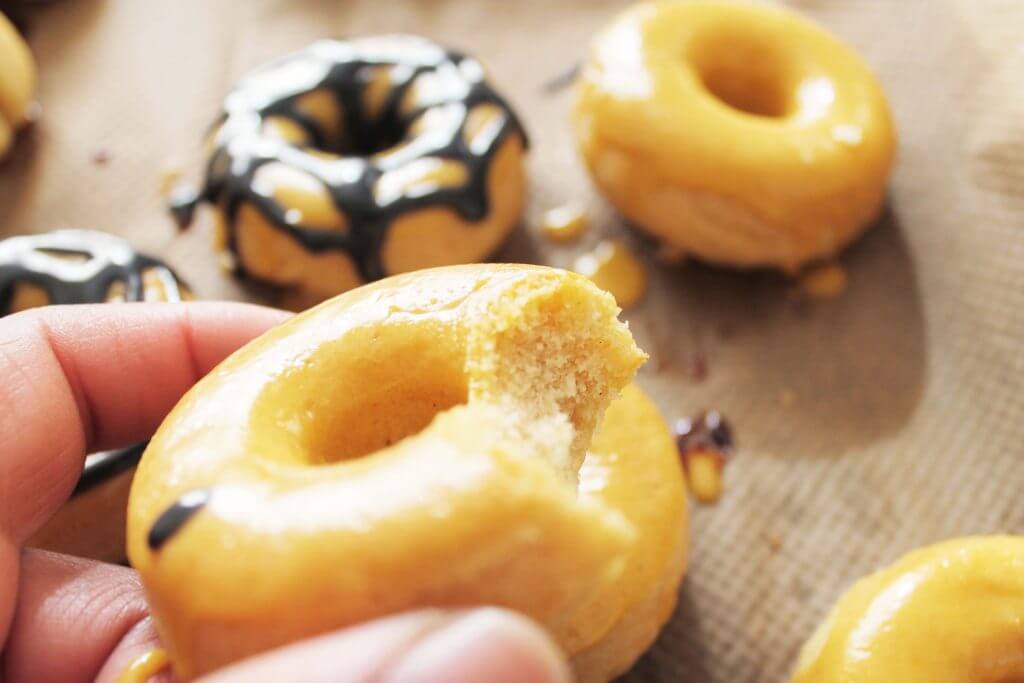 CBD Edibles-Pumpkin Suprise Doughnuts (portion serving 6 to 8 donuts)
Here's a great way to make a sweet treat for your family or guests this autumn holiday season. Did you know CBD edibles are and fun way to try CBD or an ingenious way to introduce your friends to CBD for the first time!
Why not try our CBD Pumpkin doughnut recipe by our guest bloggers Organic Livity. These CBD Halloween edibles are sure to give you a fright with just how good they are!
They are 100% vegan, gluten free, with no refined sugar, dairy free and can be made with or without nuts!
---
Ingredients:
1/2 cup non-dairy milk1/3 cup pumpkin puree, cooked from fresh or unsweetened from a can1/4 unrefined sugar2 tbsp oil, we used melted coconut oil3/4 cup gluten-free flour1/4 ground almond (or an additional 1/4 cup of gluten-free flour for a nut-free version)1 tbsp vanilla, we used the seeds from 1/2 vanilla bean1 tbsp pumpkin spice*1 tsp baking powdera pinch of salt15 drops of Endoca 3% CBD oil
*make the pumpkin spice by mixing:
2 tbsp cinnamon1/2 tbsp ginger1/2 all spices1 tbsp freshly ground nutmeg
Topping:
1 tbsp cinnamon1/2 tbsp unfined sugarOR
(optional)
1/4 cup icing sugar2 tbsp water1/2 tbsp turmeric powder OR a few drops of orange vegan food coloring
In a small bowl, mix all dry ingredients (ground almond, sugar, gluten-free flour, pumpkin spice, baking powder, and salt) together; set aside. In a medium size bowl, mix the milk, pumpkin puree, oil, and vanilla seeds, until well combined. Add dry ingredients to wet and mix again. Grease a donut pan with oil and squeeze the mixture in the holes using a piping bag (or ziplock bag cut in one end). Bake for 10-15 mins (or until cook) in a preheated oven at 180 degrees C. Once out of the oven, let sit for a 3-5 minutes before removing from the pan.
Cinnamon and sugar topping:
Mix the cinnamon and unrefined sugar in a small bowl then cover the warm donuts.
Icing sugar topping:
Mix the icing sugar, water and turmeric (or food coloring) together in a small bowl. Once the donuts have completely cooled down, dip the top half of each donut into the mixture - decorate how you wish - then allow to set.
Recipe courtesy of Organic Livity
---
Disclaimer: Views expressed here do not necessarily reflect those of Endoca and its staff. This article is not intended to provide medical advice, diagnosis, treatment or cure. Endoca CBD products have not been approved by the US Food and Drug Administration (FDA).