Published on: 11/23/18
Pumpkin bread - no refined sugar, vegan (contain gluten) - 8 buns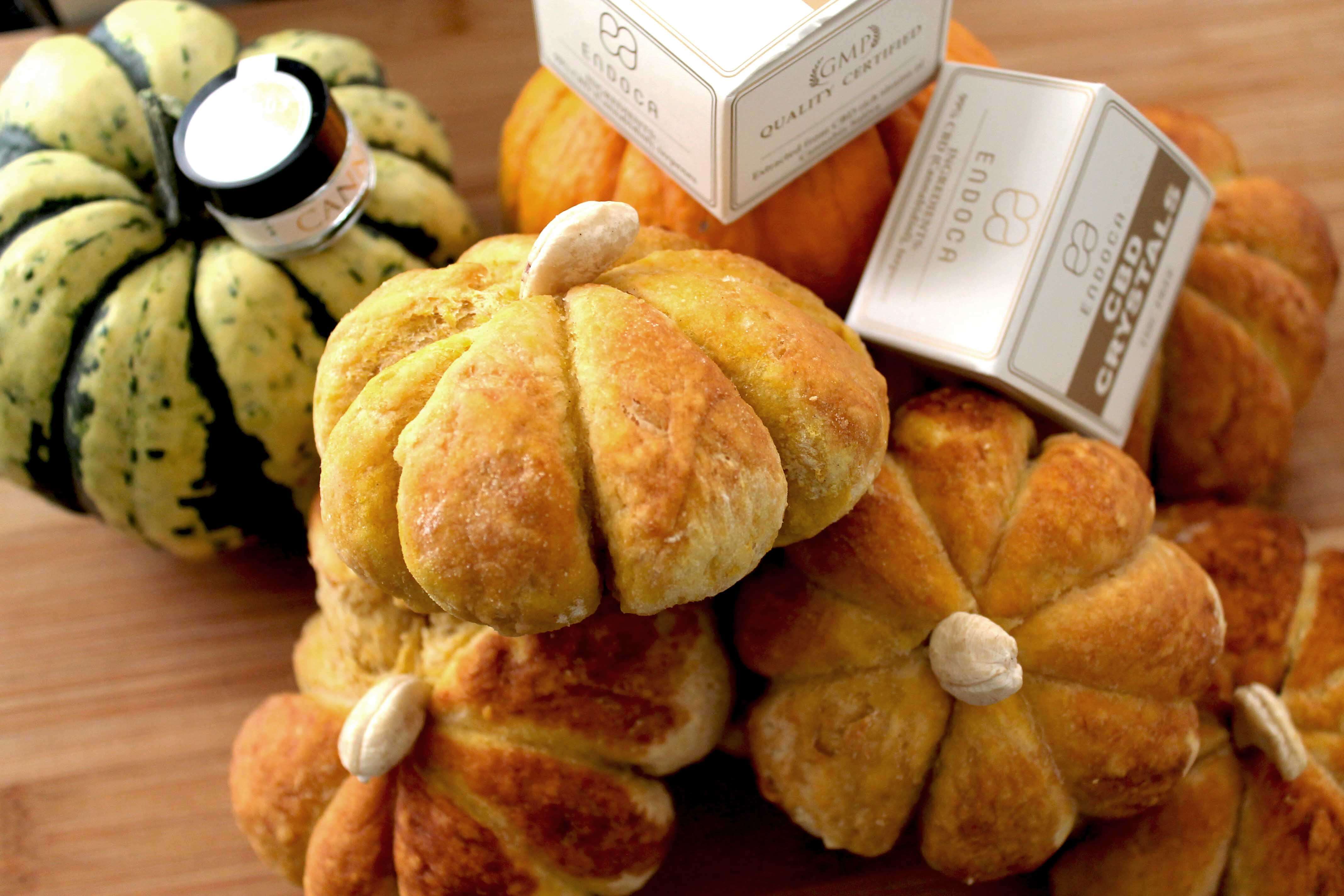 ---
Ingredients
2 2/3 cups Bread Flour plus extra for dusting
1 tsp Salt
4 tbsp Sugar
2 tsp Active Dry Yeast
250g pumpkin puree*
1/3 cup non-dairy milk plus 2 Tsp
Cooking twines/strings
1-2g Endoca CBD crystals
For "syrup-wash"
4 tbsp syrup, we used Yacon
1-2 tsp non-dairy milk
Directions
In a small saucepan, add the milk and crystal and simmer on low for 1 min (mixing with a whisk if necessary). Set aside to cold down. In a large bowl, mix the flour, salt, sugar, yeast. Add the pumpkin puree and room temperature milk then mix again until well combined. Form a dough. Add a bit of flour to the top, then cover with cling film/plastic wrap. Set aside in a warm place for 1h30 to 2 hrs (until double in size - do not overproof).
On a clean surface, add a bit of flour to prevent the dough from sticking. Flatten the dough with your hands and mix slightly to form a dough again. Divide in 8 medium size chunks. Form a bun with each chunk. Using the cooking twines (oil them before, with a little bit of coconut oil or any other oil of your choice), form about 8 wages, not too tight. Allow to rest for a further 20-30 mins. In a small bowl mix the syrup and milk. Brush the top of the "buns" before cooking in the oven (40-45 mins at 180 degrees C in a preheated oven). When fully baked, set aside to cool (about 30 mins). Remove the twines with the help of scissors. Add cashews or halve pecans to make the stems of the pumpkin bread.
*If you want to use fresh pumpkin you will need about 350g pumpkin, cuts in chunks. Steam for 15-20 or until tender. Then mix until smooth. We wouldn't recommend boiling as this will add too much water/moisture to the puree. If you choose to boil, you will require more flour to combine.
Recipe courtesy of Organic Livity.
---
Disclaimer: Views expressed here do not necessarily reflect those of Endoca and its staff. This article is not intended to provide medical advice, diagnosis, treatment or cure. Endoca CBD products have not been approved by the US Food and Drug Administration (FDA).