Published on: 02/23/18
Choosing the best CBD product for you can be a confusing process, as there is a multitude of different products and strengths available. A good place to start is by understanding the different CBD delivery methods on the market, as each one has its own advantages and disadvantages.
What Is A Delivery Method?
The delivery method is the way you choose to take your CBD. Do you swallow it in capsule form (ingestion), absorb it under the tongue (oral/mucosal), inhale it by vaping or with an e-cigarette (inhalation), rub it onto your skin as a cream or balm (topical), or take it in suppository form (rectal/ vaginal)?
Most people have a favorite delivery method based on past experience, personal taste or what is the most value for money. The latter refers to delivery methods that allow for the highest amount of CBD to be absorbed by the body: this is called bioavailability. Certain delivery methods have higher bioavailability than others, which means that you are effectively getting more bang for your buck.
Either way, Endoca believes in offering our customers total freedom of choice and as such have a delivery method to suit every taste and need.
---
Oral - Mucosal
Also known as sublingual, this method refers to taking CBD in the mouth and under the tongue. Why do we recommend taking CBD under the tongue rather than just swallowing it as we normally do with medication?
When we swallow CBD oil or any other substance, it has to pass through the digestive tract before moving through the hepatic portal, where it is broken down by liver enzymes. Only then will any remaining CBD be absorbed into the bloodstream. However, with the mucosal or sublingual method, it is absorbed straight into the bloodstream by the capillaries under the tongue, which means not only is more CBD available to the body, but it also acts quicker than if swallowed.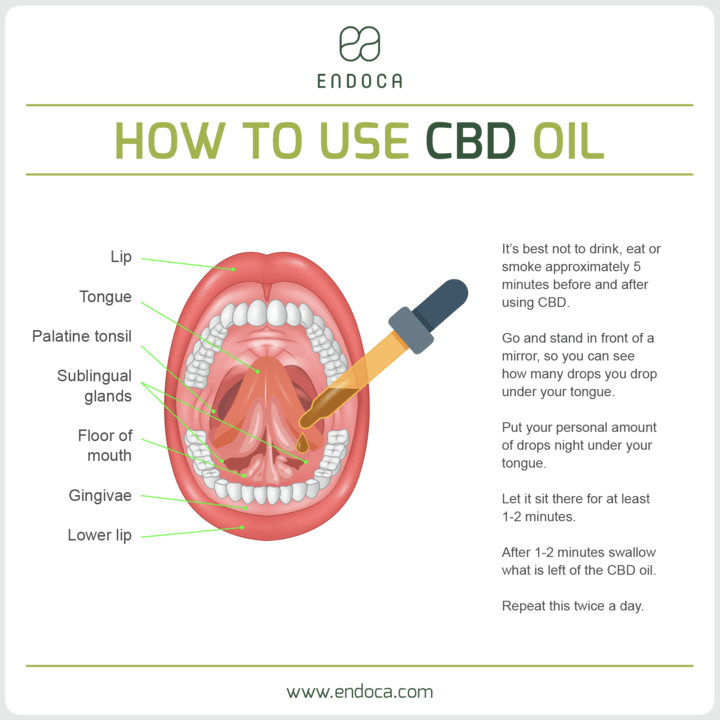 Endoca CBD products suitable for this method are our CBD Oil Drops, CBD Extracts, and CBD Crystals.
Inhalation
If a speedy response is your goal, the inhalation delivery method is the best option. By this, we mean vaping CBD or using an e-cigarette, not smoking. By inhaling CBD into our lungs, CBD can pass directly into our bloodstream, bypassing the digestive process. This also means that more CBD is absorbed.
People choose this delivery method if they want to feel the effect of CBD immediately, and as more and more people use e-cigarettes, it is also discrete and convenient.
Many Endoca customers make their own vape juice using our 99% Pure CBD Crystals, mixed with a carrier oil, or buy our premade CBD e-liquid.
Ingestion
Most of us are used to taking our vitamins and nutritional supplements in capsule or pill form. It's convenient and you know just how many milligrams of the active ingredient each pill contains.
When it comes to CBD, ingestion refers to swallowing CBD capsules/soft gels or eating CBD edibles.
However, despite being the method we are most familiar with, ingesting CBD isn't necessarily best when it comes to value for money, because less of the active ingredients are available to be used by the body. First, it must be digested, then it passes through the hepatic portal where it is broken down by liver enzymes before it is finally absorbed into the bloodstream. This whole process can take up to an hour, which means if someone wants to feel the effects of CBD immediately, this isn't the most appropriate product for them.
That's not to say that capsules and softgels don't have their advantages. For anyone who doesn't like the hempy taste of CBD oil or CBD extracts, our vegan, kosher capsules slip straight down and because of that, they're also popular with children.
And for the culinary experts amongst our customers, our CBD Crystals make the perfect CBD ingredient for edibles such as cookies and cakes.
Topical
The skin is our body's biggest organ and we even have endocannabinoid receptors on our skin cells. So it's no surprise then that CBD creams and balms are gaining in popularity as effective delivery methods. That's because they go straight to the source, calming inflamed or irritated skin as well as easing aching joints and muscles.
We offer our customers three choices when it comes to CBD topicals: our Hemp Salve, Whipped Body Butter and Lips and Skin stick, all with high CBD content. It's important to pay attention to just how much CBD is in topical creams and balms. Many have next to no CBD, which explains the price difference between these lower strength products and our high CBD range.
Rectal/Vaginal
Using suppositories is perhaps the least familiar delivery method for most people and it could seem like the last option when all others have failed. But that would be doing the rectal/vaginal delivery method a disservice, as once you get over where the suppository has to be inserted, it is actually one of the methods with the best bioavailability. This is because the CBD is absorbed directly into the bloodstream via capillaries in the anal or vaginal passage, thus bypassing any digestive processes.
Rectal or vaginal insertion with CBD suppositories can also be an effective method for anyone who may have difficulties swallowing or keeping down CBD.
In the end, we all react differently to CBD and have different tastes and preferences. So listen to your body and it will tell you which CBD product is the best for you.
---
Disclaimer: Views expressed here do not necessarily reflect those of Endoca and its staff. This article is not intended to provide medical advice, diagnosis, treatment or cure. Endoca CBD products have not been approved by the US Food and Drug Administration (FDA).