Here at Endoca, we get a lot of people asking us what CBD crystals are... and it's really quite a good question. How do you get a crystal out of a plant like cannabis?
Before we get into that though, it's important to talk a little bit about CBD as a compound and why it has become such a buzzword in the last few years, before getting into why we might want to use CBD crystals over other CBD products.
So, what even is CBD?
CBD is a compound found in the cannabis plant. This particular compound is what's referred to as a cannabinoid, and is one of over 80 cannabinoids found in the cannabis plant that we currently know of.
---
What is a Cannabinoid?
Cannabinoids are compounds that humans, animals and plants all produce. These compounds interact with specific cannabinoid cell receptors that both humans and animals have, called CB1 and CB2 receptors.
Up until now, researchers have isolated two different kinds of cannabinoids
Phytocannabinoids–cannabinoids made by plants
Endocannabinoids– cannabinoids made by all vertebrate animals, including humans
These cannabinoids were actually first discovered relatively recently and owe their name to the plant that they were originally discovered in: Cannabis.
For that reason, phytocannabinoids have specifically been in the spotlight, and in particular CBD. This is because an increasingly significant number of scientific studies suggest to CBD being a promising therapy for the treatment of an innumerable number of ailments, illnesses and disorders.
How Do Cannabinoids Work Within Our Bodies?
Inside all of us we have an endocannabinoid system (ECS). This important physiological system is made up of cell receptors, called cannabinoid receptors (CBs), and their natural binding molecules, endocannabinoids, which we all naturally produce.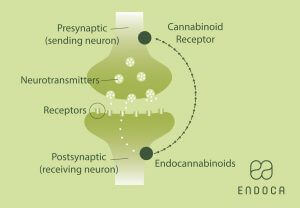 The ECS works with almost all systems within the body, maintaining balance, or homeostasis. This is why a healthy endocannabinoid system is so important for your health, both physical and mental. But sometimes our bodies do not produce enough endocannabinoids, or they are not being utilised properly within the body due to any number of different instigators that create imbalances within the body. This is the point at which CBD has been seen to have a hand in.
Why Take CBD Products?
There are many reasons why our bodies may not be producing enough endocannabinoids or utilising them sufficiently. Now, as more information comes out, it has been suggested that an endocannabinoid deficiency could be the possible physiological cause for a broad range of conditions. This is why CBD has become such an important compound. Due to its perceived interactions with the ECS, it has shown to help bring the body back into balance when we are not producing or using enough of our own endocannabinoids.
To our own detriment, this harmless little cannabinoid is the unfortunate victim of classical conditioning produced through government propaganda during the 20th century and is therefore stunted in this archaic taboo. Nevertheless, CBD has been found to be quite safe to use on both animals and humans, is legal in most countries around the world, and is also non-psychoactive; meaning it can easily be incorporated into our daily routine as a part of a balanced and active lifestyle?
What Has CBD Been Seen to Help?
Since CBD's discovery, there has been an astonishing amount of research done on a variety health and wellness subjects. So far preclinical research suggests CBD to help in the treatment of many conditions such as:
Diabetes
Attention disorders
Neuropathic pain
Arthritis
Epilepsy and seizures
Asthma
Digestive issues
MS
AIDS
Alzheimer's
Dementia
Anxiety
Addiction
Cancer
Skin disorders, plus many more!
So What Exactly Are CBD Crystals
CBD crystals, otherwise known as CBD isolate are fast gaining in popularity among CBD products. This is due to their versatile nature, discreet appearance, neutral taste and smell, and the fact that they only contain CBD. All Endoca CBD products are extracted from organic hemp plants, grown in Europe, and tested to the utmost degree. Our crystals are no exception, and are isolated from the extractions we get from these highly regarded plants.
What Else is in Your CBD Crystals Apart from CBD?
Due to the high concentration of CBD in our CBD crystals, there is 0% THC. This makes it a perfect product for those who react badly from even small amounts of THC, have tough drug testing at work, or are sensitive/allergic to certain terpenes found in the cannabis plant. Although crystals still have terpenes present, the levels are practically non-existent, and therefore a great option for those with allergies.
If you are one of the unfortunate people who get allergic reactions from CBD extracts and cannabis in general, it could be very likely that you are actually allergic to the terpenes in the plant. For example, limonene is a terpene that is commonly found to cause allergic reactions in those who claim to be allergic to cannabis.
How to Use CBD Crystals
Many people ask us how to use CBD crystals, so we are here to tell you CBD crystals can be used in a range of different ways and are the most versatile CBD product on the market. You can use CBD crystals in edibles, with vaporizers and even mixing CBD crystals with cannabis flowers and smoking it (though we do not recommend this in any circumstances). You can even make your own pure CBD crystal tinctures by simply dissolving the amount of CBD crystals you want into a carrier oil such as coconut oil, keeping it at room temperature so that the products don't solidify and remain easy to dose.
We have also been working very closely with our friends at Organic Livity—who use Endoca CBD products in their incredible patiserie—who have hand crafted simple recipes for you to try at home.
How Are CBD Crystals Made?
A lot of people want to know how to make CBD crystals, but this process is complicated and can only be achieved with professional equipment. However, if you want to see how it's done, subscribe to the Endoca YouTube channel, and watch our CEO Henry Vincenty's demonstration on just how to do this.
CBD Crystal Effects
Many people want to know about CBD crystal effects, but the reality is CBD is different for everyone, and it also depends how you administer your CBD. Consuming CBD crystals in edibles will not have as noticeable an effect as say vaporizing or smoking pure CBD crystals will have. Many people, however, report CBD crystals make them feel very calm and alert, while others say they feel relaxed and stress free.
CBD Crystals for Sale
If you are looking to buy CBD crystals, you have come to the right place! At Endoca, we produce the purest CBD crystals on the market. Endoca CBD crystals are extracted from our organically grown hemp plants, at a facility that holds a Good Manufacturing Practice (GMP) certificate; which many other CBD companies cannot claim to have. This means Endoca crystals will always be of the highest possible quality.
Although CBD itself is safe, legal and non-psychoactive, the CBD industry itself is unregulated. This means that many companies selling CBD products aren't adhering to strict good manufacturing practices, or even responsible for how much CBD is in the products they sell, or other components within the products they produce. So, it is of paramount importance that whatever cannabis extracts you purchase have 3rd-party lab test results, come from organic plants, and use pharmaceutical grade practices in all the processes involved in producing safe and efficacious CBD products.
Endoca CBD crystals are well loved by all our customers, so finding a CBD crystal review on Endoca's products are easy to find. Want to learn or hear more about Endoca products? Check out our online shop or contact our customer service team at info@endoca.com, or on any of our social media platforms.
---
Visit our shop
Go to blog frontpage