Published on: 09/19/17
Cannabinoids are enjoying major media hype currently. The frenzy surrounding them is due to their reported health benefits. In the currently exploding field of medical cannabis treatment, CBD has become mainstream, and with such a diversity in products, finding a precise and accurate dosage has become ever easier.
This concept is new to veteran marijuana connoisseurs, most of whom are almost comfortable now with the continual inconsistency of cannabis dosing. Determining exactly how much you need of certain ingredients in every dose can seem an impossible endeavor, particularly when, even after paying careful attention, brownie-induced couchlock occurs more often than not.
Luckily, the days of guesswork are predominantly over. These days, we have labels with information to follow or base our calculations on. In general, people consume CBD orally, usually with a drop or two of CBD oil under the tongue. However, remember that no dosage fits all people and that everyone reacts differently to various quantities, depending on the conditions targeted during treatment.
With that said, here are a few pro-tips to help you determine a more accurate CBD dosage:
Start with Universal CBD Dosage Recommendations
Whenever in doubt, go back to the basics. Keep some general guidelines safe and refer to them whenever you need to. If your success levels are varying, return to the universal dosage recommendations. Although these guidelines may seem varied on their own, as mentioned before, the correct dosage for you will depend on your body, its tolerance levels, and your health condition.
---
Begin with the Smallest Dose Possible
When you first start taking CBD, it is wisest to begin with the lowest possible dose. While your body gets used to the cannabinoid, it's a good idea to note your reactions to each dose. You will likely need to experiment a little before you find the ideal dose for you and after your body becomes more tolerant of its effects.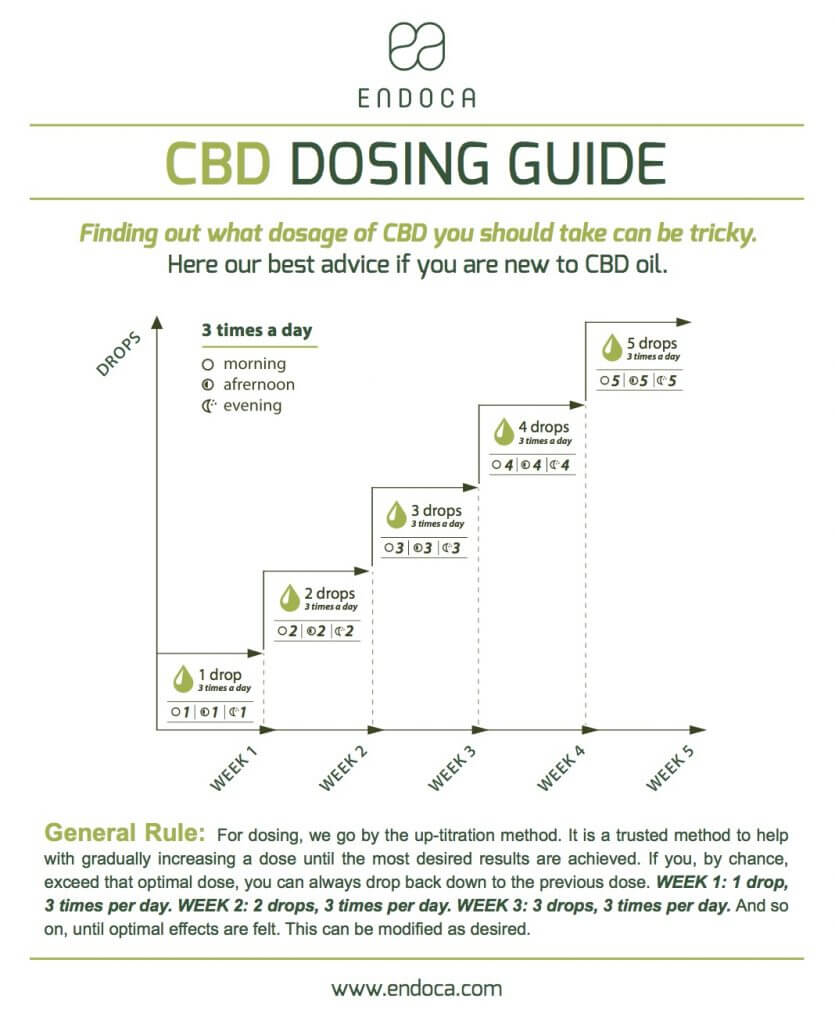 Read Product Labels Carefully
CBD products are not the same. Measurements conform to no universal standard, unlike most food items and even prescriptions. They may contain different measurement indicators or appearances associated with the quantity of a product. For example, three cups of flour is three cups of flour everywhere, regardless of brand or type.
The same is true of pharmaceuticals. A Tylenol capsule of 250 milligrams has a distinctly different imprint, color, and even shape to make it identifiable to anyone taking it. Currently, CBD products have no universal measuring system. One product may contain 20 milligrams per half a CBD dropper, while another very similar product may actually have 30 milligrams per dropper.
This confuses many, particularly when comparing prices, brands, and products themselves. However, whatever you choose, just make sure to study the labels and read them correctly, and always listen to advice provided. As a rule, larger people require higher dosages than their littler counterparts do. Even so, remember to increase dosages gradually and at just a milligram at a time.
Involve a Doctor in Your Treatment
Whenever a medical condition requires treatment, it is best to discuss CBD with a medical professional prior to trying it. Doctors have the knowledge to recommend the most beneficial dosages. Under food law, CBD is considered a supplement or vitamin, and as such, escapes federal regulation just yet. Nonetheless, you should always choose professional advice over random internet suggestions.
Conclusion
Everybody responds differently to CBD treatment. Despite having little to no THC or any of its associated psychoactive effects, it remains wise to proceed cautiously with alternative medications. Always consult a medical professional about any form of holistic treatment, including marijuana and CBD, and remember to start slowly and gradually build your tolerance from there.
Author Bio – John Levy is the author of this post. He is working as a blogger for Pot Valet – an online marijuana dispensary in California. He has 5 years of experience in the Cannabis industry and loves sharing the updates about marijuana and related products. Follow his company on Facebook, Twitter and Google Plus. 
---
Disclaimer: Views expressed here do not necessarily reflect those of Endoca and its staff. This article is not intended to provide medical advice, diagnosis, treatment or cure. Endoca CBD products have not been approved by the US Food and Drug Administration (FDA).