Published on: 06/11/18
You may have heard of CBD Crystals or CBD isolate, but might not be sure what it is. Essentially, CBD Crystals are the isolated plant compound cannabidiol and nothing else. Crystals are known for there quick, calming and tranquil effects but... do you know how to use CBD crystals?
What are CBD Crystals?
Most CBD Crystals contain between 98% and 99% isolated CBD. This is the purest form of just CBD you can get. Many online stores and dispensaries around the country supply crystals, but it is important to note that 98-99% CBD is the preferred concentration as other ingredients and can alter the effects and purity of the product. Endoca CBD Crystals have 99% purity and contain 0% THC, making it one of the purest organic forms of CBD on the market.
Extraction techniques are used to separate the CBD compound from other minor cannabinoids, terpenes, and molecules found in hemp, CO2 extraction is a sure way to get the purest form of CBD without any undesired traces of other compounds. CBD Crystals should purely be cannabidiol.
Furthermore, the advantage of using isolated CBD on its own is that you can make your doses much more specific. You can weigh your CBD Crystal out on kitchen scales and work out exactly how much CBD you want to take. These crystals are just CBD and not much else, which makes it very easy to dose once you've found your personal "sweet spot": What you measure out is what you're going to get. So, 15 milligrams of CBD crystals is just that; 15 milligrams of pure CBD.
Now that you know what CBD Crystals are, I bet you're wondering 'How on earth do I use them?'
Well, we have a helpful guide to show you just how you can get the best from your CBD Crystals.
So, How Do I Use CBD Crystals?
1. Cooking with CBD Crystals
CBD Crystals are as pure as your going to get when it comes to CBD. There are endless ways to incorporation CBD into your diet. Taking CBD into the kitchen can be a healthy way to enhance your CBD experience.
The best way to use CBD Crystals while cooking is to mix them with foods that have high-fat content. CBD just loves to be coupled with coconut and other oils high in Omega 3 and 6. Therefore, adding CBD to your baked goods like brownies and cookies can be a great way to boost your treats. Using pure CBD Crystals is a quick way of infusing your food with CBD, as they just dissolve right into the oil and they don't leave any after taste.
Why not try our recipe for CBD Gummies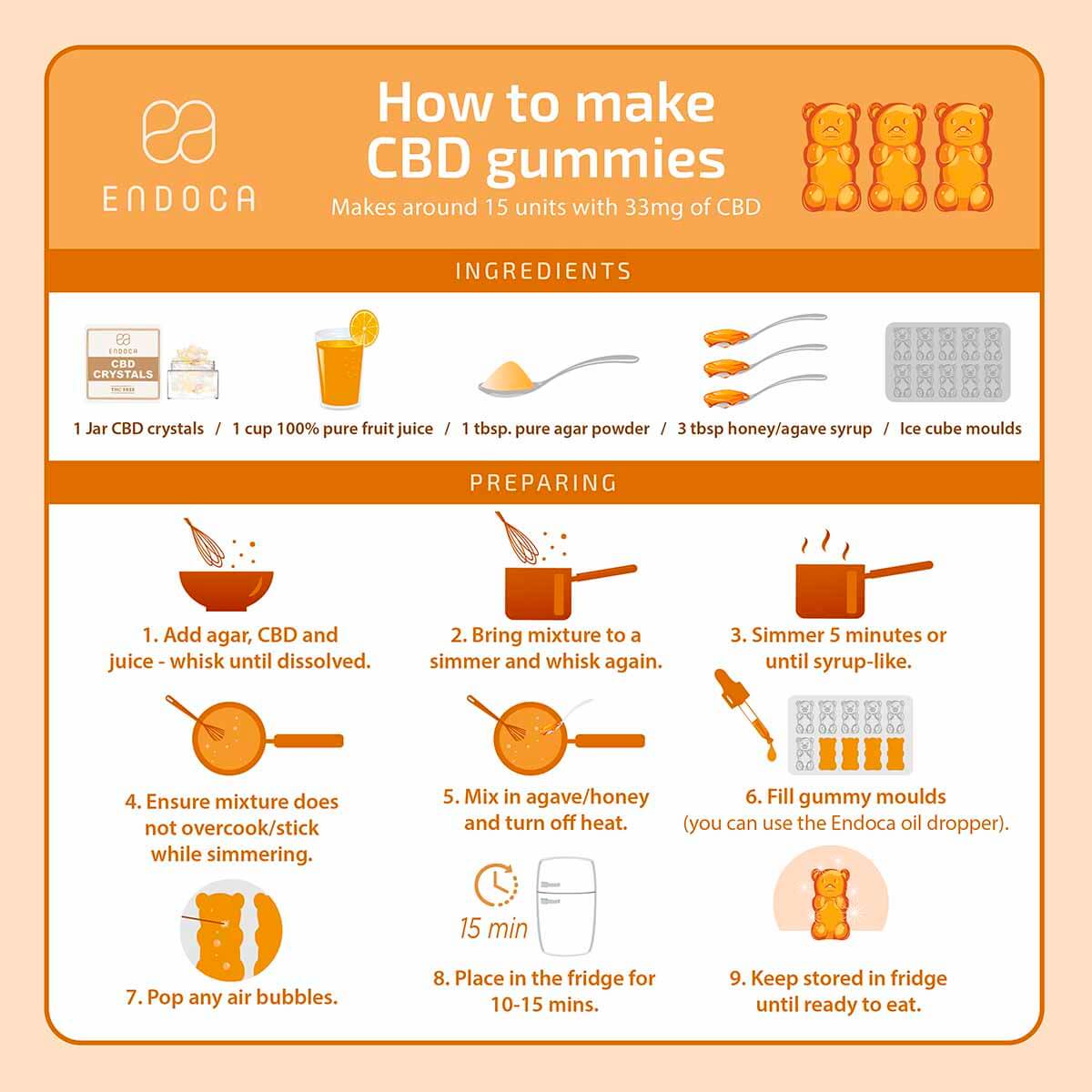 2. Vaping and DIY CBD E-liquids
Vaping can be an easy way to take CBD since it hits fast and gets straight to the point. Because of its quick effects, vaping can be good for those that suffer from anxiety, chronic pain, and stress.
Vape pens and tabletop vaporizers these days have chambers that enable you to put your CBD Crystals directly into the chamber at a dose that suits you and vape away.
3. CBD Oil Tinctures
CBD Oil tinctures can be an easy, convenient and economical way to use CBD Crystals. You make them by mixing CBD with a carrier oil, like olive, hemp seed or coconut oil. The great thing about making your own CBD Oil tinctures is that you can control the potency of the oils. For a standard dose of 10% potency, you can simply add 1000mg of CBD Crystals to 10ml of carrier oil. Store in a cool dry place, ready for use.
To combine the carrier oil and the CBD Crystals together, heat the mixture in a hot water bath at 70 degrees Celsius for 10-20 mins. This will bind the oil and CBD Crystals together to make them ready for use.
You can cook with your DIY oil, vape with it or even use it topically. And just a few drops under the tongue can do the trick if you want a quick effect. There isn't a 'high' effect connected to CBD, but you can expect a calming effect or even a mild energy boost. The amount of CBD Crystals you use can be increased over time, so you eventually end up with the perfect dose for your needs.
4. DIY CBD Skincare
CBD is high in antioxidants and therefore makes it a perfect addition to your skincare regimen. Mixing pure CBD Crystals to coconut oil, or a carrier oil favorite like olive oil, shea butter or cocoa butter, can boost your skincare and help fight those free radicals that can cause sun spots and age spots to appear.
You can easily apply CBD Crystals to your oils or lotions, that can be used topically like any other skincare product. We recommend 500-1000 mg per 10 ml of product.
Endoca CBD Crystals
Endoca's CBD Crystals have a purity of 99%, making it the purest form of CBD on the market. Right down to the farming methods used to harvest the hemp, Endoca is 100% organic without any GMO's or pesticides and is also GMP certified. 
The CBD possibilities are endless, enjoy experimenting with your new found wisdom on CBD Crystals.
---
Disclaimer: Views expressed here do not necessarily reflect those of Endoca and its staff. This article is not intended to provide medical advice, diagnosis, treatment or cure. Endoca CBD products have not been approved by the US Food and Drug Administration (FDA).