Published on:02/21/18
Here at Endoca, our most commonly asked question is without a doubt: Which CBD product is right for me and how much CBD oil do I need to find the relief I'm looking for?Firstly, it's important to note that we are not doctors or medical professionals. Therefore, any suggestion we give is purely based on the experiences and the feedback we get from our community - and we can't tell you how grateful we are for how vocal and willing they are in sharing their CBD journeys with us!
How Do You Procure An Endoca CBD Oil?
Let's start off by explaining exactly what goes into our Endoca CBD extracts, so you have a good understanding of what the different products really are.Essentially, all of our products begin with what we call our 'first extraction', which is what you will find in our 20% raw and heated CBD pastes. The paste is the first product we get when we extract our plant material, which is as close to the natural plant as an extract gets. This also means that all the plant waxes and resins are still present in this 'first extraction'. As a result, you'll find a paste-like consistency in these products.As it can be easier to dose large amounts of CBD, many people prefer using our pastes. These also contain other lovely plant compounds such as chlorophyll; a powerful antioxidant in its own right.
---
How Do I Start Low And Work My Way Up?
So, what about people that want to start low and take it slow? Enter, our CBD hemp oil drops!In order to achieve this product, we take our 'first extract' and cold filter it, removing some of those plant waxes and resins we mentioned earlier. This allows us to get a product with a higher viscosity - meaning a looser, more liquid extract - to which we then add some hemp seed oil. Not only does the addition of the hemp seed oil make the extract even more liquid - meaning easier to use in the dropper we provide - this seed oil is also rich in Omega 3 and 6, which aids the absorption of the CBD and the delivery of more CBD into the bloodstream. Winning!
What's The Difference Between The 3% CBD Oil And The 15% CBD Oil?
Every time we make an extraction, depending on what strength we want the final product to be, a shorter or longer process and different amounts of plant material are required. If we are making a 3% strength extract, we will need a fraction of the plant material that we would require if we were making a 15% strength extract.Once we have the right amount of plant material, we then proceed with the extraction process to achieve our 'first extraction' of whatever strength we are making. The longer we extract with our supercritical C02, the more plant compounds we will get in our extract. A longer process also means more manpower and longer hours for our staff, so not all Endoca CBD oil extracts are made equal!
How Do I Know Which Strength CBD Oil Is The Best For Me And My Condition?
We always suggest that people start low, go slow and let the body adjust to the CBD. For the sake of your body, make sure to monitor how you feel throughout the process and be aware of your body's reactions.If you are new to CBD and want to test the waters first, or perhaps you're just interested in living healthier and strengthening your endocannabinoid system, then our 3% CBD oil is perfect for you. With 1mg of CBD inside every drop, it's easy to work out what dose of CBD works the best for you and to up-titrate until you find your own personal 'sweet spot'.
CBD Oil Is A Personal Journey; There Is No One-Size-Fits-All
One of the main reasons why the medical community is still rather hesitant to start prescribing whole plant medicine is that it is a personal experience and by no means one-size-fits-all. Because of this, it's important to listen to your body when you begin your CBD journey and to experiment with your own dosage system.Often, we have people with the same condition, symptoms, age, and gender, who have completely different tolerance levels: Perhaps one only needs 3mg of CBD, 3 times a day, while others need 15mg of CBD, twice a day.
Healthy Living Or Repair?
So, now you know our 3% is great for overall healthy living and CBD newbies. However, many people with more serious conditions or more acute symptoms tell us that despite our 3% product being a great jumping-off point, they need far larger doses of CBD to repair their bodies. This is where our 15% CBD oil comes in. Essentially, this is 5 times as strong as our 3% product, as it contains 5mg of CBD per dose. For people who need a larger amount of CBD, they tell us that our 15% CBD oil is preferred, as it means they need fewer drops for more of an effect.In order to make things super simple, let me put the math here for you:1 drop of our 3% CBD oil = 1mg of CBD1 drop of our 15% CBD oil = 5mg of CBDSo, therefore, if you use the 3% CBD oil drops and find that you need around 10 drops in the morning, you would only need 2 drops of our 15% CBD oil. By making the math easy, we make dosage a walk in the park for our community!
How Should I Take The CBD Oil?
Most people agree that you should take your CBD oil on an empty stomach, starting with 1 drop, 3 times a day of our 3% CBD oil. After this, you can start increasing by 1 drop every 3-7 days. This is the best way to introduce CBD oil to your system.How soon you increase the number of drops you are consuming depends completely on you, and how you feel on CBD. Perhaps after 3 days, you'll feel fantastic and ready to increase your dose; then by all means! If by day 3 or 4 you are feeling a bit tired or too relaxed, try slowing down. And, if you are just the kind of person that just prefers to take it slow, feel free to increase at day 5 or even day 7. If, however, you don't want to increase your dose at all, then stay right where you are! The most important thing is that you are comfortable with your progress and that you're are listening to your body.When and if you decide to increase your dose, you may add an extra drop morning, noon and night. For example:Day 1:1 drop morning, 1 drop afternoon, 1 drop eveningDay 3-7:2 drops morning, 2 drops afternoon, 2 drops eveningDay 6-14:3 drops morning, 3 drops afternoon, 3 drops eveningAnd so on and so forth, until you find the dose that works for you!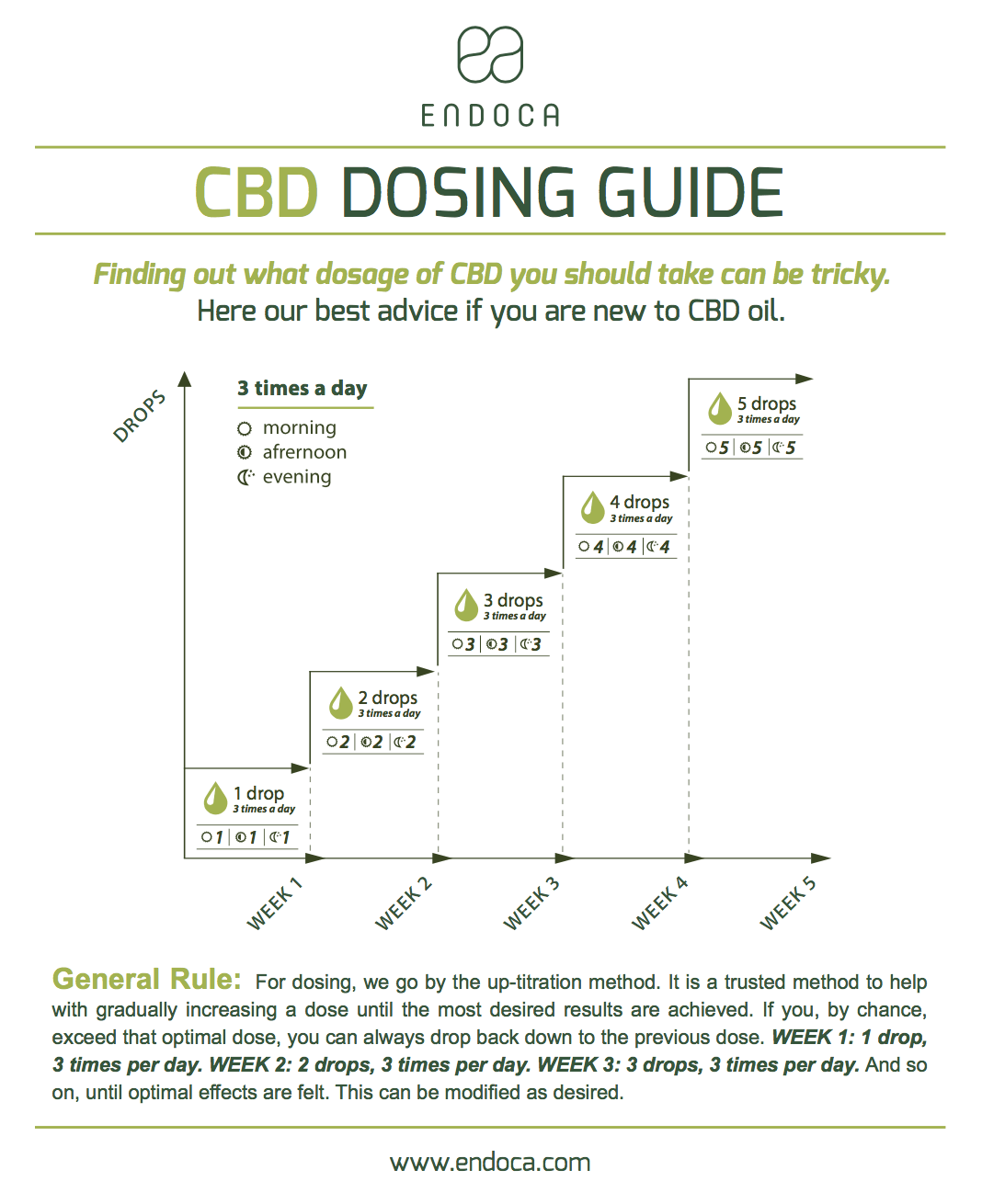 Everybody Is Different. Start Low, Go Slow, Your Body Will Know
Some people find that they prefer using less CBD in the morning to keep them a bit more alert for work, and more in the evening to help them sleep. On the other hand, some swear by a higher dose in the morning to pep up their energy levels, and less in the evening as they find that it keeps them too alert to sleep. Some people skip the afternoon dose all together!Like we keep mentioning, starting CBD is a completely personal experience, which is why 'start low, go slow' has always been our motto. Listening to your body is the number one rule that we should all follow when starting the use of products with CBD.Above all, have fun and trust the process. Cannabis has been a medicine the world over for thousands of years. There is nothing to be scared of, especially with CBD, which has been agreed to be
non-toxic, even at large doses
.
---
Disclaimer: Views expressed here do not necessarily reflect those of Endoca and its staff. This article is not intended to provide medical advice, diagnosis, treatment or cure. Endoca CBD products have not been approved by the US Food and Drug Administration (FDA).