Beginner's 101
Is CBD Legal in Texas?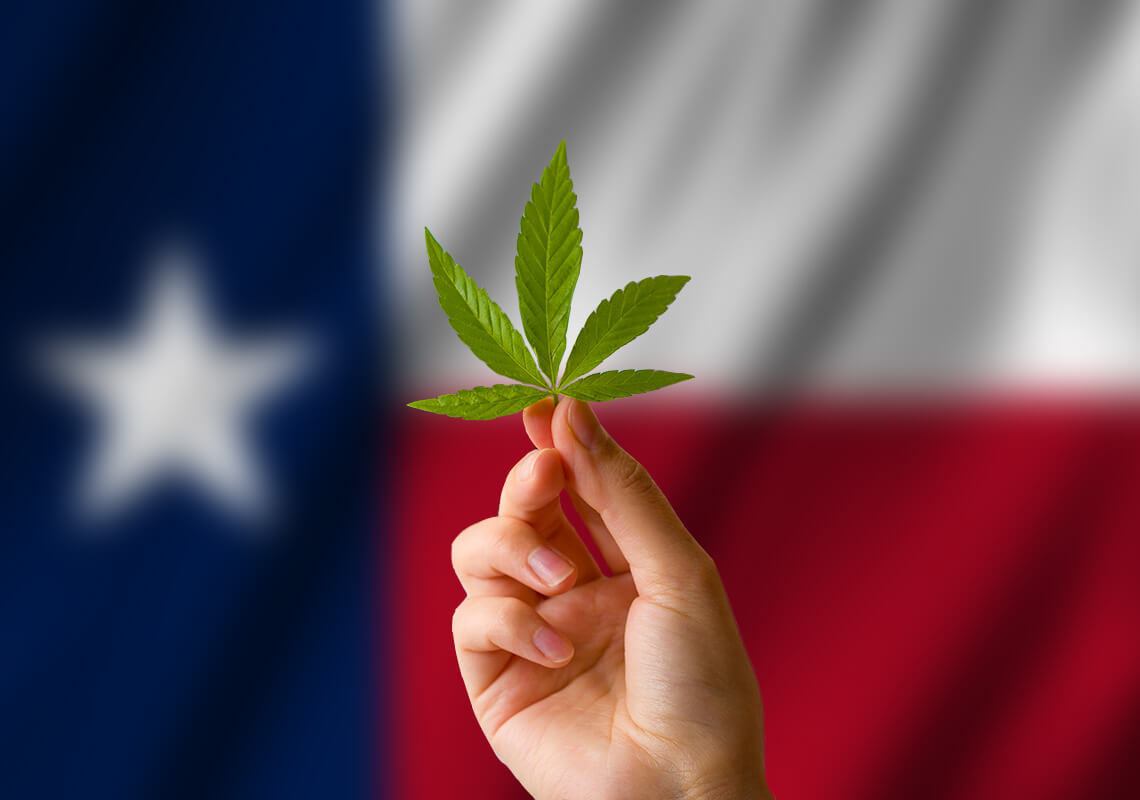 CBD and THC are the two most important cannabinoids in the cannabis plant. However, unlike THC, CBD is not psychoactive, meaning it won't cause the "high" effect on its users. Today, CBD products are widely available in Texas, especially after state-level and federal legislators started to agree on the therapeutic benefits of CBD. So, does this mean that CBD is legal in Texas? This is what we shall look at in this post.
What the 2018 Farm Bill means for CBD in Texas
Hemp is the primary source of CBD and has a long history in the United States and, in particular, Texas. For starters, CBD played a significant role in the US textile industry after being imported from Europe.
Surprisingly, hemp was legal in the US before the 20th century when it was demonized due to its close association with marijuana which is psychoactive. Both marijuana and hemp were later criminalized alongside alcohol. Unfortunately, the ban on CBD lasted for longer than anticipated.
Things started to change in 2018 after the passing of the revised version of the 2018 Farm Bill by the US Senate. The Agriculture Improvement Act of 2018 was signed into law by the immediate former president Donald Trump. This bill declassified hemp and non-psychoactive hemp products from controlled substances.
In other words, this bill made CBD and other hemp-derived products legal in all 50 states, although legal cultivation is restricted to low-THC strains.
More specifically, CBD products should not contain more than 0.3 percent THC to be legal. Products with more than the stipulated THC amount are illegal at the federal level unless the state laws say otherwise.
So, does this mean CBD oil is legal in Texas?
Even after the passage of the Farm Bill 2018, US States needed to set their own regulation regarding CBD cultivation, use, and sale. In fact, some states went ahead to ban the sale and use of CBD altogether.
However, following Farm Bill 2018, Texas Governor Greg Abbott signed House Bill 1325 into law, legalizing hemp production in Texas. The bill also allowed the sale of hemp-derived CBD products, including CBD oil, without a doctor's prescription, provided it contains not more than 0.3% THC.
Henceforth, Texans could buy and use hemp-derived CBD products without the fear of being prosecuted. However, the laws regarding CBD production and sale are still restrictive in Texas. The CBD must be tested for potency and purity to ensure that all CBD products are compliant with the state's rules and regulations.
CBD oil is only legal in Texas if it contains THC content under 0.3%. A CBD product with more than 0.3% THC is illegal in Texas, and it falls in the cannabis medical program. The THC limit for medical marijuana in Texas is 0.5%. The bill gave Texas legislators power to create more legislation around regulation, cultivation, and sale of CBD products in Texas.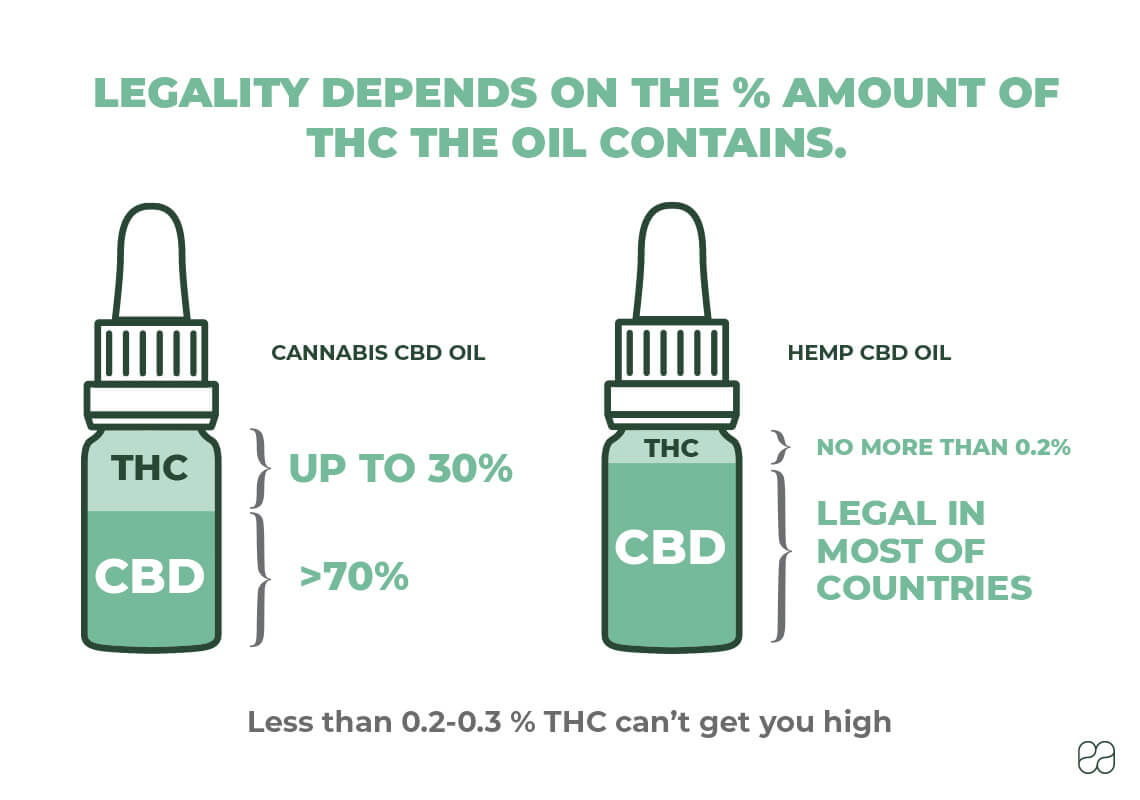 But why is CBD sometimes illegal?
Under the 1970 Federal Controlled Substances Act, hemp strains were illegal. The act put all cannabis in the Schedule I category, meaning it was classified as a substance with the likelihood of addiction, potential for abuse, and no accepted medical use.
The 2018 Hemp Farm Bill made hemp cultivation legal and created a distinction between hemp and marijuana. Ideally, hemp refers to cannabis with less than 0.3% THC by weight, while marijuana has more than 0.3% THC.
The problem is that field tests used by police cannot differentiate hemp from marijuana. As a result, it is not uncommon to hear cases of CBD users being detained while the products undergo further tests.
To avoid this, CBD users in Texas need to conduct in-depth research about Texas laws when buying CBD products. As a rule of thumb, buy CBD products from reputable brands that submit their products to third-party tests.
Lab results will help determine that you are indeed buying CBD with a legal amount of THC and allow you to verify the source of CBD. If the test results are not available on the brand's website, call their customer care or email them for a copy of the lab results. If the customer care agent ignores your request, it's best to opt for another company.
Is medical cannabis legal in Texas?
As earlier stated, CBD with more than 0.3% THC is illegal in Texas, and those caught with it might face legal issues. So the question that most people ask is, what about patients who may need more than 0.3 percent THC to feel the therapeutic effects of CBD?
Patients with severe illness who need access to CBD in Texas need to undergo a strict medical assessment before accessing medical marijuana.
In 2015, Gov. Greg Abbott signed the Texas Compassionate Use into law, allowing patients with medical prescriptions to access cannabis extracts with more than 0.5 percent THC. This act was meant for patients with epilepsy (the FDA has approved CBD-based GW Pharmaceuticals Epidiolex to treat epilepsy). Patients with these conditions can also access CBD with 0.5% THC or less in Texas:
Autism
Spasticity
Amyotrophic lateral sclerosis (ALS) or Lou Gehrig's disease
Multiple sclerosis
Seizure disorders
Intractable epilepsy
Incurable neurodegenerative disorders
Terminal cancer
The Department of Public Safety that oversees the Compassionate Use Programs states that only licensed companies can distribute medical cannabis. Texas residency and prescriptions from a registered doctor are also a requirement.
Is CBD oil legal for everyone in Texas?
CBD oil products that contain less than 0.3% THC and come from industrial hemp are legal for everyone, including teens, adults, seniors, and kids. However, much care is needed when giving CBD oil products with THC to pregnant women and kids as it can hurt brain development.
Moreover, vaping CBD is discouraged in Texas as it is associated with the outbreak of abnormal lung disease due to vaping e-cigarettes. In fact, Texas health authorities may come up with vaping-related legislation in the future to help address such issues.
CBD licensing requirements in Texas
Although the FDA has approved CBD as prescription medicine, it is illegal to add these products to dietary supplements, cosmetics, or any food.
The state health department of Texas regulates the selling and buying of CBD products in Texas. As per section 11 of House bill 1325, CBD retailers and distributors can sell cannabis in Texas. However, CBD Texas laws require them to have a license, and the products should not contain more than 0.3% THC.
Department of State Health Services Providers has an online platform for registering and licensing CBD retailers and distributors under the business and professional license category. To that end, here's the process of getting a license for selling consumable hemp products in Texas:
Submit the documents online at the Department of state health services website
Start the fingerprint submission process.
The fingerprint service code of Texas will send you an email
Make the fingerprint submission appointment
The Texas Department of Health Services controls the manufacturing, reselling, and distribution of food, cosmetics, and manufacturing of medical CBD derived from hemp. It also regulates the sale of CBD products, although it doesn't prohibit their sale.
What does the Texas Department of Agriculture (TDA) say about the cultivation and licensing of hemp growers?
The Texas Department of Agriculture (TDA) adopted the proposed State Hemp Plan in 2020, adding hemp growing, processing, and manufacturing to the Texas Administrative Code. Potential hemp producers must contact their TDA regional office, but applications are available on the Texas Department of Agriculture website.
All hemp producers, including handlers, are required to get a TDA license. The license is renewed annually. However, since there are no automatic renewals, producers must submit the renewal application before their current license expiration.
Requirements for TDA license application include:
Complete application form (must be accurate)
Must have viewed the TDA mandatory orientation video on their website and provide proof
Criminal background check
Payment of all required fees
Some of the crucial information required on the application form include:
Applicant's name, Texas address, contact number, email address
The entity's principal Texas location, full names, and addresses will be required when submitting on behalf of an entity. Key participant's full names, titles, and emails of the signing authority alongside the Texas taxpayer ID number will be required.
Street address, including GPS of the facility where hemp will be cultivated
Any other information that the department needs
Who doesn't qualify for a producer license in Texas?
You may not obtain a producer license in Texas if you fall under any of these categories:
Below 18 years of age at the time of the submission
Have had your hemp license suspended or terminated by TDA, USDA, Indiana nation, another state, or US territory within five years.
Someone convicted of a felony due to a controlled substance under Texas law or federal law within the last ten years
Gives false information in your application to the TDA
The applicants will receive an email notifying them of approval or denial. Of course, an applicant can appeal if TDA denies a license. The applicant can request a formal adjudicatory proceeding in writing within 30 days if the appeal is dismissed.
Is there a penalty for possession of illegal cannabis?
If someone is found in possession of illegal CBD oil (with more than 0.3% THC) in Texas, they could be charged with Felony for Possession of a Controlled Substance in Penalty Group 2. The penalty can attract a punishment of 180 days in state jail or up to 20+ years in prison and a fine not exceeding $10,000 depending on the amount of illegal CBD they had.
How to buy high-quality CBD oil in Texas
New CBD oil buyers in Texas should be aware of unapproved CBD sellers that claim therapeutic benefits of CBD oil when marketing their CBD products. The FDA is yet to approve CBD oil as a medical substance, meaning significant trials are needed to prove the effectiveness and safety of CBD as a new drug.
At the very least, CBD sellers who claim medical benefits of CBD oils should include a disclaimer indicating that the product has not been tested and approved by the FDA as a new drug.
To ensure they buy the best CBD oil in Texas, consumers should look for industrial hemp as products marketed as "THC" or "CBD oil" may cause conflict with the state and federal government. The best way to know what is in a product is to read the CBD labels and packaging. By reading CBD product labels, consumers can get crucial information about a particular product before buying.
State laws require CBD product labels to follow FDA rules, meaning no claims of therapeutic or medical benefits of CBD. Besides that, here are other details that consumers should look out for:
Manufacturer or distributor name
Net weight
Is it full-spectrum, broad-spectrum, or isolate?
Amount of active CBD per serving
Suggested use
Batch or date code
Supplement Fact panel
Knowing whether a CBD product is full-spectrum, broad-spectrum, or isolate is critical. The full-spectrum CBD product is derived from a hemp plant alongside other cannabinoids (including THC that the plant has) and terpenes.
The broad-spectrum CBD products contain CBD and terpenes but have undergone an additional process to remove THC. On the other hand, CBD isolate refers to products that have gone through intensive processing to remove all cannabinoids except CBD. Depending on your preference and why you are taking CBD oil, you may take full-spectrum, broad-spectrum, or isolate CBD.
Is CBD legal in Texas? – conclusion
As you have seen in the article, CBD oil is legal in Texas as long as it contains less than 0.3% THC. Besides, CBD products need to be sourced from industrial hemp. The best thing is to do due diligence when buying CBD products in Texas and only purchase from a reputable supplier who submits their products to third-party lab tests.